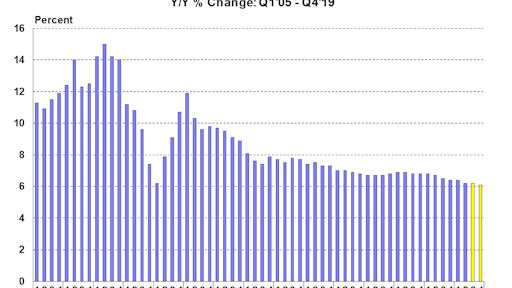 In the second half of 2019, amid the China-U.S. trade war and deceleration of China's real estate market, the economy is expected to slow, with estimated GDP growth dropping to 6.2% in Q3'19 and 6.1% in Q4'19. The domestic demand for heavy trucks fell nearly 29% y/y, while the tractor segment increased almost 30%, and demand for medium trucks ended 2019's second quarter down 41% compared to Q2'18.
China's economy is likely to give less support to the heavy and medium truck markets, despite the government's efforts to ensure steady economic growth. Additionally, structural changes, such as GB1589, modal shifts, and the removal of NSIII vehicles, within China's CV markets are expected to exert downward pressure through 2023.
The China CV OUTLOOK, jointly published quarterly by ACT Research and China's State Information Center (SIC), includes a review and forecast of China's heavy tractor and heavy- and medium-duty truck and bus markets, as well as analysis of OEM market shares within China and an overview of the Chinese macroeconomy. This quarterly report also includes access to monthly wholesale data, alternative fuels by CV application, market share percentage, industrial policy impacts, and competitive landscape.
ACT Research anticipates that, in the next 5 years, policies regarding commercial vehicles in China will focus on environmental improvement and safety, noting that while this will promote product updates and technology shifts, it should not cause the large market fluctuations experienced in 2016 and 2017.
SIC is affiliated with the National Development and Reform Commission of China and is engaged in research on the macro-economy, key industries and information technology.
Companies in this article