Farmtrac Tractors Europe, leading International tractor producer, unveiled its latest global tractor series created in cooperation with Studio F. A. Porsche ranging from 20-120 hp, at the Agritechnica 2017 trade show for agricultural machinery and equipment, at Hanover, Germany. Studio F. A. Porsche brings in a unique blend of style and comfort in tractors giving it a complete new look and aesthetics for today's new age global farmers.
Named the NETS, New Escorts Tractor Series, the newest Farmtrac tractors are fully compliant with Tier 4 emission norms of Europe and America, and custom-designed with simplicity for unique farm applications at each horsepower level. This includes the flagship NETS with higher horsepower (70-90 hp), Compact tractors in 22-30 hp range, Crossover tractors for both paddy and haulage applications, and tractors with cabin options for driving comfort.
At Agritechnica, Farmtrac also introduced Tier 4 emissions compliant CRDi engines, which hitherto was limited to cars and naturally-aspirated machines that work well for tractors operating in slush.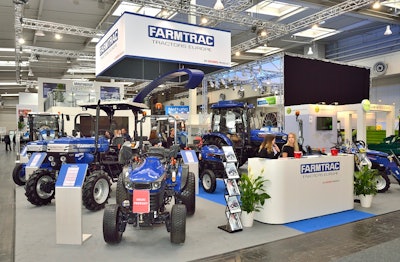 The company also showcased futuristic and eco-friendly electric tractors along with variants with hydraulic and mechanical power transmission platforms within NETS.
The global NETS have been introduced to meet customer demand from the United States, Europe, Latin America, Africa and ASEAN countries.
Speaking on the launch at Agritechnica, Nikhil Nanda, Managing Director, Escorts Ltd, Holding Company of Farmtrac Tractors Europe said, "At Farmtrac, we are extremely proud to associate with the state of the art Studio F. A. Porsche committed to technological innovations and building smarter and most efficient technology. NETS, Global Tractor Series is yet another breakthrough to meet growing customer needs across United States, Europe, Africa, Latin America, Middle East and ASEAN countries. We are excited to introduce the electric tractor built for sustainable and green agriculture. Farmtrac Tractors Europe today offers farm solutions for farmer demands across all price points and technology applications, globally."
Says, Ravi A Menon, Chief Executive Officer, International & Emerging Businesses, "NETS designed by Studio F. A. Porsche is a unique Industrial offering which adds a new dimension to comfort and style along with power and utility. Farmtrac is extremely proud to present the latest technology and ergonomics to the world."
Rajiv Wahi, Head, International Business, adds, "At Farmtrac, we will continue to innovate and offer the latest in the industry. We are committed to offer indigenous and state of the art technologies for better productivity and customer value. Our global technology collaborations will help us bring the best to our global customers."