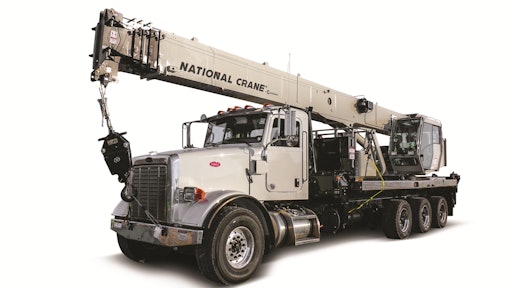 National Crane will be debuting its new generation of boom truck cranes at CONEXPO 2017. The company will show one model from its new NBT40-1 Series for the first time at a tradeshow, highlighting the years of technological and user advancements that have made this new crane series a significant step forward in the evolution of boom trucks.
Notably, the new NBT40-1 Series of boom trucks are available with an aerial lift configuration. When equipped with this aerial package, this series of three new models—the NBT36-1, the NBT40-1 and the NBT45-1—is aimed at the utility market and will enable companies to perform both crane lifting and aerial lift projects more efficiently with just one machine. For the core crane markets, this updated series of cranes will continue to provide the performance customers expect from National Crane.
Fully compliant with both ANSI/SAIA A92.2 aerial lift and ASME B30.5 mobile crane industry standards as well as OSHA standards, the NBT40-1 Series will result in higher utilization and less setup time for National Crane owners, which will increase both efficiency and return on investment for many companies. Manitowoc will also offer a comprehensive aerial lift "Train the Trainer" training program at its facilities to ensure their dealer network and end customers are aware of their responsibilities regarding the safe operation, inspection and maintenance of their equipment in order to maximize their investment.
The new dual-rated NBT40-1 Series will be especially useful for the utility sector, where energy work on de-energized power lines and new transmission infrastructure construction often require the use of both a crane and an aerial lift. The tree care, signage and millwright industries, among others, will also find these new National Crane models ideal for their projects. All three models feature the option of a two-person, 544 kg (1,200 lbs.) maximum capacity, quick-attach yoke platform with wireless radio remote control.
Justin Pilgrim, Global Product Director for Boom Trucks and Carrydeck Cranes at Manitowoc, says CONEXPO 2017 is the perfect opportunity to debut the new NBT40-1 Series, and that these new boom trucks will immediately improve fleet utilization for many companies and provide more versatility for their investments.
"With these new models, customers will gain the benefits of having both a boom truck and aerial platform in just one package, potentially cutting their need for two or more machines down to one," he explains. "The dual-rated NBT40-1 Series offers the best of both worlds with straightforward setup, clear steps to reconfigure as an aerial lift, and simpler, smarter operation when in use, thanks to features such as operator feedback of operating height and reach; automated function slowdowns when nearing the outer edges of a working envelope; wind speed; an emergency lowering system in the event of an engine failure; and many other utility-focused options."
Versatility on display
The NBT40-1 Series has a number of features and capabilities aimed at increasing efficiency and maximizing utilization for companies. The cranes leverage the field-proven heritage of the NBT40 Series, such as simple, smooth operation and class-leading boom lengths, but also provide several other enhancements.
The class leading 49.1 m (161 ft.) boom length offers the highest platform working heights of 51.5 m (169 ft.) on main boom and 62.8 m (206 ft.) on the jib, and is well suited for the most demanding aerial lift applications while delivering solid crane performance. The 43.3 m (142 ft.) boom offers the most well rounded performance, featuring strong lifting capacities and aerial lift platform floor height of 45.7 m (150 ft.) with the main boom and 62.5 m (205 ft.) with the jib extended. Several utility-focused options are available as well. A hydraulic tool circuit in the aerial platform enables operators to hook up various high-pressure tools without the need for any additional equipment placed in the platform. An available integrated wind speed sensor provides real-time feedback of wind speed conditions to the operator—both at the operators cab and at the aerial lift platform controls.
Aside from the available dual-rating, there are many updates for the NBT40-1 Series cranes as well. A Graphical Rated Capacity Limiter (RCL) simplifies set up for both the crane and aerial modes, increasing efficiency before the job even begins. Accessibility and setup improvements abound, such as new strengthened aluminum decking, a swing-out cab access ladder and second removable ladder to allow access at several locations around the machine, and lighter polymeric outrigger floats that reduce operator fatigue and discourage theft at the jobsite.
An optimized lift cylinder offers improved strength, lighter weight, high-performance seal design, and integrated pressure transducers for less leak points. Auxiliary winch option preparation is also standard for future field retrofit to offer flexibility and future-proofing for the investment, and operator cab air conditioning is now standard.
"At Manitowoc we continue to stay in touch with our core markets and identify their evolving lifting needs, and CONEXPO 2017 gives us a great chance to communicate with our customers first hand," Pilgrim says. "The utility and infrastructure markets are solid, growing sectors and ones that we are committed to providing lifting solutions to that will help them increase the utilization of their equipment and ultimately improve the return on their investment. The NBT40-1 Series reflects The Manitowoc Way in action."
The NBT40-1 Series replaces the former NBT40 Series that included the NBT36, NBT40 and NBT45. The new series of boom trucks will be available in Q1 of 2017.