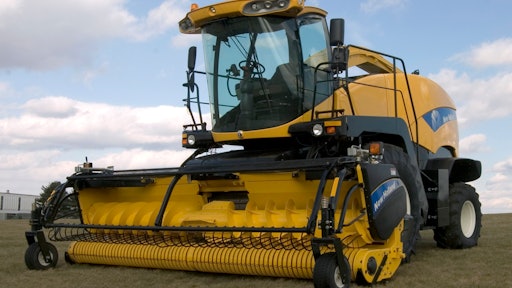 For over half a century, New Holland has led the way in self-propelled forage harvesting innovation and capacity. The new FR Series harvesters continue New Holland's legacy of industry-leading chopping quality and performance, and add significantly improved capacity and operator comfort and control.
The five model Forage Cruiser range delivers between 424 and 824 hp, and offers industry-leading chop quality and consistency, which, when combined with unsurpassed throughput, provides the most efficient and productive package on the market. Innovative new features such as an all-new, high performance grass pick-up header have been combined with renowned FR features including the VariFlow and HydroLoc systems, to offer unrivalled chop quality and throughput. All models in the FR range are fully compatible with a wide range of headers.
All-new chopper body and powerful blowing performance for efficient crop flow
The FR features an all new chopper body which has significantly enhanced chop quality in terms of uniformity and throughput. The FR features the latest advances in blower design, which have optimized crop transfer from the cutterhead to the processor and trailer, even when working in the lightest grass crops. The paddle type blower has increased the mass of smooth flowing air by a full 40% to transport higher volumes of crop more efficiently and to reduce the risk of crop accumulation in the chopper body area for significantly diminished crop build-up, reducing maintenance demands.
New, high-speed grass pickup header
Because the optimum harvesting window for guaranteed nutritious silage is tight, the new 300FP grass pick-up was developed for higher speed, ultra-reliable, smooth harvesting in all conditions. The 12.5 foot-wide pickup makes light work of even the widest grass swaths. Ultimate throughput is guaranteed courtesy of the optional roller wind guard. Designed to ensure smooth crop flow from swath to forager, it prevents crop flow disturbances for uniform feeding.
Pickup speed has been significantly increased thanks to the addition of a supplementary tine bar, which enables higher ground speeds, perfect when working in unstable climatic conditions or for operators looking to increase productivity and profitability. When working in muddy fields, the pickup support wheels prevent bulldozing and maintain uniform header height. Sturdy reinforced tines complete the reliability that this header offers; reducing tine breakage even in the most uneven fields or in stony conditions.
Distinctive styling facilitates access and serviceability
The Forage Cruiser's distinctively New Holland styling features easy cab-access, and the operator platform has been widened with sculpted hand rails for safe entry and exit late at night and after long working days. The side panels open wide as a single unit on self-supporting gas struts for easy servicing access. Daily maintenance has been further simplified courtesy of significant advances in feed roll packaging. The entire area has been sealed with the addition of precision placed plates which form a protective seal around the feed roller to prevent the build-up of debris, which can substantially reduce time-consuming daily cleaning.
IntelliFill system: let the FR fill the trailer for you
The multi-award winning IntelliFill technology enables the operator to accurately fill the trailer with minimal losses, even when visibility is limited. A specialized 3D camera mounted under the spout guides the crop flow into the trailer, ensuring a uniform fill. This system provides notable advancements in terms of operator comfort and can lead to significant increases in productivity: operators can concentrate on harvesting without having to continually check over their shoulder to monitor crop discharge. During long days, and even in the dark, the automatic spout guidance will consistently reduce crop spillage increasing the forage harvester's overall quality of work.
Accurate yield mapping can enhance yields and improve customer service
Fully integrated yield mapping reporting allows information to be downloaded from the FR and analyzed using New Holland PLM software so that custom harvesters can provide customers with accurate reports on their field performance, enabling them to tailor inputs to enhance future yields.