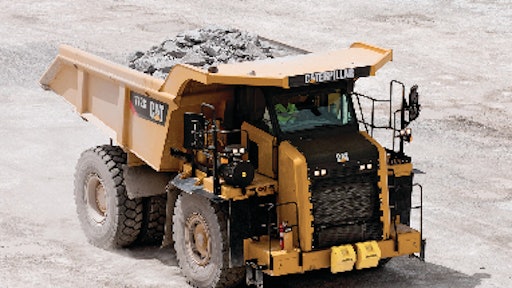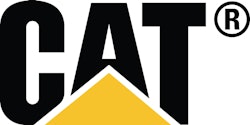 Caterpillar is showcasing the new Cat 772G Off-Highway Truck to the thousands of visitors attending bauma China 2012. The 772G truck, with a payload capacity of 47.2 tonnes, is designed to endure the most challenging mining environments while offering maximum cost savings with its reliable and fuel-efficient performance. The new off-highway truck embodies Caterpillar's philosophy of providing high-quality, long life-cycle value machines that customers can depend on. The 772G offers mining and heavy construction customers a new off-highway truck option that maximizes fuel efficiency without compromising power and performance.
Cat off-highway trucks have played a pivotal role in fueling China's growth by contributing to a more productive and safer mining industry. China's coal consumption, for example, is rising rapidly: The country is already a net importer, and by 2015 it is estimated consumption will reach about 4 billion tons. Moreover, China is expected to generate about two-thirds of its electric power over the next 20 years from coal.
In the mining and quarry industry, the off-highway truck is key to productive and cost effective operations. The truck, working closely with other mining equipment, must operate continuously for days at a time. With such demanding working conditions, it is critical that off-highway trucks perform reliably. Designed for operator comfort, superior control and high productivity, Cat trucks keep material moving at a high volume to lower the cost-per-ton. Cat truck bodies also are designed to last for years with their optimal strength, capacity and durability.
Proven components
The 772G features a Cat diesel engine designed to maximize productivity, different fuel modes to increase fuel efficiency and savings, and hydraulically actuated rear brakes and caliper-disc front brakes to ensure operator safety. The 772G off-highway truck is equipped with the proven Cat C18 ACERT in-line 6-cylinder diesel engine. To maximize fuel efficiency and cost savings, the 772G features several different modes, ensuring sustainable work over time. The Standard Economy Mode works by reducing engine power and the Adaptive Economy Mode uses onboard sensors and electronics to find opportunities to reduce power based on steady state speed.
Cat trucks feature outstanding brake performance and long brake life, ensuring operator safety. Automatic retarding control (ARC) is standard on the 772G. This feature controls truck speed on long downhill hauls without constant input from the operator. As a precautionary feature, ARC will automatically engage to prevent engine over-speeding at any time during truck operation.
With operators working for long periods of time, the 772G cabin is designed for maximum comfort. The spacious cabin offers a footrest, ample storage areas, power windows, low noise levels, air conditioning and an air suspended seat. Customers can add several optional features including automatic temperature control, left-side power window, heat and air conditioning and a Cat Comfort Series III seat.
Three body options for specific demands
The 772G offers three body options to enable customers to optimize the truck for their work. Bodies include a Flat Floor Base Body, Dual Slope Base Body and Quarry Body.
The Flat Floor Base Body has good material metering qualities for dumping into crushers and hoppers and retains the load well on grades of as much as 12%. The Dual Slope Base Body is best used for construction or quarry sites and is well suited for steeper grades of more than 12%. Its body is also designed for hard materials such as granite, quartzite or pyrite. Both the Flat Floor Base and Dual Slope Base Bodies are lined with 16 mm (0.62 in.) of 400 Brinell Hardness Number (BNH) high-impact steel.
The Quarry Body is designed specifically for trucks used in quarry sites and can handle soft to medium-hard materials, such as limestone, slate or sandstone. This body has a 25 mm (0.98 in.), 400 BNH steel floor and does not require additional liners if kept in limestone.