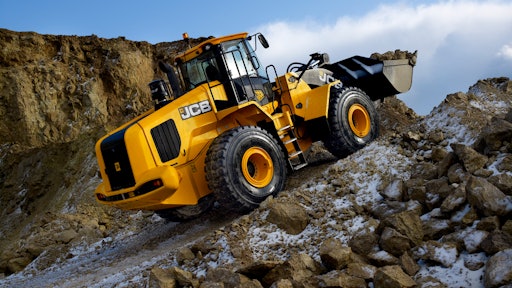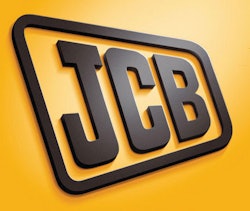 JCB today builds on its 44-year pedigree of manufacturing wheeled loading shovels with the launch of its biggest ever model at CONEXPO Russia. The range topping JCB 467 is a completely new machine designed for non-emission and lower legislated markets.
Durability is a major hallmark of the JCB 467, with structures designed to last in excess of 20,000 service hours – an essential for the aggregates, materials re-handling, civil engineering, waste and recycling and long term rental contract sectors this machine is aimed at. Key markets for the model the Middle East, Russia/CIS, Latin America, Turkey, Africa and Australia.
Fuel efficiency and productivity are also significant characteristics of the 467. In a key development, the machine is available with a new Driveline Efficiency Package - complete with five-speed transmission - offering fuel savings of to 20% and productivity gains of up to 40% compared to the standard JCB 467 with four-speed transmission. Benchmarking in a wide variety of applications also shows the 467 to be up to 25% more productive than the nearest competitive model.
Tim Burnhope, JCB's Chief Innovation and Growth Officer, says, "JCB has made a substantial investment in developing the JCB 467 to ensure it provides the durability, reliability, efficiency and productivity customers for this machine demand.
"The JCB 467 truly has been designed from the ground up and will deliver all these attributes with the lowest possible operating costs. The 467 will initially be offered in non-emission legislated markets where we see the biggest growth potential for this size of machine."
Featuring Z-bar 3-ram loader geometry, the new JCB 467 is purpose built for heavy digging and bulk handling applications and boasts a breakout force of up to 199 kN.
The JCB 467 weighs in at 23.8 tonnes, is powered by a 290 hp Cummins QSB engine, can lift a 15,300 kg load when fully articulated, has a payload of 7,650 kg and has a 4 m³ capacity shovel as standard. This compares to the current range topper for non-emission and lower legislated markets, the JCB 456, which weighs in at 19 tonnes, is powered by a 205 hp Cummins engine, can lift a 12,530 kg load when fully articulated, has a payload of 6,290 kg and has a 3.5 m³ capacity shovel. 
POWER MEETS PRODUCTIVITY: THE DRIVETRAIN
At the heart of the 467 is a 10.8 liter Cummins QSM turbocharged engine, compliant with emission levels to Stage 3A/Tier 3. The six-cylinder diesel unit produces power of 290 hp and maximum torque of 1,478 Nm, resulting in high performance at low engine speeds. The engine also features a Celect electronic injection system and low idle speed for increased efficiency.  Further fuel savings are available thanks to an optional auto idle shutdown feature.
ZF transmission and axles ensure effective use of the available engine power and result in excellent traction and productivity. Standard fitment is a four speed automatic powershift transmission with the option of five speed and a lock up torque converter. Both configurations ensure the correct gear is always selected for the application with a seamless gear change. 
Opting for the five speed configuration allows smaller steps between gears and lower engine speeds for smooth operation, improved acceleration and lower fuel use. The lock up torque converter allows direct drive between the engine and transmission in gears two through to five, giving 100% efficiency by eliminating losses in the converter. This is ideal for those longer load and carry duties, roading and tasks on inclines, with the benefit of reduced cycle times, increased productivity, traction and lower fuel use.
An intelligent clutch cut-off system also comes as standard, for both the four-speed and five-speed transmissions, making it ideal for truck loading or tight corner manoeuvres. The system dynamically adjusts the clutch cut-off point depending on transmission output torque and brake pressure. 
It effectively disengages the clutch to limit tractive effort, and also reduces brake wear within the axles. As the operator engages the brake pedal, maximum power is supplied to the load sensing hydraulic system, while in turn reduced power is directed to the driveline. This provides outstanding control at higher engine rpm and lower travel speeds, boosting productivity when digging and loading.
ZF planetary hub reduction axles complete the drivetrain with the standard fitment of limited slip differentials. Limited slip differentials ensure traction is maintained in poor ground conditions by distributing power to the tyre with most traction. Alternatively open differentials with automatic locking of the front axle are available. This offering is suited to all applications but particularly with reference to hard standing ground applications, resulting in reduced fuel use, tire wear and wind up on the drivetrain. The automatic locking differential engages as required, without the operator needing to activate the system. It can also be manually activated if required, providing increased traction and less slippage, not only reducing wheel spin and tyre wear, but improving fuel consumption and boosting productivity. 
Wheel speed braking comes as standard ensuring the brakes work in sync with ground speed, reducing heat and increasing efficiency. Sinter lined brake pads offer extended life, particularly important in heavy duty re-handling applications. In addition, the axles are oil immersed and virtually maintenance free. 
EFFICIENCY MAXIMISED
A number of intelligent features on the JCB 467 provide optimum efficiency and maximized economy. The most significant of these being a Driveline Efficiency Package. This combines the standard offering of wheel speed braking and progressive clutch cut-off with the options of automatic differential lock axles and five-speed transmission with lock-up torque converter. This results in potential fuel savings of up to 20% and productivity gains of up to 40%.
A variable speed hydraulic cooling fan ensures the JCB 467 is always at the correct temperature with minimal noise and power consumption. The option is also available to reverse the fan at programmable intervals keeping the cooling pack free of debris. This functions in harmony with a wide core cooling package (which allows fine debris to pass through) and mesh air intake bonnet screens which prevent debris ingress in the first instance. Variable displacement piston pump hydraulics and a load-sensing valve block only consume power on demand. This allows precise and efficient control of the loader end and fast cycle times, but only when required for minimized fuel consumption.  
A variety of operator aids are also on hand to boost efficiency. JCB's Smooth Ride System ensures effective load suspension when travelling over uneven terrain using accumulators. This ensures maximum material retention, increased operator comfort and reduced strain on major structures. Loader arm detent functions also boost efficiency. Float, loader arm height limitation and return to dig functions provide simplified operation and reduce cycle times. If required these can be disabled in the cab by the operator.
IN COMFORT AND IN CONTROL
The spacious ROPS/FOPS certified 3 m³ cab on the JCB 467 has been meticulously designed to provide the operator with a comfortable environment. It provides 360 degree visibility through a large glass area, narrow cab pillars, a sloping rear bonnet, internal and heated external mirrors plus an optional colour reverse camera. Controls are ergonomically positioned according to use for minimal operator movement with telescopic/tilting steer column adjustment. 
Effortless, precise control of the loader hydraulics is via column mounted electro-hydraulic multi-lever controls. Mounted within the hydraulic levers are both the transmission kickdown function for increased traction when winning material and momentary activation of the automatic differential lock. 
Ventilation options include climate control heating and air conditioning. In addition to this a variety of cab air recirculation filters are also available to ensure the operator is protected from airborne particulates. Seating options include mechanical or air suspension seating, with or without heating, and a choice of fabric or vinyl seat base. Deluxe seating is also available with a heated air suspension seat, fully adjustable, armrests to both sides, lumbar support, backrest extension and headrest. The operator of the new JCB 467 always remains informed and in control through a modern stylish instrument cluster with analogue dials and a full color LCD screen. The screen has a variety of selectable menus including machine operation, set-up, health and servicing information. Selecting the machine operation option informs the operator of distance travelled, numbers of cycles, range, total fuel used and average fuel consumption. 
ULTIMATE PRODUCTIVITY
Ensuring the 467 is available and productive has been a key focus throughout the design process. As a result routine and unscheduled maintenance has been kept to a minimum and when necessary can be carried out quickly and safely. The 467 features best in class maintenance access with all day checks possible to carry out from ground level and extended service intervals of 500 hours.
Grouped maintenance points ensure time is saved. Located in the articulation area of the JCB 467 is access to remote greasing points for hard-to-reach areas (loader pin, steer ram and axle pivots), transmission oil eye level gauge and fill point. Well-laid out compartment bays house transmission filters, emergency steer pump and pressure test points. This is mirrored on the opposite side of the 467 with bay access to the batteries and isolator. 
Wide opening gull wing doors provide unrivalled access to the engine bay area and a fully opening rear grille provides simple entry to a single faced wide core cooling package. The hydraulic tank is positioned behind the cab, keeping it out of harm's way and also producing a positive head of pressure eliminating cavitation.
When carrying out maintenance at height, careful consideration has been given to safety with provision of hand rails, guard rails, non-slip walkways, inclined equally positioned access steps, and cab roof rails.
BUILT TO LAST
The 467 has undergone thousands of hours of testing in varying climates and applications to ensure long-life in service. This involved cold and hot climate customer evaluation, with temperatures ranging from -20 to 50 C.  In addition, computer simulation through FEA (Finite Element Analysis) has been undertaken using structural analysis to predict and reduce stresses for a robust, durable structure.
Stress testing of the 467 emulating the toughest digging and dump situations ensures strength is in place where it is needed most. The 467 has performed rigorous testing across 1.2 million dump cycles and 1.2 million digging cycles emulating the harshest conditions. 
"O" ring face seals are in place for all hydraulic connections, the potential for leaks. Close consideration has also been given to the design of the loader arm and articulation pins and bushes. The 467 utilises large diameter pins and bushes with secondary seals reducing pressure and loadings. Nylon shims also help in preventing material ingress.