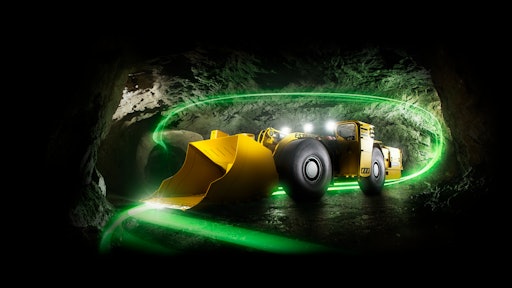 Atlas Copco has launched a new range of underground load haul dumpers (LHD) and mine trucks primarily powered by electricity.
Known as "The Green Line," the group includes seven products: two electric underground trucks, four electric underground LHDs and a new portable generator.
The Electric Minetruck EMT35 and EMT50 models are nearly twice as fast as any diesel truck in their respective capacity ranges (35 and 50 tons). The two trucks reduce energy consumption by up to 70%. High-efficiency electric motors drive the axles directly, minimizing transmission losses. Regenerative braking returns the energy to the grid so that nearly 30% of the energy consumed going up the ramp will be regenerated while going back down.
Two new LHDs, the Electric Scooptram EST1030 and EST14, will join the existing EST2D and EST3.5 models as Atlas Copco's line of 100% emission-free diesel LHDs. Built on the successful Atlas Copco Scooptram platform and powered by efficient electric motors, these new LHDs consume less energy, generate less heat and produce less noise than diesel loaders. Tramming capacities for the Electric Scooptrams range from 2 to 14 metric tons.
In the event that mine power is not available, a new portable generator, the Gentrail GT325, makes operating the Electric Scooptram LHD a one-man job.
"Atlas Copco is extremely excited about our newest addition to our already extensive line of Scooptrams and Trucks," says Shane Roden, Product Manager for Atlas Copco Underground Rock Excavation. "Our customers spoke and we answered. The Green Line is a product of extensive market research and years of development to provide innovative solutions for our customers' applications."