It's heading for the final. The 15 candidates for the bauma Innovation Award 2019 have been selected. They were presented to the public at the Media Dialogue on January 28 and 29 in Munich. The specialist journalists had the opportunity to cast their votes there. Not an easy task, because the companies and institutes have already qualified over two selection rounds. So, each of them deserves the prize.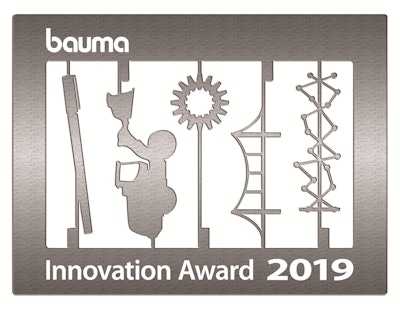 The Innovation Award will be given for the 12th time in the categories Machine, Components/Digital Systems, Construction Work/Construction Method/Construction Process, Research/Science and Design. A total of 138 entries from Germany and abroad competed.
The five winners will be determined after the media dialogue and will be honored in the Court Church of all Saints in the Munich Residence on the eve of bauma, which will take place from April 8-15 at the exhibition grounds in Munich.
The jury evaluates the entries based on criteria that are relevant to the industry and its future. This includes how practice-oriented a solution is or what economic potential it offers. Increasing digitization plays just as important a role as environmental aspects, sustainability, resource efficiency or the humanization of the workplace. In the Design category, aesthetics and appearance or the combination of form and function are also decisive criteria.
The following entries are nominated for the Innovation Award:
Category 1 Machine
E-Power Pipe, Herrenknecht AG
370 EC-B Fibre, Liebherr-Werk Biberach GmbH
Large milling machine with MILL ASSIST, Wirtgen GmbH
Category 2 Component/Digital Systems
Bomag Ion Dust Shield, Bomag GmbH
DokaXact – the positioning system for wall formwork, Doka GmbH
PAVE-TM Layer Thickness Measurement, Moba Mobile Automation AG
Category 3 Construction Work/Construction Method/Construction Process
b-project, Bauer Spezialtiefbau GmbH
Worldwide. The Mobile Fabrication, Max Bögl Stiftung & Co. KG
Innovative construction techniques for building in the future, Ed. Züblin AG, Direktion Stuttgart
Category 4 Research/Science
Conti-E-Impulse Comminution, TU Bergakademie Freiberg, Institut für Aufbereitungsmaschinen
Driver guidance 4.0, TU München, Chair of Materials Handling and Logistics
Defined removal of highly reinforced concrete, Karlsruhe Institute of Technology (KIT)
Category 5 Design
INTUSI Intuitives User Inter, Liebherr-Hydraulikbagger GmbH
Mecalac TV1200, Mecalac Construction Equipment
Design HDD-System Drill 2019, Tracto-Technik GmbH & Co. KG
The competition is a joint project under the auspices of VDMA, the German Construction Industry Association (HDB), the Central Association of the German Construction Industry (ZDB), of the Federal Association of Building Materials - Stones and Earth (bbs) and bauma.
More information on the entries can be found online.