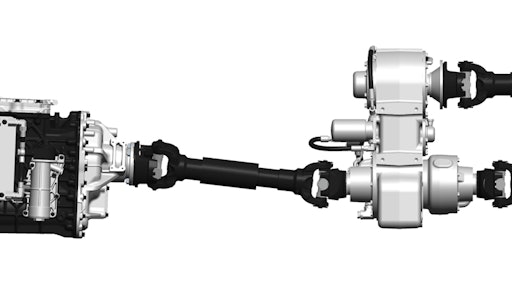 Instead of taking power from an engine- or transmission-mounted PTO, split-shaft PTOs are mounted in the middle of the driveline to receive output directly from the transmission, supplying more torque for auxiliary equipment such as large concrete pumps, vacuum body or high-pressure liquid transfer applications.
While the split-shaft PTO is engaged, power to the axles is disconnected. The split-shaft functionality is standard on all 12-, 13- and 14-speed mDRIVE HD AMTs and can be activated by a Mack dealer. In addition, all GHG2017 F-Series mDRIVE HD AMTs can be reprogrammed with split-shaft functionality with assistance from the Mack Body Builder Support Group. This new functionality also allows transmission start in 7th thru 12th gears and shift to a desired continuous operation gear of 11th or 12th.
Introduced in 2015, the Mack mDRIVE HD is built for hard work. It features reinforced internal components, including stronger gears and synchros to withstand more frequent shifting that is often needed in construction applications. Despite its toughness, the mDRIVE HD is up to 237 pounds lighter than other transmission options, enabling customers to haul even more payload. The mDRIVE HD 13-speed AMT is standard on Mack Granite models.