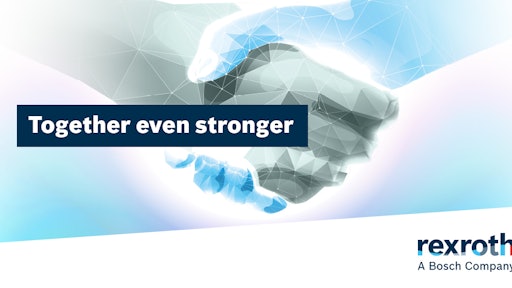 Bosch Rexroth Corporation
On February 3, 2023, Bosch Rexroth completed the acquisition of hydraulic specialist HydraForce after receiving approval from the antitrust authorities. The OEM Off-Highway team previously reported the company's plan to acquire Hydraforce.
"The acquisition of HydraForce broadens the hydraulics offering for existing and new customers, expands our global market access through additional indirect sales channels and provides opportunities for further growth," says Dr. Steffen Haack, CEO of Bosch Rexroth.
Reason for the Acquisition
To expand the global hydraulics business, Bosch Rexroth and HydraForce combine their presence in complementary regions and provide a more balanced coverage in Europe and North America, while enabling growth in Asia. Merging activities maintain regional supply chains for fast product availability and an even stronger customer support.
While Bosch Rexroth offers a wider range of compact hydraulic components and systems, HydraForce focuses on mechanical and electrical cartridge valves and hydraulic integrated circuits. Compact hydraulics are particularly valuable because of their high power density and capabilities regarding essential functions in hydraulic systems. The global market for these systems has been growing continuously, and Bosch Rexroth expects its newly shaped Compact Hydraulics Business Unit to meet or exceed market growth. The business activities of HydraForce will be integrated in the Compact Hydraulics Business Unit of Bosch Rexroth, which collectively then employs 3,900 associates and operates at nine manufacturing locations in the U.S., Brazil, China, Germany, Great Britain and Italy. The leadership team of the Compact Hydraulics Business Unit will consist of managers from Bosch Rexroth and HydraForce. Frank Hess, currently heading the Compact Hydraulics Business Unit of Bosch Rexroth, will lead the combined organization.
"We warmly welcome all HydraForce colleagues to our powerful Bosch Rexroth family and wish the entire Compact Hydraulics team a successful start," adds Haack.
"As HydraForce and Bosch Rexroth join forces, we will combine our customer focus, application expertise and entrepreneurial know-how to achieve sustained growth above market. Together, we will continue to provide excellent support and innovations for our customers, further develop our strong relationships with partners, and open great opportunities for our associates," says Frank Hess, Head of the Compact Hydraulics Business Unit of Bosch Rexroth.
During the Integration
The integration starts now. During this time, HydraForce and Bosch Rexroth customers and suppliers will continue to be served by their trusted contacts in the respective sales and purchasing teams. HydraForce will continue to operate under its own brand for the time being. The newly shaped Compact Hydraulics Business Unit will operate from its current headquarters in Lincolnshire, Illinois, and Nonantola, Italy.
Learn more from this Bosch Rexroth press release.