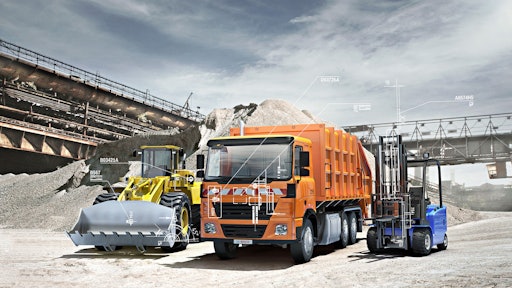 From excavators and dump trucks to tractors, Bosch offers a variety of solutions for construction and agricultural machinery that significantly reduce both operating costs and emissions in off-road applications. The technology and service provider is now expanding its proven portfolio with innovative solutions like connected exhaust-gas treatment. Bosch will present its range of products at the
bauma
trade fair from April 8-14, 2019 in Munich.
Bosch TRACI – bringing cloud computing to construction machinery 
On large construction sites in particular, the location and current running performance of construction machinery are often unclear. The "Bosch Asset Tracing Solution", or Bosch TRACI for short, provides this data in real time, helping operators plan vehicle deployment as efficiently as possible. The IoT-based connectivity solution enables further improvements in the efficiency and utilization of the vehicle fleet. The Bosch solution is comprised of the highly robust sensor box, the cloud-based analysis software, and a range of digital services. It is easy to retrofit in existing vehicles.
Vehicle control unit – high-performance control with cross-domain functions
The off-road segment is also seeing increasing diversity and complexity in the powertrain. Legal provisions require better exhaust-gas treatment systems, while new drive solutions like natural gas, electric motor or fuel cell are increasingly being used alongside diesel and gasoline. With the vehicle control unit (VCU), Bosch offers an extremely flexible, high-performance control unit that coordinates all components in the powertrain. By partially taking on some of their tasks, it enables simplification and standardization of the subordinate control units closer to the components. The VCU can also connect the powertrain with other domains like infotainment, telematics, or driveline. This makes it easier to introduce cross-domain functions. 
Exhaust-gas treatment systems – the future is connected
AdBlue injection systems, combined with SCR catalytic converters (selective catalytic reduction), ensure comprehensive exhaust-gas treatment. These systems help vehicle manufacturers make sure that their construction machinery comply with statutory exhaust-gas standards up to US Tier 4 Final or EU Stage V. The metering system Denoxtronic 2.2 evo is a more robust version of Bosch's Denoxtronic 2.2. Bosch designed the highly compact version Denoxtronic 6-5 for smaller construction machinery. The 6-HD variant features a metering rate of up to 15 kg/h, making it particularly suitable for large engines. 
Bosch's new IoT application Web-based Validation will shorten development times in future. The cloud-based function constantly transfers powertrain data from the connected vehicles. This information allows Bosch and the customer to adjust exhaust-gas treatment systems and their components more quickly and precisely to various applications.
Bosch common rail – the right solution for every diesel application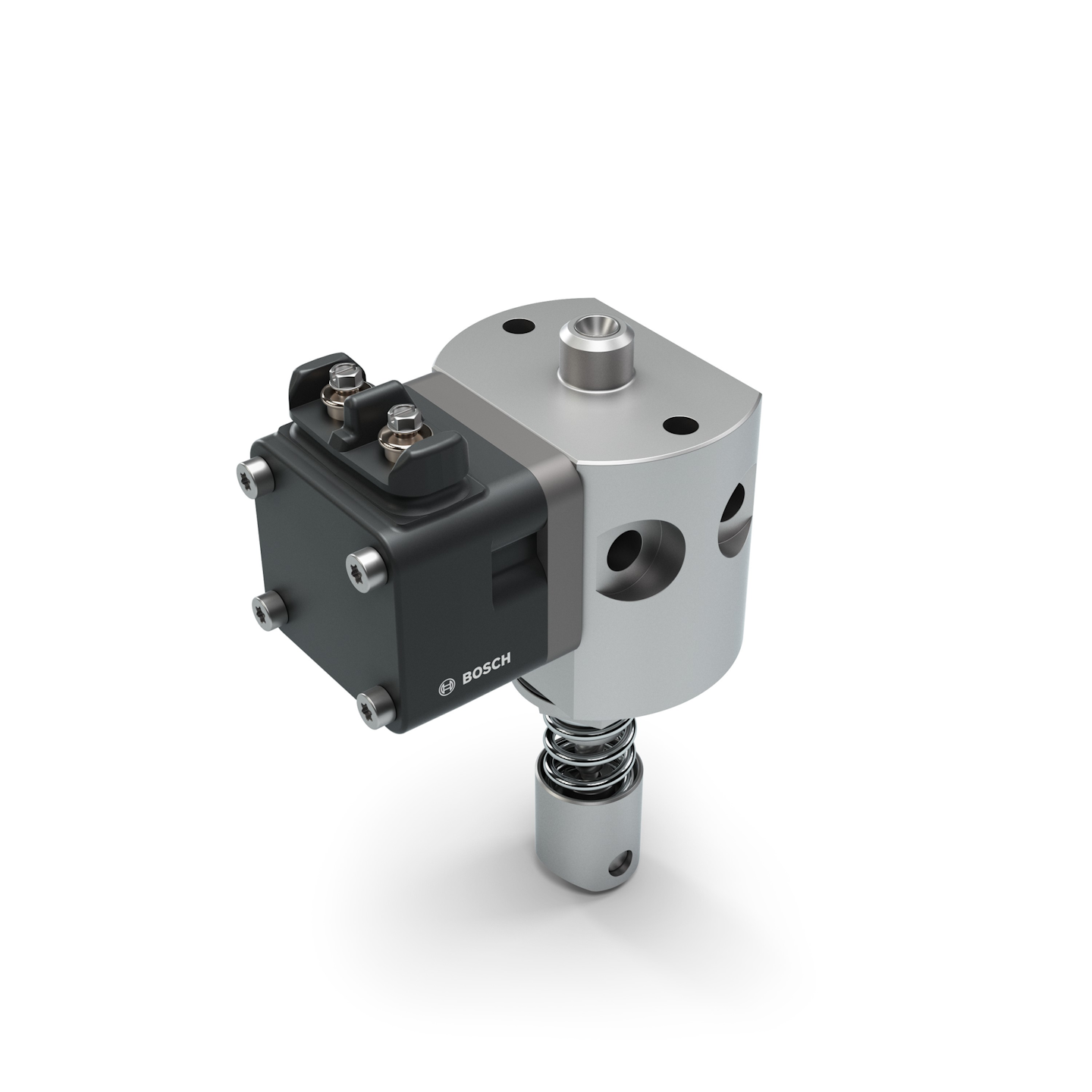 Bosch offers injection systems for a range of diesel engines in both the on and off-highway sectors, from cars and medium-duty to heavy-duty and large engines. In addition, the portfolio includes engine control and a range of sensors, as well as exhaust-gas treatment systems. The electronic engine control unit takes care of engine management. Together with the sensors, it forms the central control unit for the injection system. The sensors deliver precise and up-to-date information from the engine and exhaust tract, forming the basis for all functions from mixture generation to exhaust-gas treatment.
Off-highway applications up to 19 kW:
Smaller off-highway motors, such as those for vibrating plates and small emergency power generators, require a robust but compact injection system specifically tailored to their requirements. For engines up to 19 kW, Bosch now offers the unit control valve (UCV). This ingenious expansion augments the existing injection system. Together with the right sensors, it allows users to electronically control the start and end of the injection. This approach offers much greater stability compared to mechanical systems. Users have more precise control over engine speed when operating a vibrating plate, for example. The unit control valve helps engines comply with the emission requirements in US Tier 4 Final, EU Stage V, and comparable standards. For engine manufacturers, the application-specific mechanical controller used previously is now also a thing of the past. This function is performed by a dataset stored in the control unit. 
Off-highway applications up to 130 kW:
Bosch's CRS2-OHW common-rail systems tend to be used in engines of up to 130 kW. They are specially adjusted to the specific requirements of off-highway use. In particular, they are designed for periods of full-load use and larger injection quantities, making them highly robust, efficient, and powerful. The high-performance injectors of the second generation offer engine developers a great degree of freedom when designing the injection course. They cover up to eight individual injections per cycle in a tight time frame. This helps further reduce fuel consumption and therefore the emissions of CO2, pollution, and noise from the powertrain.
Medium-duty and heavy-duty off-highway applications up to 560 kW:
For larger diesel engines, Bosch's modular common-rail injection system CRSN offers efficient fuel supply and injection for off-highway applications and commercial vehicles. A range of system components and modules can be combined depending on the needs of the engine manufacturer. This enables pressures of between 1,800 and 2,500 bar. The system can be used variably in engines with up to eight cylinders and engine powers of between 560 and 850 kW. It is designed to last up to 15,000 hours in off-highway operation, depending on the segment and market. High nozzle flow rates make it possible to optimize the combustion strategy and maximize engine power. The system is also compatible with electric powertrains.
Modular common rail system for large engines over 560 kW:
With the modular common-rail injection system (MCRS), Bosch also offers perfect fuel injection for engines over 560 kW. This solution is suitable for both mobile and stationary industrial applications, engines in ships and locomotives, and stationary generators. Compared to mechanical injection systems, the common-rail system for large engines can help significantly reduce both fuel consumption and operating costs. The special design features high-pressure accumulators in the pump and injectors, and removes the need for a rail. This enables flexible engine design, minimizes pressure fluctuations, and ensures a constantly high injection pressure at the nozzle, even for multiple injections. Thanks to the variable size and performance range of the pumps and injectors, the injection system can be adjusted to different engine sizes and powers. The high-pressure pump is scaled via the number of pump elements, while the injector uses different nozzle types with varying flow rates. The system is available in two pressure levels of 1,600 or 2,200 bar. For engines at the bottom end of the large-engine segment, it is possible to combine the MCRS injection pump with the CRIN injectors of the modular CRSN system.