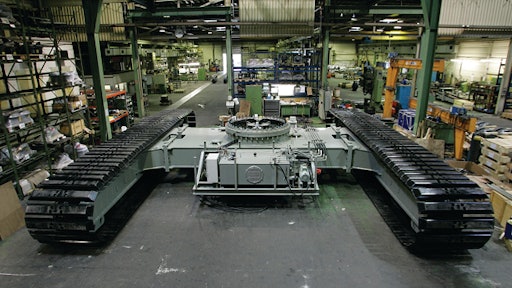 Most component manufacturers will tell you that the best-case scenario for achieving the most optimized system possible is getting them involved in the design process as early as possible. What track manufacturers will tell you is once they've been brought into the design, last minute changes or unforeseen manipulations to a vehicle's design can significantly impact whether the track and undercarriage solution that was designed will still work with the modified design.
"Camoplast Solideal usually works early in the design process. "The OEM is missing important opportunities when asking suppliers to start from completed vehicle design," explains Jean-Francois Ferland, Vice President – Track Systems, Camoplast Solideal, Charlotte, NC. "When you do ground-up design, you minimize the amount of compromise you have to do based on system geometry," agrees Michel Deslauriers, Product Development Director All-Rubber Track and Undercarriages, Camoplast Solideal. "A track system needs to adapt to the machine based on the functionality needed by the customer, but if we are given more liberty regarding track geometry, we can better optimize the overall system design and decrease the total cost of ownership."
If a vehicle is already designed, the drive line parameters and available space envelope can pose an interesting challenge for the design of the track system. Meeting necessary functionality and features, such as ride quality, power transmission and speed, are easier for an integrated designer and manufacturer of tracks, wheels and undercarriages. Thus, many product parameters can be used to meet requirements within the available envelope with minimum draw back to the performance and application.
Depending on the level of familiarity between the OEM and its undercarriage supplier, track system manufacturers can aide in development beyond the undercarriage and actually help the OEM with auxiliary systems such as the suspension and transmission as it interfaces with the track system.
The rubber track/undercarriage market is supported by two main track technologies: Metal embedded rubber tracks (MERT) and all rubber tracks, either positive drive (AR PD) or friction drive (AR FD), according to Camoplast Solideal. The actual system performance parameters are determined by the OEM's requirements such as operating cost, application speed, weight, duty cycle, ground pressure, traction needs, machine life expectation and the machine's configuration.
MERT offers a more compact solution with the ability to transfer power through its additional engaged lugs, the option of shorter track wrap, and the iron core of the system distributes vehicle weight throughout the width of the track. The MERT system style is typically best for small equipment applications which operate at low speeds ranging from 3 to 15 km/h (about 2 to 10 mph). The all rubber systems perform particularly well at faster speed applications, up to about 40 km/h or 25 mph.
Shapes of tracks are typically triangular or oblong with variations dependent on sprocket wheel configuration and size. The triangular shaped system brings an increased power option to OEMs to implement on their equipment, enabling the transfer of more power to the ground while keeping the life expectancy benefits of an oblong shape. The High Idler configuration has a high approach angle which allows the track module to climb, as well as keeps belt tension consistent, extending the belt life. If the belt tension is more consistent, that also means a more consistent load everywhere, which means less wear on the idler wheels that are encapsulated within the track module.
While general track configurations have not changed significantly in years, what is changing is the ease of feature modifications able to be made in a given time frame. "What has changed most for us in track technology is the different types of options we can offer an OEM for its application," says Jim Wheeler, Project Engineer, Intertractor America Corp, Elkhorn, WI. When a standard option won't work for a unique application, Intertractor can change certain system options such as the surface finish on a bearing, oil choices, seal groups depending on the application climate, and the induction hardened thrust based on the rollers for longer life.
However, overall standardization is difficult because of the large variation in applications and vehicle configurations that directly impact optimized track design needs. New Holland recently launched its T9 Series four-wheel drive tractors with a new Smart Trax track option to further reduce soil compaction and slippage for less surface damage and a smoother ride. The company has been working withATIInc. of Mt. Vernon, IN, for approximately one year to implement tracks on its tractors. "We could see a large shift in demand in the industry for tracked vehicles, which is why we decided it was time to get into the tracked equipment industry," says Doug Otto, Manager, Product Business Growth, New Holland Agriculture, New Holland, PA.
A need for speed
Customer requests for a track system that can make heavier vehicles travel at faster speeds has been increasing. "OEMs are asking for more customization [and] higher travel speeds at increased machine weights, which requires engineering solutions that are robust while still being cost competitive," says Scott Schumacher – Quality and AfterSale Service Manager, Intertractor America Corp. "We are experiencing increased competition in the area of customized track frames and therefore are driven to be even faster to market and creative with application considerations. Just like other products, our market is becoming more diverse in offering the customer with choices of good, better and best undercarriage solutions."
"Faster speeds with heavier vehicles don't allow us to use our standard component like we could in the past for delivering a solution to an OEM," Wheeler agrees. Faster speeds are really dependent on the power capabilities of the gearbox and motor being used, so some track manufacturers like Intertractor are working with their gearbox partners to continue to develop higher speed technology.
"Technically speaking, a track unit can go the same speed as a wheeled unit, it's just a mechanical limitation," clarifies Otto. "The issue with our tractor, for example, is that the track bolts directly to the axle, so we get a reduction in ground speed. Effectively, if we were to put a planetary gearbox on the end of the axle and change the drive ratio, we could easily go the same speed as the wheeled vehicle equivalent."
In a perfect world
The MERT track construction technology has greatly improved in the last two years, bringing the rubber-type track performance up to where it needs to be in order to meet industry expectations in larger vehicle applications. Camoplast Solideal heavily invested in R&D and came to the market with innovations like the 3S anti-vibration, single cure process advanced rubber compound to better answer market needs.
Whether a track system is truly optimized for an application is yet to be determined. Track manufacturers like Intertractor are currently investigating opportunities within the system, such as its inherent self-destructiveness due to constant steel on steel contact between components like the track chain, track rollers and sprockets. "We have testing going on at our R&D center at the engineering office in Italy. There they are testing components in cooperation with OEM partners to better understand track system requirements and how that impacts the features needed to meet those requirements," says Wheeler.
Roller testing on a roller dyno machine allows testers to inflict radial and axial loads to simulate application work cycles on a physical component prototype. This reduces the amount of on-vehicle testing needed by an OEM in the field, and instead can be simulated with environmental changes easily modified.
While track design continues to evolve to meet customer requirements, OEMs must understand all of the potential that exists in features and benefits of an optimized track system, which only can be truly achieved through collaborative engineering early on in the design phase with the track manufacturer. "We want to make sure the OEM is open minded about the track design, because there is a lot that can be done when a track company is brought into the beginning of a vehicle design," says Camoplast Solideal's Ferland.
"The tracked vehicle's initial design target needs to be realized and adhered to. OEMs need to consult with the designers of the tracked systems prior to modifying the intended machine parameters, including application. It is common for end users to want tracked machines to have the capability to do more than what it was originally designed to do. It is important that the OEM limit its approved amount of machine or application variation in order to stay within design considerations assuring reliability and warranty compliance," concludes Intertractor's Schumacher.
Companies in this article