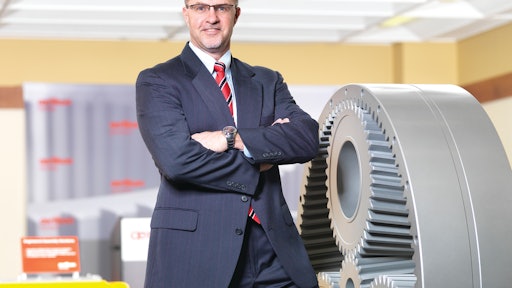 What are the emerging and existing economies that Oerlikon sees as opportunities?
We might classify Mexico as a "re-emerging" economy from our perspective. Our participation in the economy within Mexico and the opportunities to leverage Mexico in terms of regional manufacturing base are being explored with a degree of seriousness. While we have had mature and broad manufacturing capabilities and capacities in North America for almost a century, there are specific products and markets that we believe would be complementary to our business.
Oerlikon Drive systems continues to have long-term growth expectations for the BRIC markets. Specifically, we can envision localization activities in Brazil and Russia to participate in markets that we deem strategic to our product and services. Our positions in India and China are mature and growing, including our manufacturing presence; however, we recognize the growth trajectory, especially in China, will likely be subdued in the coming years. That said, we intend to invest according to the requirements of our strategic customers, taking a long-term view that enables our ongoing efforts for balance in terms of markets, products and regions.
What does Oerlikon look for in a region when it considers investing in an area?
When we look at the recent past and reflect on the swings that have occurred economically and politically, we have to first recognize that there remains a lot of uncertainty in the world. Our priorities when considering investments or expansion center on the current and forecasted conditions of the markets we participate in, the needs/expectations of our customers, the competitive climate and our ability to have a degree of differentiation that is recognized and rewarded by the customer community.
How does Oerlikon view design simplification, its potential benefits and challenges?
We recognize the advantages internally and externally of reducing the number of unique parts or components in the products we develop. At the same time, we are faced with the challenges of providing products that are not over-designed or under-designed based on application needs/expectations. We believe this benefits Oerlikon when we are able to participate with our customers at the design and development phase of their products, giving us the opportunity to optimize which of our products is most suitable.
A great example of design simplification for us is the expansion of our Torque-Hub® product for our larger rated units (which we refer to as large CTs or Compact Track Drives). The gear package is designed with the intent of commonality to many of the internal gears and other raw material components, allowing us the flexibility for a broad range of ratios and torques with minimal requirements for new designed components. Using this approach allows us to apply a standard product or easily adapt via modularity to meet customer expectations. We have two programs at this point – one involving a highly versatile tracked vehicle that will be hydrostatically driven and another involving a unique electrically driven off-highway truck. Previously, these would have involved two unique designs from the onset and taken considerably longer in providing design proposals to our customers.
How has your business model changed since the 2008 global recession?
We are all challenged with a great deal of uncertainty that doesn't appear to be changing in the foreseeable future. Oerlikon Drive Systems has evolved over many years and participates in a wide range of markets and products. Since the global recession in 2008, we have committed to being more focused on certain markets and stratifying products and markets geographically. This is not a quick transition, but our organization is evolving around this practice, and we believe this focus will be recognized not only by our customers, but also in the end by our stakeholders.
It's an ever-changing landscape with which we operate and our desire is to have the operational and technical/application flexibility to provide the necessary support to our customers no matter where they are globally. Similar to the concept of modularity in our designs, we need to have the ability to adapt to the technology needs of our customers that tend to vary geographically.
What technological breakthroughs do you think will help the heavy-duty mobile equipment industry propel itself forward?
I tend to believe that the migration of sensor technology into more and more subsystems will have a positive impact on end-users and with affordability of such technology we will probably see this migrate to a large range of products in a short time. As a provider of systems and subsystems to major OEMs, it's our desire to collaborate with our customers in finding ways to improve the reliability of our products.
Technologies of the Future
In parallel with the many initiatives related to the ever more stringent emission norms and fuel efficiency, we are working internally and in some cases with key customers and suppliers on alternative drive systems. We have had significant success in light-duty electric drive applications for more than 10 years and have ongoing development work in more severe duty applications, as well as evaluating hybrid potential.
What keeps you up at night?
Energy efficiency has taken a much greater relevance in the industry today. Increasingly, OEMs are looking at systems or components that deliver this benefit. Ten years ago, these ideas would not have received the same level of consideration.
Throughout his career, Clement Strimel (BSME, Ohio Northern University – 1983) has served in various roles in manufacturing engineering; project/program management; international business development; and strategic planning. Strimel has been involved in international programs since 1991, including leadership roles in Egypt, India, China and Brazil. Today, he serves as vice president of global business development for Oerlikon Drive Systems.
Companies in this article