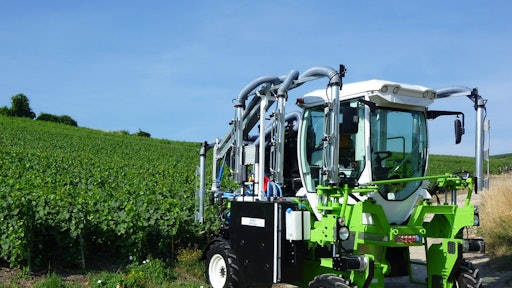 What's one way to address dangerous high hydraulic pressures, hose leaks, high power draws on the engine and excessive heat loads? Eliminate them. Of course, that's easier said than done, especially when it comes to heavy-duty off-road equipment power demands. But, as electronic systems and battery technology continue to develop, the ability to adequately replace hydraulics with electronics is becoming more likely—if not for the benefit of safety, then for the environmental benefits of reduced engine usage and thus reduced fuel consumption and lower emissions.
While the advent of high volume and customer-accepted commercialized electric farm tractors may be a ways off, the technology is well understood and, in some instances, already implemented. And especially, as precise vehicle control, automation and data collection becomes commonplace, so too does the emergence of electric drive vehicle systems. "We see a continuously increasing demand for electrical power from various implements," says Dr. Benno Pichlmaier, Head of Research & Advanced Engineering, Fendt, an AGCO brand. "Also, the demand for electric energy of the tractor systems itself has grown substantially."
The AEF (Agricultural Industry Electronics Foundation) has an entire project team dedicated to developing a proposal for a standard tractor interface that supplies power to attached machines and external components. According to AEF's website, the idea behind the project team is that the electric motors on all standard attached machines should be compatible with every mode of tractor, and the only limitation should be the output data of the tractor engine. Locally controlled electric motors can overcome the restrictions of mechanical and hydraulic solutions and meet the requirements of a new generation of attached machines, and should also provide considerable benefits at the same time.
The ISOBUS is the necessary communication bus between tractor and implement. For electrification, additional messages have to be specified while existing ISOBUS functionalities are carried over. CANbus will also be used on the implement, such as between ECU and power electronics. "We are jointly working on a consolidated proposal of a standardized tractor-implement interface under the AEF umbrella and expect the final, agreed specifications in 2016. This is an important step for our industry towards practical usability of interchangeable electric implements and tractors," says Wolfgang Breu, Research & Advanced Engineering, Project Lead - Electrification, Fendt.
Pichlmaier notes several other reasons for pursuing electric tractor technology in the agricultural industry—as Fendt has with its X Concept tractor, presented at Agritecnica 2013—including sustainability, agronomic process efficiency, technical efficiency, higher safety, comfort and reliability. "Electrification is an enabler for more sustainability. Electric farm equipment can be perfectly integrated to support and stabilize renewable energy grids like solar power or biogas," says Pichlmaier. Electric energy could even be used to power laser units to replace pesticides for weed control.
In terms of dynamics, controllability and flexibility electric drives are superior to any other solution, states Breu. "For the challenges we are facing in agriculture to feed the world through achieving higher yields with fewer seeds and agrochemicals on limited land, perfect precision is a must."
Electric drive ag tractors
Years ago, John Deere unveiled the 7030E Series electric-powered farm tractor at Agritechnica 2007 in Hanover, Germany. The tractor features a flywheel with a built-in generator which replaces the standard alternator and powers all of the engine's auxiliaries, allowing the engine to operate optimally at all times without outside power draw.
According to Deere, its E-Premium tractors have been shown to use 6.3% less fuel than the non-electric 7030 Premium Series tractor. And because the vehicle's Intelligent Power Management system starts at 1,250 rpm instead of 1,700 rpm due to the extra cooling from the electric-driven fan combined with the electric controlled coolant pump, the tractor has 15% faster acceleration that the 7530 Premium tractor.
At Fendt, the first steps of electrification started in 2001. At this time the so-called MELA (mobile electric power drives in English) project was initiated. "The Fendt X Concept is a tractor which carries over a lot of the valuable experience and results of the MELA research project, such as an extraordinary safety concept (protection class II system) and exceptional performance with impressive continuous power density due to a special cooling concept and dedicated power electronics," says Breu. "It was an obvious decision to combine our capabilities into a high power electric tractor, the X Concept. We mainly use it now to perform enduring field tests with all kinds of electrified implements and to expand our knowledge with higher voltage applications in all relevant use cases."
The X Concept's straightforward ISOBUS communication and DC Powerbus, as well as its high electrical power capabilities have been well received by both customers and the industry, according to Pichlmaier. The machine allows nearly unlimited applications of electrified implement concepts, thus fuelling productive collaborations between tractor and implement manufacturers.
Full-electric vineyard tractors
Recently, Champagne, France-based Kremer Energie (company information, 12060262) launched its electric high-clearance tractor for wine vineyard industry applications, the T4E. Kremer Energie has been pursuing the use of electrical energy in its wine-growing tractors in an effort to reduce pollution of the air, soil and plants from vehicle emissions, as well as reduced energy costs, noise and vibration. "The project of an electric high-clearance tractor was born in 2008 when my dad decided to start this great adventure," says Aurelien Kremer, President, Kremer Energie.
The first prototype, the T3E, was developed on a 3-wheel chassis with rear wheel steer. However, the market was not ready yet to accept the technology. "It took us 5,000 hours to develop a product that could satisfy most wine-growers' demands: a 4-wheel tractor, entirely electrical, provided with the latest technologies and with unequaled safety and comfort," says Kremer. That is how the T4E electric high-clearance tractor was born.
France's Ministry of Agriculture is also currently rolling out Ecophyto 2018, a plan to reduce the use of pesticides and protect the crop. There is also a noted accelerated trend for a producer to monitor his carbon footprint in the industry and the production of goods. The producer will gradually try to demonstrate and display the environmental impact of the products of his farm.
The T4E next-generation model built using recyclable materials and components, and offers more greenhouse gas (GHG) reduction capabilities with enhanced safety features and comfort for the operator. The 110 hp (80 kW) electric straddle tractor can use an alternative fuel adding to its environmental benefits. Featuring two power take-offs (PTOs), the T4E is able to pull attachments and tools used for mechanized work in narrow vineyards. It can automatically recognize the tools connected electronically and adapt to the operating requirements provided by the tool manufacturer providing energy savings and operational efficiency.
Its lithium ion batteries are made in France by E4V and can be recharged in as little as 8 hours. The system is created for 3,000 cycles (1 cycle is equivalent to a single day of use, charge and discharge) and has a 5 year warranty. In order for optimal performance, the battery system will prevent charging if the temperature of the battery pack is lower than 0 C. When not in use, the battery should be stored in a dry and ventilated place in a regulated temperature between -10 and 35 C.
The T4E claims a 95% reduction in energy costs with an average cost of 7 euro for an 8 hour charge versus 100 euro for 100 liters of fuel. Even more savings come with the reduced maintenance needs considering the T4E has only 10 liters of bio-based hydraulic oil and fewer moving parts.
But Kremer Energie is already thinking beyond its well-received T4E, built to meet the expectations of environmentally conscious wine makers while maintaining the quality of tractors on the market for ergonomics, cabin space, operator comfort and safety. After hundreds of hours of testing during operation, Kremer is moving on to the T4E EVO2 to continue toward its ultimate goal of producing its crop in a clean and sustainable way. The EVO2 features a new operator control which changes its functions automatically based on the connected attachment.
A known disadvantage of all-electric tractors is the speed and on-the-road travel. Kremer addressed this with reserve embedded energy. The company suggests that while it may have back-up reserve power, the operator should still be sure the tractor is 100% charged before use and plan the workday accordingly, keeping into consideration 10% power for the return trip. So, while electric tractors are available and being used effectively, there are still considerations to be had with the limitations of battery technology and energy storage versus expenditure.
Kremer Energie was not the only company to announce an electric high-clearance tractor for sustainable wine-growing. Tecnoma of Epernay, France, showcased its Voltis electric high-clearance tractor. The tractor uses electrical energy for propulsion and to operate its tools via two PTOs or current outputs. With a power output of either 74 kW or 100 kW, the drivetrain is based on four asynchronous electrical geared motors integrated in each of the wheel hubs.
Challenges now and on the horizon
High voltage electrification faces the same challenges of any new technology, it needs dedicated development and qualification of components for careful implementation. For example, the low temperature demands of power electronics are a challenge in high temperature off-road vehicles, not to mention fitting the necessary components inside an already tight footprint inside of a tractor. "Costs are unfavorable in an initial phase as there are no substantial volumes to drive economies of scale yet, but we have experienced a significant drop over the last decade and expect this to continue for the coming years," says Pichlmaier.
Another well understood challenge is that battery technology still has a long way to go for electric tractors to be able to become a more commercialized product. High temperature power electronics development will also be essential for overcoming challenges in heat management. As demand continues to grow for more electronics and sustainable practices, it is only a matter of time before the power and technologies necessary are ready and affordable for commercial use in off-road vehicles like tractors to provide clean production while building the world around us and feeding everyone within it.