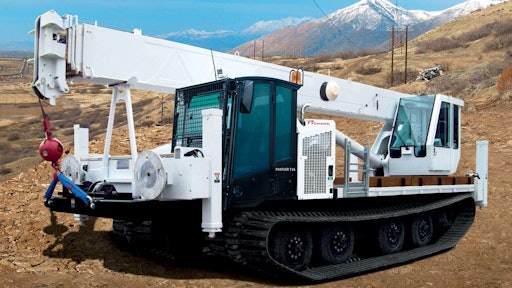 Originating in Japan, tracked carriers are able to bring several different machines to a jobsite on the back of one vehicle. The base vehicle can be equipped with a multitude of specialized attachments to tackle tough jobs in extreme applications, all while offering low ground pressure for safe operation in a variety of environmental conditions.
Terramac, a manufacturer of track carriers, was founded in 2011 after seeing a high demand for the machines in the North American market. "We were putting a few used carriers in our other business' rental fleet, and soon our customers saw how versatile these units were by outfitting them with various attachments," says Mike Crimaldi, CEO and owner of Terramac. "These vehicles work well on all site conditions and in all weather conditions so it's no surprise more customers were reaching out to us to use them. The need continued to grow so we decided to come up with our own new and improved design to keep up with the demand."
Italian-based Prinoth's Panther line of tracked carriers, through a series of acquisitions, are actually a new generation of Bombardier Muskeg and GoTracts (GT) brand vehicles from 50 years ago. "The evolution of this lineup involved a lot of research and innovation before launching it in 2011," explains Philippe Gosselin, Marketing Manager, Prinoth.
Streamlined customization
Tracked carriers' popularity is due to their ability to meet a lot of specific customer needs in a multitude of different industries and applications. This also means that each vehicle's features and specifications could be quite unique, making the manufacturing process potentially cumbersome to accommodate these demands.
According to Terramac, crawler carriers, by nature, are designed to be reliable in a variety of environmental conditions, which is what makes them so versatile. "We are always planning for worst case scenarios when designing this type of vehicle to ensure durability and reliability," says Crimaldi.
To simplify not only the manufacturing process, but also the attachment switching process for the operators, Prinoth incorporated a decade's worth of customer requests into its redesigned and standardized vehicle platform.
Prinoth's manufacturing process was already relatively flexible due to the various models and platforms it was supporting prior to the platform redesign, but it was the design phase where it really saw time and cost savings. "We were doing a lot of customer visits and design workshops to try and accommodate every specific need, market and terrain a customer was throwing at us. Because of the machine's track system and attachment options, the machine can go almost anywhere. One vehicle platform can carry a crane, a drill or a concrete mixer, just to name a few," says Eric Steben, Director of Engineering, PRINOTH.
By bringing on-board more features from previous customer requests, its base platform was able to meet a majority of customer needs. "We have more options now, which are able to be made directly on the production line, not after. I would estimate that around 95% of our orders that we are designing and sending are now considered standard configurations," Steben continues. "We still have the option to customize a vehicle further to a customer's specific needs, but a majority of the time, the standard vehicle platform can accommodate."
"Our machine is modular in design. The powertrain is one module, the cab is another. Internally we have a Tier 3 module and a Tier 4 module, so in the production line we can drop a T3 or a T4 engine at some point, but the rest of the machine stays the same. That's good for us for production, and the customer always has the same machine regardless of the engine package," Steben says.
The Panthers also have an on-board electronic system to control engine RPM and the transmission which provide fuel efficiency and transmission efficiency. "By having the right RPM and fuel delivery in the engine, you optimize and can lower your fuel consumption by up to 20%," says Steben.
All of Terramac's newest models include CANbus to allow easy expansion to add other support equipment and the required functions and features, standard GPS to provide alerts to maintenance professionals at programmed part replacement intervals, electrohydraulic controls, and in-cab touch screen monitors for easy interfacing with add-on features such as back-up cameras. Digital control monitoring systems have been added to the latest model, the RT14, and Tier 4 RT9 models.
Engineers paid special attention while developing the units' cabs to ensure they fulfilled all ROPS and FOPS certification requirements including an emergency kill system and man in place switch.
During the initial design phase for Terramac, engineers worked to refine and create a standard carrier model that would be open for modifications, but not necessarily need them each time a specialty attachment was requested. "A high percentage of Terramac's carriers are built with dump beds, but all come standard with front and rear bolt-on bumpers which allows for the addition of support equipment at a later date. This is where our tracked carriers shine—the ease of attachment changing" says Crimaldi.
Much like attachment options for an excavator, the simpler the exchange process, the faster an operator can get back to work and minimize vehicle downtime. This is what makes carriers particularly popular with rental companies - one machine can be rented throughout the year for several different tasks on a jobsite.
Take a pipeline project, as an example. The beginning of the project focuses on clearing the land which will use a dump box mounted atop a carrier to haul brush. During the next phase, the flatbed can haul mats to create a stable surface for the excavators and other heavy equipment to work on for trenching and laying pipe. The personnel carrier attachment is able to haul crews and all their tools to hard-to-reach areas throughout this process. Tac welders can be mounted to the unit to weld pipe together before being laid. The final steps include the restoration of the property and a hydro-seeder is commonly fitted to the carrier to restore the land.
It's all about the chassis
The key design element that allows tracked carriers to be multi-purpose tools is the vehicle chassis.
"When engineering for special attachments, we have to consider every way in which the support equipment could be used and where it could be distributing weight. The machine's ability to keep its center of gravity is critical," says Crimaldi.
Terramac designs their chassis with high tensile strength steel so it creates a strong gusseted chassis that allows for even distribution to take place while also balancing its various attachments. The chassis itself is a structural tubular frame making more enhanced modifications possible without hindering its strength. "At Terramac we receive requests on a regular basis for special applications and pride ourselves on our engineering ability to accommodate such requests," says Monica Coenen, Marketing Manager at Terramac. "We have mounted a number of auger, core and sonic drill rigs on the units which has required additional front, rear and center frame customization. For certain drills, we've also used an added triple port funk drive to get multiple pumps running off one engine."
A 60-ft. collapsible spray boom attachment with a 1,600 gal. water tank has been Terramac's most challenging modification to date. Both the center and the rear of the machine were customized. Also, controls for the hydraulic, electronic, water pump and water cannon systems all needed to be integrated and accessible in the cab for the operator. Electronic joystick controls were installed in the cab to operate the remote water cannon. Additional controls were installed to move the spray boom and to control the flow at every head nozzle. All of this was possible with a few modifications to the base unit, which is incredible.
According to Crimaldi, "Our undercarriage is simplistic in design. We strive to give our customers carriers that can be easily understood and maintained. Each machine's complete undercarriage can be overhauled within a matter of hours."
When Prinoth introduced its Panther line-up—after a complete vehicle redesign in line with oncoming Tier 4 Final engine needs—it included a vehicle chassis with the same dimensions and characteristics as a standard truck chassis.
"When Tier 4 was coming, we had to do a lot of design work to the platform in order to accommodate the new engines, so the decision was made to take that opportunity to review the vehicle completely and bring it into modern times. If you can mount an attachment on a truck, you can mount it on our chassis. That opens up the amount of things that can be added to the vehicle," says Steben.
The truck-style chassis also allowed Prinoth to accept the industry standard torsion box that all manufacturers of aerial devices use. "By going to a truck style chassis, equipment modifiers can use the mounting procedures they already use on a daily basis when mounting cranes and digger derricks onto trucks. That process is exactly the same on our Panther vehicles. That's going to save them time, money, gets the vehicle into the customer's hands faster, and saves the end-user money because installation times are cut by as much as 60%," says Doug Little, Director of Sales - North America, Prinoth. Technical risk is also reduced because manufacturers are dealing with a familiar installation process and a wider field of competency versus specialized installation and engineering complexities.
Not your average tracks
When off-roading is part of the application, a tracked vehicle is essential. A track system offers low ground pressure, which can not only be desired but in some applications mandatory. "In the environmental market, these vehicles are helping to restore streams and waterways. When customers are working in those environmentally sensitive areas, they have to abide by strict ground pressure regulations so as not to damage plant root structures while working on and off the jobsite," explains Crimaldi. "Vehicles with tires often times don't meet regulation and are restricted due to the damage they cause, which only increases tracked carriers demand."
A track system is comprised of several components including the rubber track and a roller system. "The rubber tracks are the underlying detail which provides the low ground pressure users have come to depend on," says Crimaldi. While there are off-the-shelf systems that could be integrated into a tracked carrier vehicle's design, both Terramac and Prinoth have engineered unique configurations.
"The complete undercarriage, including the suspension and wheels, the wheel size, the total number of wheels, the walking beam are all unique to Prinoth," says Steben. The company's unique self-tensioning system is the key to its long life.
"When there is no cylinder or relief valve to take the pressure when you go over a rock or log, which can pinch the track, it's the elasticity of the rubber track that is taking that pressure," says Little. "In our vehicle, it's the cylinders and the relief valve that take the pressure so the rubber track doesn't have to change shape to accommodate the pressure. This reduces the possibility of the track coming off the vehicle in extremely tough situations."
Ultimately, it is the track system that allows these multipurpose vehicles to traverse a wide variety of terrains and applications. Add the adaptability to accommodate attachments through robust chassis design, tracked carriers will maximize usefulness on any jobsite. "The unique thing about these vehicles is that they go into multiple markets with multiple attachments; they're almost limitless as long as the attachment fits onto the carrier," says Crimaldi.
NOTES FOR DAVE:
Department Header - Market at a Glance: Tracked Carriers