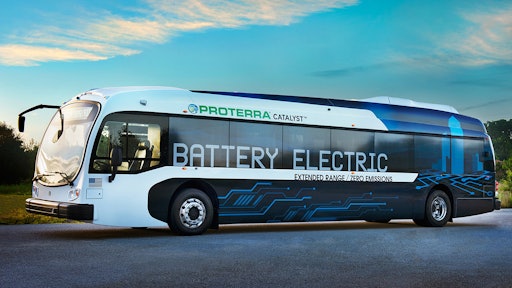 UQM Technologies
Vehicle electrification continues to be an area of focus for many OEMs as they look for ways to provide more sustainable means of transportation. Joe Mitchell, CEO of UQM Technologies, says the company is seeing strong adoption of electronics in the commercial vehicle market due to its set routes, current infrastructure and control capabilities being suited to the use of such technologies.
UQM has been a supplier of electric motors, inverters and other electronics components to OEMs in both the on- and off-road markets for several years. As the shift toward vehicle electrification has increased, the company has found that many OEMs are looking for turnkey solutions instead of having to source various parts from multiple suppliers and integrate the components themselves. "Strategically, we determined we needed to offer that entire powertrain solution," says Mitchell.
In June, UQM announced its partnership with Eaton and Pi Innovo to develop a full electric drivetrain system. By partnering with Eaton and Pi Innovo, UQM will be able to quickly bring to market a fully integrated system because the components being used are all existing products which have been proven and validated for use in heavy-duty applications. "Time to market from our end is very important," says Mitchell. "When the customers need to go out and source all of these various components separately and do all the validation, it takes time and significant investment. We're able to bring them a turnkey solution that will get them to market much quicker."
The company says this capability is particularly beneficial for the rapid development and use of electric vehicle technologies in regions such as China and India.
Bringing proven technologies into a single system
The UQM PowerPhaseDT is composed of UQM's PowerPhase HD220/HD250 motor and inverter system, an Eaton two-speed transmission and Pi Innovo transmission control unit. Josh Ley, Vice President of Engineering at UQM Technologies, notes that the PowerPhase HD system is available in three versions with power outputs of 140-250 kW. Either a standard or customized version can be used for the drivetrain to meet the performance requirements of the vehicle application without the need to make adjustments to the Eaton transmission.
The Eaton two-speed transmission paired with the UQM motor and inverter system will provide emissions-free vehicle operation.Eaton Vehicle Group
At the 2016 IAA Commercial Vehicle show, Eaton announced the introduction of its two-speed transmission for electric vehicles which will be used in the UQM drivetrain system. The system is based on an existing component the company uses in conjunction with its four- and five-speed transmissions.
Gerard DeVito, Chief Technology Officer, Eaton Vehicle Group, says the transmission is an efficient, streamlined planetary transmission which the company was able to repackage for the PowerPhaseDT system. Because many existing aspects of the technology were used, such as the gear chain, it did not require "a lot of big investment and capital in re-engineering to create something that was very good for the application."
For the development of the PowerPhaseDT, Eaton is working with UQM and Pi Innovo to ensure the transmission is controlled in the correct manner, helping to guarantee it's a robust and reliable system. DeVito notes aspects such as duty cycle information and how the transmission is shifted need to be taken into account, and which Eaton is providing guidance on. "We have a large hybrid business and electric vehicle business where we actually automate and do all the electrification for those transmissions," he explains. "We have a lot of experience in this field, so we're just trying to work with [UQM] to make sure requirements are aligned and make sure it pleases the customer."
Mitchell says it was a natural fit to work with Eaton on the project due to the companies having worked together before, and the transmission is already a proven technology. "From a mechanical validation perspective, this product has been in the field for many years and has durability and test data already on it, so we don't have to go out and develop another transmission source," he says.
Pi Innovo, another company UQM has worked with previously, will provide its M220 transmission controller. As part of the company's OpenECU line of rapid control prototyping controllers, the M220 enables quick development and production of the controller.
Pi Innovo's M220 transmission controller is part of its OpenECU line of products which can be quickly modified to applications through the use of model-based software.Pi Innovo
Dwight Hansell, Vice President Business Development at Pi Innovo, explains that the hardware and platform software are existing technology, while the application software is the part which needs to be developed for each individual application in which the controller will be employed. "With our platform, which allows everything to be done with model-based controls using Simulink, our team can very quickly develop the actual application that will go into production for [UQM]," he says. "They can have a very quick turnaround to have production-level controls ready to go into production for their system at a very cost-effective price."
Hansell says one of the benefits to using the Pi Innovo transmission control unit (TCU) is the fact that UQM will be able to tailor the controls to individual applications. Typically when a company receives a TCU, it's a black box which requires going back to the supplier for any changes or modifications. However, with the Pi Innovo unit, UQM has the option to modify the controls itself or work with Pi Innovo in order to do so. "By using our controller and our controls, UQM's going to be able to go in very quickly and respond to their customers' needs and give them exactly what they want with respect to transmission controls for the market," says Hansell.
Benefits to OEMs and Their Customers
The PowerPhaseDT offers many benefits in comparison to direct drive electric vehicle systems, which many markets are moving away from. Ley says the three main benefits the UQM system provides are reduced size and weight, a reduced cost in volume production and improvements in efficiency.
Direct drive systems usually consist of a large electric motor driving directly into the rear axle, and do not require the use of a transmission. Using a transmission in the system, however, multiplies the torque from the electric motor, lowering its torque requirement which allows the size of the motor to be reduced. This enables the amount of materials within the motor, such as copper and magnets, to be reduced as well. "We reduce the size of the electric motor by three or four times and add a transmission, the size of which is roughly the same as the electric motor, but the materials in the transmission are much less expensive," says Ley. "That reduces the size and cost of the overall drivetrain."
Including a transmission in the system also benefits efficiency by keeping the electric motor in the most efficient operating range over more of the drive cycle, says Ley. "Similar to how a diesel engine is kept within its powerband by shifting gears, the electric motor and transmission combination will be shifted such that it's kept in its most efficient operating region for a larger part of the drive cycle, therefore the overall vehicle efficiency can be optimized."
"I think a lot of people thought when you went to EVs, transmissions would no longer be needed and now they're realizing they're providing a huge benefit," adds DeVito.
As battery costs have begun to come down, many transit agencies are seeing the benefits of pure electric vehicles, says Mitchell. Not only do electric vehicles provide opportunities to reduce fuel costs and emissions, but also reductions in maintenance costs. He says a study conducted by King County in Washington found a typical diesel bus, running continuously for 36,000 miles, cost around $1 per mile to maintain while an electric bus cost $0.06 a mile.
With these benefits becoming more evident, it's likely more OEMs will look to make the move toward offering full electric vehicles. If an OEM chooses to use the PowerPhaseDT system for such a vehicle, UQM will work with that manufacturer to integrate the system.
While the initial application for the drivetrain is transit buses, Ley says it could be used in several types of on- or off-highway applications. "It really is applicable across the board in terms of industrial and commercial vehicle applications," he says.
Ley notes that both the UQM motor and Eaton transmission have been used in heavy-duty off-highway applications, and as such are able to withstand the shock and vibration associated with those types of working environments. Other than mounting hardware, Ley does not foresee any changes needing to be made to the system whether it's used in an on- or off-highway application.
The all-electric drivetrain is currently going through pilot programs with a few customers in North America and China, and UQM anticipates production of the system will begin in 2017.
Companies in this article