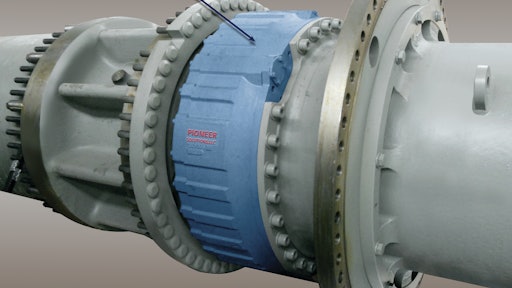 Since the formation of Pioneer Solutions LLC, Cleveland, OH, in 2004, the partners and management team have had their eye on highly engineered specialty products that they may be able to supply in addition to offering engineering services. "The engineering service industry is a tough business; it is very cyclical. It's easily impacted by the economic ups and downs. We do a lot of business on the product development side with OEMs, and in 2008 and 2009 during the economic downturn, those budgets were slashed," says Christopher B. Althausen, Director of Sales & Marketing, Pioneer Solutions LLC. Because of this, the company has had a strategic interest to manufacture components or systems to balance its business and provide consistent revenue streams through products and aftermarket sales.
The company was formed from the former engineering department for the Euclid dump truck product line, which is now a Hitachi brand. "We have a brake engineer who is one of the partners/owners of the company who has been working with wet disc brakes for dump trucks for over 30 years. When you look at the different components and systems across a dump truck, our company has a high level of expertise in all of those areas," Althausen says.
In 2010, the Pioneer Solutions was given the opportunity to expand into manufacturing when an OEM asked the company to create and manufacture a wet brake system. "We were able to leverage a deal to get into the manufacturing business," says Althausen. "Part of the deal was that we had to make the initial investment in the design, so now we own the component IP and technology."
The wet brake component was the perfect stepping stone for Pioneer Solutions to diversify into the manufacturing business. The product has good cost to revenue opportunity, and is easy to integrate into the equipment.
The brake design
Pioneer Solution's brakes are designed to operate on both mechanical and electric drive dump trucks, and can be used on both front and rear axles. The brake models are designed to fit into the tire and rim with diameters between 33 and 63 inches with minor modifications to the internal brake components, and the series is named accordingly (e.g. the brake system for 49 inch tires/rims is the 4900 Series).
The design is not exclusive to a single OEM, and since its first client in 2010, Pioneer Solutions has brought another customer on board in 2011. It is also in conversations with several more OEMs about custom brake solutions. "We're hoping to grow the business and work with as many different OEMs and possible," says Althausen.
The initial brake set design and prototype cycle took about nine months. With the company's veteran engineering staff, the overall design of the brake was not the challenge. What proved to be a challenge was integrating the design into the preexisting axle design of the OEM. "There is a lot of fine dimensioning and tolerances that have to happen for the brakes to fit on the vehicle and feel and work properly," Althausen says.
Thus far, the company has produced three brake systems and is hoping to complete another six before the end of 2012. The brakes are primarily going onto OEM prototype equipment for field testing, "so once the OEMs finish the prototype test phase, we'll move into production with them. From the conversations we've had with our OEM customers, planned volume could be somewhere around 20 to 40 trucks per year, which our current manufacturing staff can handle. If the volume picks up, we'll look into augmenting our current manufacturing layout to support it," says Althausen.
Pioneer Solutions' dual approach design and manufacturing process also lends itself to risk mitigation. There are several layers of testing – dynamic testing, field testing – that go along with new truck development and the system functionality verification and regulatory standard compliance. "We go through ISO 3450 certification with our customers on these trucks. When it's all said and done, and the prototype is approved and released for production, we have a very high level of confidence that the brakes and the systems are working correctly," Althausen says.
The company sees the market trending toward wet disc brakes on mechanical drive trucks for the retarding function, as well as a movement to four corner wet brakes (wet brakes on the front and rear axles) whereas before that they were generally just on the rear axles. "We're also seeing more front and rear axle wet disc brakes on the large ultra-class electric drive vehicles, and we're excited to seize a potential opportunity there," says Althausen.
Future opportunities
As is the general trend in the industry to move from component manufacturer to integrated system solution provider, the company is considering expanding its manufacturing capabilities to incorporate other components like the brake line and cooling system elements, however for now its primary focus is to establish itself as a manufacturer and engineering firm. "A long term goal would be to supply an entire brake system including cooling and oil-disc brakes so an OEM could buy the entire brake package from one supplier. We see interest like that from some of the OEMs we've talked to," confirms Althausen.
"We've also had our eye on some specialty gearing, primarily differential and planetary gearing, that would be used on drive axles for dump trucks which are highly engineered and have to have a high-quality manufacturing process in place to be able to survive in the off-highway equipment market. We aren't looking to become an OEM and start manufacturing dump trucks, but the highly engineered, highly manufactured, high-quality component areas are where we have the most opportunity."
Dump truck volume is often not high enough to entice some of the bigger name component manufacturers and suppliers. "Our bread and butter could be filling the highly engineered, low volume voids in the market since this is a supplementary business and not our exclusive income source like it would be for a brake or axle manufacturer," he says.
Pioneer Solutions now presents itself to the public with two main business segments: One is technical engineering consulting, and the other is manufactured products. "We really look at providing solutions that an OEM can use across the life cycle of equipment design and development. In the beginning stages, it would be our consulting segment providing market analysis, technical specifications, new product development and engineering. But, after providing a prototype, we'd move into our manufacturing service to supply components and systems, aftermarket sales, spare parts and field support," says Althausen. "The target customer is the same, so it's very convenient and easy for us to flip between both business segments.
"We're really excited about this capability and see this as a big step forward for our company," he continues. "A big part of growing and stabilizing our business is by having a healthy mix of products and services to offer."
Companies in this article