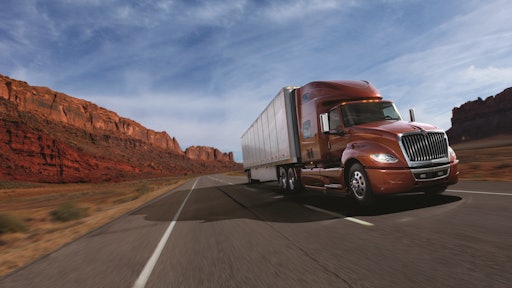 International Truck announces standard availability of air disc brakes on all axles for all models of the International LT Series. The International LT Series in 6x4, 6x2, and 4x2 configurations now feature Bendix ADB22X air disc brakes as a standard offering on all axles.
"Our DriverFirst design philosophy ensures the needs of professional drivers remain top of mind with our product development team," says Denny Mooney, senior vice president, Global Product Development, International Trucks. "Offering standard air disc brakes on all axles is just another example of our Uptime promise to build trucks with the latest safety technologies, that stay on the road and that drivers want to drive."
The Bendix ADB22X air disc brake from Bendix Spicer Foundation Brake LLC (BSFB) features a patented lightweight design that significantly reduces stopping distance and extends brake system life. Complementing the straight, stable stops that air disc brakes provide is greater reliability, thanks to a design that nearly eliminates brake fade and degradation of stopping power. In addition, total cost of ownership (TCO) can be reduced by installing durable, long-lasting air disc brakes which generally allow for significantly shorter pad change times than traditional drums.
In developing the LT Series, International Truck worked hard to assure that drivers will find each vehicle more comfortable, appealing and user-friendly in every detail. Based on a careful review of more than 500 points where the driver and truck interact, the highly ergonomic interior of the LT Series includes better elbow room, hip room and leg room. Driver input also led to a smart, well-designed mix of high-tech and traditional features that emphasize driver ease of use. Many of the truck's new features were designed to improve reliability and serviceability, as well as safety and functionality.
Multiple Advantages of Air Disc Brakes
Air disc brakes complement today's advanced safety technologies – including electronic stability control (full stability) and collision mitigation systems – and help them perform at their best. Full-stability systems such as the Bendix ESP Electronic Stability Program will be mandatory on all new Class 7 and 8 air-braked tractors as of August 1, with requirements extending to include other vehicle categories over the next two years.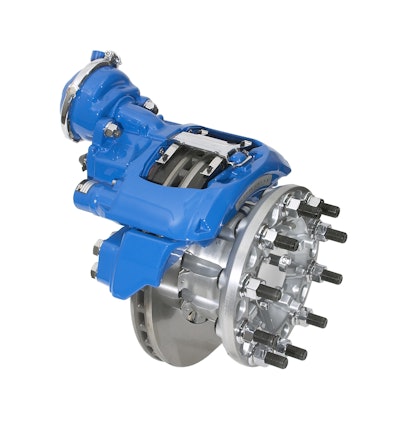 "Customer fleets and drivers cite multiple reasons for embracing air disc brakes, including straight, stable stops; a car-like feel; and improved stopping distance performance, thanks to a design that virtually eliminates brake fade," said Scott Burkhart, Bendix vice president – sales, marketing, and business development. "And from a fleet management perspective, equipping disc brakes on all axles of a tractor helps uptime by extending service intervals. When replacement is eventually needed, discs on all axles lowers maintenance costs, streamlines technician training, and, at the same time, reduces inventory requirements."
The Bendix ADB22X delivers longer brake lining life and quicker pad replacement when compared with drum brakes. Bendix's air disc brake design also eliminates the risk of rust jacking and incorporates an internal self-adjustment mechanism that can help lower the risk of brakes being found out of adjustment during inspection – which can affect Compliance, Safety, Accountability (CSA) scoring.
International Truck and its parent company, Navistar, are strong supporters of leading-edge Bendix technologies. With the LT, launched last year, International was the first truck manufacturer to offer Bendix Wingman Advanced – A Collision Mitigation Technology as standard equipment in the North American market, and the first truck manufacturer to offer Bendix Wingman Fusion, Bendix's most advanced driver assistance system. International also makes a wide range of Bendix products – including complete wheel-end packages, anti-lock braking systems (ABS), valves, and air dryers – available as options or standard on a range of its medium- and heavy-duty trucks and buses.
BSFB produces the full lineup of commercially available Bendix brand air disc brake and foundation drum brake solutions at its state-of-the-art manufacturing facility in Bowling Green, KY.