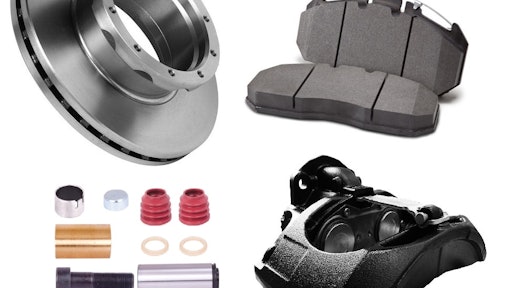 DuraBrake (formerly Durametal) introduces a new all-makes air disc brake program for heavy-duty truck and trailers. 
"With Air Disc Brake (ADB) systems being specified on 20-25% of new vehicles, and vehicles starting to come off warranties, now is the time when these parts are going to start increasing in the aftermarket," says Shaun Shroff, President, DuraBrake. "While we have offered ADB parts for over 10 years, we now have a much more comprehensive line of aftermarket options with performance comparable to that of OEM product."
The DuraBrake line of ADB parts covers brake systems from Bendix, Knorr Bremse, Meritor, Wabco, Haldex and Hendrickson. It will consist of the following components: 
Rotors
Disc pad sets
Caliper Guide Bolts and Seals
Calipers – new for Bendix and Wabco coming in 2018
DuraBrake air disc brake products are tested to the highest standards for material and performance requirements. The line of rotors and pads meet FMVSS 121 requirements. 
"DuraBrake's goal is to offer a full range of ADB products to truck parts distributors and dealers so they can be prepared for the increased demand for these parts while offering a good quality, price sensitive option to the end user customer," says Shroff. "Also, just like DuraBrake does with brake drums, we are able to custom make rotors (obsolete or hard to find) in small quantities. Even though rotors are new, brake manufacturers' have already made certain parts obsolete"