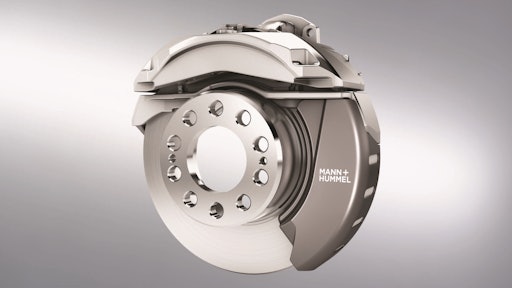 The newly developed Brake Dust Particle Filter from MANN+HUMMEL significantly reduces the brake dust emissions of vehicles so fewer brake dust particles escape into the environment. The filter is adaptable to existing installation spaces around disk brakes. The Brake Dust Particle Filter can be used for any type of drive, from electric vehicles and hybrid vehicles to classical gasoline or diesel vehicles.
After successful field testing as part of its "Fine Dust Eater" project in the past few months, MANN+HUMMEL will present the Brake Dust Particle Filter for both passenger and commercial vehicles in September, both at Automechanika and during IAA Commercial Vehicles.
After MANN+HUMMEL first presented the technology in 2017 at an early stage of the development process, successful tests have confirmed its effectiveness. The successfully completed Großglockner test in a wind tunnel simulated a drive down a mountain, demonstrating temperature resistance. Snow and water also showed no effect on the filter. The objective of capturing 80% of the brake dust particles has been achieved according to tests to date. MANN+HUMMEL also assumes a service interval that approximates that of changing the brake pads. The developers are also very optimistic that they can achieve a product weight of under 500 grams.
Thanks to its robust housing directly next to the brake caliper, the filter acts directly at the point of production to prevent the escape of brake dust particles into the environment, especially in city traffic with a lot of braking. The filter medium is a material resistant to temperature and corrosion that efficiently filters the different particle sizes. Catching particles directly at the point of production can also significantly reduce dirt buildup on alloy rims and the time-consuming removal of embedded brake dust. For many drivers, that has incredible value. For passenger cars, the brake dust particle filter can also be used as a colorful styling element.
The new technology has met with great interest. MANN+HUMMEL has already completed successful testing with well-known automobile manufacturers. Several month of testing, according to series requirements of vehicle manufacturers, in cooperation with a well-known brake manufacturer just kicked off recently.
Braking in city traffic causes many times more dust than exhaust gases. The wear on the brake shoe and pad produces brake dust every time you brake. A significant part of that dust is particulates, which are harmful to the health and environment due to their small particle size. Brake dust contributes significantly to particulate pollution resulting from road traffic. Over 90% of brake dust consists of very fine particles which have a negative effect on human health.