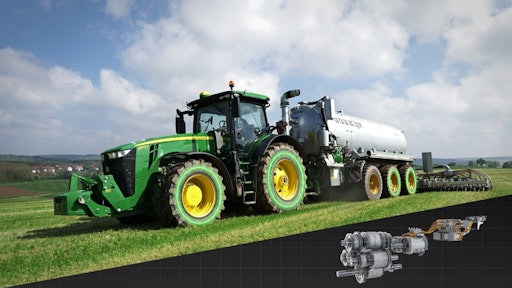 John Deere Power Systems
What goes into creating an industry-leading, innovative solution? One that breaks boundaries, sets a new standard, and enables new technologies? Especially in a market as competitive as the agricultural machinery landscape? For John Deere and Joskin, it came down to seizing the opportunity and leveraging their unique combination of expertise.
"We are in an interesting and exciting time to move our industry forward," said Matt Hoover, Drivetrain & Electrification Product Specialist at John Deere Power Systems. "Electrification is on the rise, and machines are becoming smarter and more connected. Control solutions are becoming more powerful and precise. This is an ideal landscape to introduce more efficient, electrified solutions."
John Deere has reliable, dependable solutions in all three factors of electrification: power generation, power conversion, and power usage. Because each of these systems can be built in-house, all the interfaces are engineered to work together. From the engine to the output shaft to the drive wheel — each is developed with the other components in mind, making the system as a whole work rather than just a single machine.
John Deere also introduced its Smart Industrial strategy, which is designed to unlock new value for customers and help them become more profitable and sustainable while simultaneously revolutionizing the agriculture and construction industries. This will be accomplished through the rapid introduction of new technologies, including hybrid and fully-electric solutions.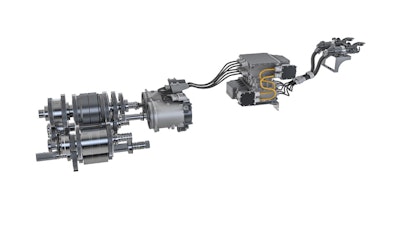 A slurry of opportunity
John Deere tractors and Joskin slurry spreaders are a classic combination in the marketplace. Yet, even with industry-leading equipment, there was still room for improvement.
"With a lot of agricultural applications, field compaction is a large concern. For users driving a piece of equipment that utilizes heavy implements like a slurry spreader, coupled with heavy loads, this concern is magnified," said Hoover.
"In addition to less damage to the soil, our customers were looking to achieve a larger area output with wider injectors within a lower power range on their tractors," said Valéry Bailly, Sales Director at Joskin. "Doing so would allow them to reach higher levels of productivity with the same equipment. Plus, protecting the soil now also protects future harvests."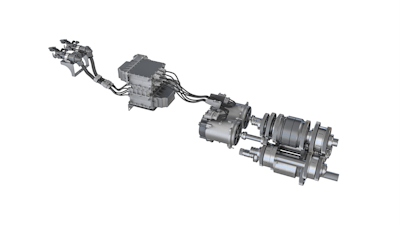 This is where the electromechanical power split gearbox comes into play. "The solution provides traction assist on the slurry implement, which reduces field compaction. The reduced slip decreases overall soil damage. This gives farmers the ability to go out into the field and work in less-than-ideal conditions, increasing overall productivity and adding crucial available working hours within a tight window," said Hoover.
Traction, electrified
The Deere eAutoPowr transmission utilizes two high-power electric machines, instead of the conventional hydrostatic unit, to achieve the required gear ratio. One electric machine is coupled to the engine and the other is coupled to the summing planetaries to deliver infinitely-adjustable wheel speeds. The electric machines are then coupled through a dual inverter, which controls electric power. This award-winning solution represents the first electro-mechanical power split gearbox in the agricultural industry.
There are five available driving modes with fully seamless shifts. Mode 1 is series electric, in which all of the tractive power is delivered through the electric drives. This mode is used for low-speed operation in both forward and reverse, allowing for no change in shift elements when passing through zero ground speed. Modes 2-5 combine engine power and electric drive power to supply tractive power. This configuration allows for 50 km/h (31.1 mph) transport with low engine speeds.
This new configuration provides up to an additional 100 kW of electric power for external consumption, further improving efficiency and performance. This exciting new functionality is where the partnership between John Deere and Joskin started — allowing power from the tractor to be used effectively as a traction assist function on the Joskin spreader.
Leveraging a global perspective
The collective expertise between Joskin and John Deere provided a great starting point in developing this solution. Although this project started in 2015, the two companies have worked together for more than 10 years.
"Our company has always taken a dynamic approach to improving agricultural equipment, even from its inception in 1968," said Bailly. "We put the needs of farmers first — just how John Deere places its customers' needs first — when engineering our machines. Working together with John Deere was a great opportunity to develop something truly innovative."
In addition, John Deere's engineering expertise and global resources played a key role in developing a viable solution. The team included engineers from Europe and the United States.
"What was unique about coordinating with John Deere was that it wasn't just tractor experts who worked with our slurry tank experts — it was experts from all over the world," said Bailly. "After all, our customers are not only machine operators, they are also farm managers who need to take their entire operation into account. That complete understanding of all aspects of the business that John Deere brought to the table was critical in making this project a success."
"As a global player, John Deere has experience from numerous countries. It's also active in many areas all around the world — not just agriculture — which provides unique, critical insight into our application that we never would have had on our own," said Bailly. "This type of experience is beneficial for any kind of application development."
Groundbreaking, soil saving
Due to the analytical and technical expertise from John Deere engineers, the project reached new levels of success and recognition. The final product offers increased efficiency, better fuel economy, lower maintenance, and predictable and consistent traction as well as reduced soil damage.
Competitive solutions require OEMs to add their own power electronic inverters to drive the electric traction motors as well as traction assist logic using additional communications over the ISOBUS. This increases complexity and cost.
The John Deere tractor solution, however, inherently contains the required power electronics and ties into the native powertrain control strategy. This provides increased control performance in comparison. This configuration also reduces overall cost, simplifies packaging and controls development, and makes it easier for other OEM implement customers to successfully develop their own traction kits.
"We are proud of the solution we developed and how it can be replicated for other OEM customers to achieve similar results in their unique applications," said Hoover. "This is a significant step forward in making electrification solutions more accessible and viable for large off-highway equipment."
The electromechanical power split gearbox configuration is a foundational solution for many future applications to come. The eAutoPowr transmission configuration enables an entirely new set of technologies, including onboard electrification, electric energy storage, precise speed control, predictive maintenance, automation, and more.
To say the least, it sets a new industry standard.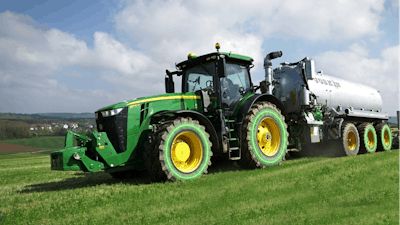 This article was written and contributed by John Deere Power Systems.