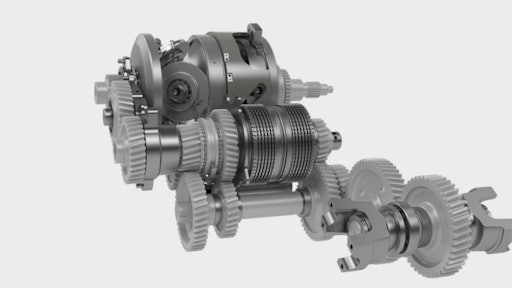 CVTCORP has developed a high-power, efficient and cost-effective mCVT which is currently available as the Ecomec 150, used in the new Skyjack Ecoshift telehandler. CVTCORP's mCVT patented technology, the result of over 15 years of development, offers off-highway manufacturers a fully validated and scalable solution that provides unmatched operational ease, engine downsizing opportunities and overall vehicle performance improvements in the 20-30% range.
Bonfiglioli, after the acquisition of O&K in 2015, has become the provider of the largest geared drives range in the market for applications in construction, mining and material handling equipment, driving machine sizes ranging from 1 ton to over 1,000 tons. The continuous improvement in design, proven quality standards and operational excellence recognized by the most respected machine manufacturers worldwide have confirmed, after 40 years of experience in the sector, Bonfiglioli as the geared drives market benchmark.
"Bonfiglioli's endorsement of our mCVT technology and their reputation as a high quality, global manufacturer will accelerate the commercialization of our technology worldwide starting with telehandlers applications," says Daniel Girard, founder and CEO of CVTCORP. "We are looking forward to assisting Bonfiglioli with moving forward rapidly into markets where our innovative mCVT technology enables engine downsizing, fuel reduction, increased safety and productivity.
"CVTCORP will work with Bonfiglioli to continue its development of advanced controls and connectivity capabilities to optimize complete vehicle performances and provide customers equipment with simple but cutting-edge technology." 
"Over the last several years, we have worked very intensively to enhance and enlarge our product portfolio in our core markets with excellent responses from our customers. A couple of years ago, when we came across CVTCORP's technology, it was clear we were in front of a 'game-changer' and we immediately recognized the differentiating features such technology was offering and the diversification opportunity for our company leveraging on our market, technology and operational core competences," says Fausto Carboni, Bonfiglioli CEO.
Companies in this article