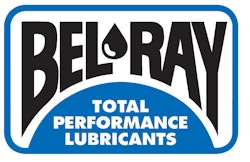 Bel-Ray Company, the leading USA-based specialty lubricants company, announces an expanded partnership with Esco Corporation, a leading mining supply company with entities across the globe, for expanded distribution of its mining specialty lubricant product line into Esco's Brazilian operations.
The agreement enables Bel-Ray and Esco, which both have strong alliances in the mining arena, to work together to provide reliable lubrication solutions to mining customers throughout the region. The largest mining companies will be able to rely on a one-stop shopping approach, with Bel-Ray's extensive product line and Esco's support, to provide total lubrication and service solutions. Bel-Ray products have historically shown increased machine productivity leading to cost-savings—and, as a result, a more profitable mining operation.
The addition of Bel-Ray's performance lubrication solutions and technical services to Esco's already existing product line will enable mining operations to experience the benefit of unrivaled reliability and performance.
"Bel-Ray and Esco have been long time partners in North America, with a solid record of delivering value to our shared mining customers," says Jennifer Liquori, Bel-Ray's Chief Executive Officer. "I am thrilled we are extending our partnership to Brazil, where both Bel-Ray and Esco have a meaningful market share in respective disciplines. Combining Bel-Ray's technical service and high-performance total lubrication solutions with Esco's premium product line will no doubt be a powerful combination during a period of austerity, when customers are looking for suppliers that maximize value and maintain 100% machine up-time."
"ESCO is pleased to announce, as of July 2013, its newest partnership becoming the distributor of Bel-Ray products for the mining, oil and gas, and sugarcane markets in Brazil," says Jose Rogerio de Paula e Silva, Esco's Managing Director. "Esco, with its manufacturing plants, commercial structure and technical support, will meet Bel-Ray's distribution in its Betim, Carajás and Sorocaba branches. Bel-Ray products are considered to be high-performance lubricants and greases, offering a high differential in cost-benefit solutions with anti-wear custom applications for our clients. Esco and Bel-Ray have established this partnership with determination to provide excellence throughout the Brazilian market."
Founded as a steel manufacturer in the Northwest United States, Esco celebrates its 100th anniversary in 2013. It has grown into a global leader in wear parts and services for the mining, construction and industrial, and oil and gas industries. Its distribution network in Brazil currently delivers Esco's premium-quality product line to many of the country's most successful mining operations and heavy industrial facilities, such as construction, steel, cement and power plants, sugar cane processing, oil, gas and shipping ports.