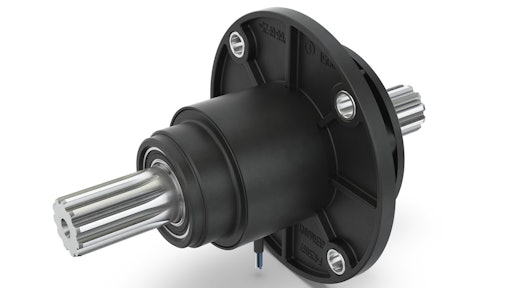 Showcasing its engineering capabilities in power density optimization and mechatronics, Schaeffler is presenting a comprehensive portfolio of advanced solutions at the 2020 International Fluid Power Exposition (IFPE) in Las Vegas. Visitors to booth S-81607 in the Las Vegas Convention Center's South Hall will experience an array of precision-engineered products that represent the culmination of Schaeffler's decades of experience as an OEM supplier and solutions provider to the fluid power, power transmission, and motion control industries. Designed to ensure maximum performance and reliability, the Schaeffler products on display offer equipment manufacturers new opportunities for optimizing power density as well as for transitioning from hydraulic to electromechanical actuation in their respective applications.
Describing Schaeffler's presentation at IFPE 2020, Senior Vice President - OE Sales Eric Ovendorf, says, "Many of our customers know us as a bearing manufacturer and supplier – which is obviously very gratifying – but we're so much more. We're your solutions provider for mechatronics and power density, which means we can help you do more for your customers by increasing the performance of your systems and applications."
X-life: The Schaeffler solution for power density optimization without sacrificing performance
In addition to denoting Schaeffler's seal of quality for ultra high-performance products from its INA and FAG brands, X-life bearings enable hydraulic pump manufacturers to make their pumps do more within the same design envelope. Compared to the conventional standard, Schaeffler X-life bearings offer a longer rating life when the application's load and design envelope remain unchanged. Conversely, an X-life bearing with the same design envelope and rating life can support higher loads. And if rating life and load are both unchanged, Schaeffler X-life bearings deliver increased power density and reduced design mass.
Mechatronics and Industry 4.0 innovations
Years of experience developing and mass-producing mechatronics innovations for automotive applications – such as the 2017 PACE Award-winning electromechanical roll stabilizer – uniquely position Schaeffler to provide seamlessly engineered mechatronics solutions to the fluid power, power transmission, and motion control industries. Schaeffler is exhibiting several of its mechatronics and Industry 4.0 solutions at IFPE, including the company's TorqueSense modular torque-measurement device, VarioSense sensor bearing, and P.ACT linear actuator.
TorqueSense modular torque-measurement solution
Comprised of a magnetically controlled shaft section and sensor housing, TorqueSense offers a mechatronic solution that allows applications and processes to be monitored and controlled with significantly greater precision than before. Using a magneto-elastic process that provides non-contact torque measurement capabilities, TorqueSense offers plug-and-play convenience, an integrated speed measurement function, and a measuring range of up to 4,000 Nm.
VarioSense sensor bearing
Based on Schaeffler's industry-leading standard bearings, VarioSense integrates multiple functions and measurements into a single sensor bearing that requires no additional radial mounting space. Up to five sensor elements can be arranged in VarioSense's sensor cluster ring, whose readings can be used for controlling drives, monitoring processes, or calculating remaining useful life.
P.ACT linear actuator
Designed to replace traditional pneumatic and hydraulic actuators, P.ACT is an electromechanical linear actuator that incorporates Schaeffler's innovative PWG differential roller screw. P.ACT combines extremely high power density with a smaller footprint than conventional linear actuators into a plug-and-play design that enables fast setup and operation.