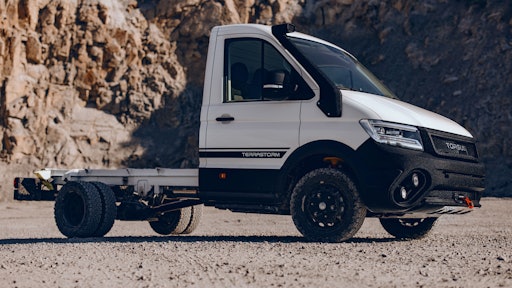 TORSUS
TORSUS, a manufacturer of heavy-duty off-road vehicles, has revealed its TERRASTORM CHASSIS for the commercial sector with a versatile 4x4 all-terrain flatframe chassis, ready to carry cargo or be converted into a truck with a recovery vehicle flatbed, dropside or tipper configuration. The first TERRASTORM CHASSIS deliveries will commence in 2022 in both left-hand and right-hand drive.
The 4x4 TORSUS TERRASTORM CHASSIS, based on a Volkswagen Crafter/MAN TGE 4Motion chassis, features a EURO 6 2.0 L bi-turbo diesel engine offered in 130 kW (177 hp), mated to a six-speed manual or an eight-speed automatic transmission.
Engineered and manufactured at TORSUS' production plant in Slovakia, the heart of vehicle manufacturing in Central Europe, the team applied its expert knowledge gained from producing the PRAETORIAN and TERRASTORM, the world's first production off-road buses, to design an ultra-tough 4x4 TERASTORM CHASSIS flatframe truck. Configurable with either a single or double cab to transport people and cargo to some of the world's most inhospitable places, the TERRASTORM CHASSIS is dependable and pushes the commercial vehicle sector to new limits.
Designed to deliver goods and supplies through unreachable forests or pathless sands, the TERRASTORM CHASSIS is a reliable assistant for farms or forestry and a good base for further conversion.
Mining Sites: Perfect for the repair and service teams who need to be mobile in mining areas. The TERRASTORM CHASSIS can carry heavy equipment and people to outlying locations where heavy machinery may need to be maintained or repaired.
Agriculture: The TERRASTORM CHASSIS will carry feed stock, fertiliser and specialist equipment out to the fields. The flatframe makes a versatile platform to build on specialist farming equipment and carry it over the roughest terrain.
Tourism: The bare chassis lends itself to converters looking to build the ultimate all-terrain recreational vehicles. A TERRASTORM CHASSIS will safely carry the most creative of RV builds to remote corners of the world
Emergency Relief: TERRASTORM CHASSIS will also be a perfect base for rapid reaction all-terrain emergency services vehicles, be it for fire fighting in forested areas or delivering medication to rural communities. The fast reaction vehicle can get aid and support to where it's most needed.
Recovery Trucks: Thanks to the powerful winch and versatile flatbed, the TERRASTORM CHASSIS becomes the ultimate recovery truck, rescuing vehicles from sand dunes or swampy areas and towing broken down vehicles to be repaired.
Testing to TORSUS tough
Ensuring the dependability of a TORSUS product means putting the product through its paces in testing. The TERRASTORM CHASSIS has undergone a rigorous test program at multiple test facilities in and around Czech Republic and Slovakia, including the iconic Tatra testing ground. This ensures the vehicle can withstand and handle beyond normal off-road usage whilst remaining usable and comfortable on road. The TERRASTORM CHASSIS is engineered rugged and is tested to TORSUS tough.
"At TORSUS, we engineer the ultimate all-terrain commercial vehicles for the mining, oil, farming, defence, emergency transportation and tourist industries. The TERRASTORM CHASSIS sets new standards in the off-road commercial vehicle market. We have taken what we know from PRAETORIAN and TERRASTORM and translated it to a more versatile package, whilst the dependability and toughness remain. By working with customers and listening to feedback and hearing their problems, we find solutions to create the ultimate off-road platform for our customers to build whatever they need. Compromises are not acceptable for our clients, or for us," says Vakhtang Dzhukashvili, founder and CEO of TORSUS.
"TERRASTORM CHASSIS is a vehicle that will be at home in remote settings carrying vital medical supplies to rural communities in a refrigerated cargo box or hauling mining equipment to remote parts of the Chilean remote extraction sites. The bare chassis platform offers customers unlimited configurations, it offers complete versatility and the ability to serve multiple markets and industries."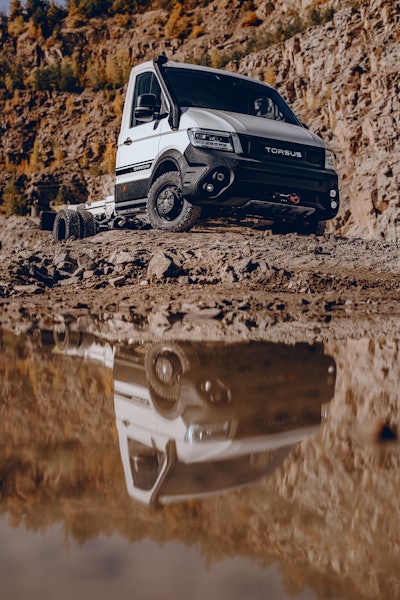 Design
TERRASTORM CHASSIS is designed to be a versatile all-terrain workhorse with single or double cab options on each of the versions; with different gross vehicle weight – 3.5, 5 or 5.5 T as well as variable lengths L3 (wheelbase: 3,640 mm; length: 5,996 mm) or L4 (wheelbase: 4,490 mm; length: 6,846 mm).
The all-wheel drive TERRASTORM CHASSIS is packed with durable technology to give it unrivalled off-road capability and sports a locking rear differential to give improved traction over rough terrain and unmade roads. The TERRASTORM CHASSIS is configured with side aluminum steps, full bottom skid protection for the major components; engine, transmission and radiator, fuel tank, rear differential lock and a metal bull bar on the front in case you need additional protection. It comes with durable scratch resistant coating on the lower body panels as standard. The wheels have also seen an upgrade and the new matte black R17 alloy rims, shod with durable off-road lug tires.
The TORSUS bumper was designed to offer improved off-road capabilities with better approach angle. It hosts the LED high beam, daytime running lights, fog lights and spotlights as well as the integrated winch capable of towing up to 5,500 kg (5.5 T), which is hidden away only to be dispatched when you really need it. As part of the underside protection, the bespoke Duraluminum skid plates running from the engine and gearbox down to the rear differential and fuel tank protect the truck from being damaged in inhospitable conditions.
Off-road suspension has been upgraded to ensure optimum on and off-road capability. Up front, MacPherson struts and Bilstein B6 shock absorbers offer optimum comfort. With the increased ride height, Ironman 4x4 Adjustable Camber bolts are fitted to offer ±1.75 degrees camber adjustment.
At the rear, the suspension is a combination of leaf springs equipped with Ironman 4x4 Load Plus and Profender Dakar shock absorbers with remote auxiliary reservoirs extended axle stroke. The combination of uprated off-road suspension and heavy-duty 17 in. BF Goodrich All Terrain T/A KO2 tires gives the TERRASTORM CHASSIS a ground clearance of 250 mm, approach and departure angles of 26 and 20 degree.
Every TERRASTORM CHASSIS has a snorkel with protective coating fitted as standard. This ensures clean, dust-free air and eliminates the chance of water ingress into the engine, giving 100% confidence when the vehicle is tackling the harshest terrain. Differential breathers are also fitted as standard. These enhance the flow of cool fresh air to differentials, transfer case and transmission, preventing water damage when wading through rivers and boggy terrain.
Giving the TERRASTORM CHASSIS a rugged look, the all-new wider front fenders protect the vehicle from dirt and stones kicked up by the front wheels which can cause damage when traveling at speed off-road. Thanks to the protective coating the fenders can withstand the harshest terrain.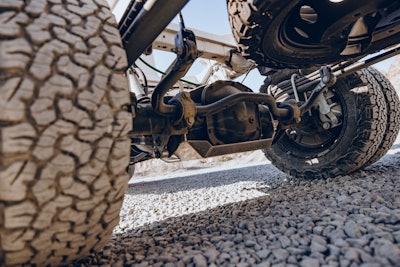 Interior
Inside, the TERRASTORM CHASSIS can accommodate a driver and from two to six passengers in high-comfort seats, depending on the variant of single or double cab, upholstered in fabric and equipped with three-point seatbelts.
"When producing the TERRASTORM CHASSIS, we continuously monitored and assessed the all-terrain flatbed truck to create the best product we can; leading to multiple iterations of chassis designs until we have the optimum combination of rigidity, strength and weight to build the world's most versatile truck," says Nikolas Uhrin, Head of Engineering at TORSUS.
TERRASTORM CHASSIS
The TERRASTORM CHASSIS is available in three versions - 70, 100 and 110 - with different lengths and seats capacity. Customers can order the vehicle in single cab (max 2+1) or double cab (max 6+1) and in medium (3,640 mm) or long wheelbase (4,490 mm), with gross vehicle weight 3,500 kg, 5,000 kg or 5,500 kg. Each come with automatic or manual transmission, 177 hp (130 kW) or 140 hp (103 kW) engine power and 410 Nm or 340 Nm of torque accordingly. As a bare platform, it offers unlimited all-terrain options for industries from farming and agriculture, mining support, service and repair, forestry, cargo transportation, emergency relief, leisure and tourism. The TERRASTORM CHASSIS can be fitted with anything from an RV backend, to a tipper, dropside or crane, making it the most versatile TORSUS ever.
Comprehensive sales and service support
TERRASTORM will be sold through TORSUS' growing international dealer network, where there are a number of high value ownership options. The vehicles are supported by Volkswagen and MAN service centers, ensuring no matter where the TERRASTORM CHASSIS goes, there will be a service center nearby. Each vehicle comes with a two-year global warranty and full after sales support which can be increased up to 5-year or 400,000 km in selected markets.
TORSUS currently delivers to customers across four continents (Europe, Asia, Australia and South America), selling in most of the markets and constantly expanding its own global dealer network.