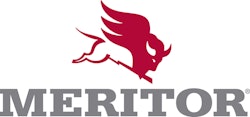 ArvinMeritor, Inc. will demonstrate its commitment to its expanded off-highway business through drivetrain capabilities which will be showcased at ConExpo, a construction exposition held March 22 to 26 in Las Vegas, NV.
The company supplies off-highway drivetrain components for construction vehicles and equipment worldwide, including lift trucks, loaders, mobile cranes and logging and mining vehicles.
"We have been dedicated to designing and manufacturing multiple new off-highway axles for different applications over the past two years," says Brad Arnold, vice president, Off-Highway, ArvinMeritor. "These breakthrough products support the needs of our growing customer base globally."
Using a modular design approach for carriers, wheel-ends and braking systems, the company produces components that offer customized solutions with lead times approximately 50% shorter than its competitors. All components are supported by global engineering and manufacturing resources, in addition to a well-known and trusted aftermarket parts and service network.
For more information, visit ArvinMeritor at ConExpo in booth S-17829.