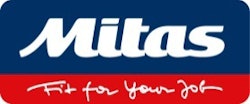 Tires produced at the new Mitas farm tire factory in Iowa will bear the "Mitas AC" marking. In 2012, Mitas will phase out Continental agricultural tires and use Mitas AC as the premium brand in North America instead.
"It's a win-win for the farmer and U.S. manufacturing with Mitas AC," Neil Rayson of Mitas says. Rayson, who is the president of Mitas' U.S. sales subsidiary, explains: "Mitas will provide the same world-class tires for the U.S. market, but they will now be manufactured right here in the United States, in Charles City, IA."
"Mitas acts globally and thinks locally," Rayson says. "U.S.-made farm tires create American jobs and enable us to get our cutting-edge tire technology into the hands of our customers much more quickly."
"Current Continental premium dealers will sell Mitas AC tires," Rayson adds. In order to support a smooth transition from Continental AC to Mitas AC, Mitas will improve availability, increase regular supply and presence at local farm shows and, for example, upgrade sales literature, provide improved warranties and offer signage at sales outlets. "The dealers who now distribute Continental agricultural tires will become the core of our premium Mitas AC distributor network," Rayson says.
In the U.S. market, Mitas will introduce additional premium farm tires, such as Mitas Super Flexion Tires.
From January to June 2011, Mitas increased sales several fold in North America to 26.9 million dollars compared with the same period in 2010. "This vote of confidence from our customers by their increased purchases confirms the quality and value of our products and our fair and ethical partner approach in our business relationships," Rayson says.