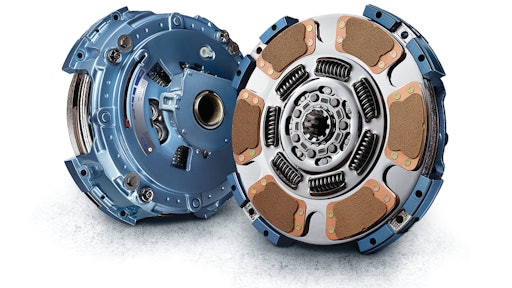 Diversified industrial manufacturer Eaton Corporation has introduced a bundle package for its lineup of remanufactured and aftermarket components that extends the standard two-year warranty coverage of an Eaton Fuller Reman transmission to three years with the combined purchase and installation of an Eaton Advantage Series clutch and Roadranger-approved lubricant.
"Because Eaton's Solo Advantage and Easy Pedal Advantage clutches, as well as Roadranger-approved lubricants, offer the greatest protection to our transmissions and the entire drivetrain, we are confident in extending the standard warranty coverage of our genuine standard Fuller Reman transmissions when installed with these products," says Bill Fouch, aftermarket marketing manager for Eaton's transmission business. "The program presents fleets with a fantastic opportunity to refurbish their trucks with lower-cost replacement components, yet still receive the protection coverage similar to that of new components."
In addition to the use of OEM-quality parts, Eaton heavy-duty Fuller Reman transmissions have more new parts than most other reman transmissions, and all units are performance tested to ensure all Eaton standards and specifications are met.
Eaton Solo Advantage and Easy Pedal Advantage clutches feature extended 50,000-mile standard lubrication intervals for linehaul applications; premium patent-pending release bearings, and added protection against potentially harmful driveline vibrations. All Advantage Series clutches feature standard two-year/unlimited mileage aftermarket warranty. Eaton's Solo Advantage is a self-adjusting clutch that reduces maintenance for more uptime and is ideally suited for trucks with hydraulic linkages. The Easy Pedal Advantage clutch requires manual adjustments but is designed for quick and easy maintenance.
Roadranger synthetic lubricants, including SAE 50 transmission fluid and SAE 75W-90 and SAE 80W 140 drivetrain fluids, feature high-quality raw materials and additives to offer superior heavy-duty truck performance.
The program is available only for standard Fuller Reman transmissions in linehaul applications in the United States and Canada.