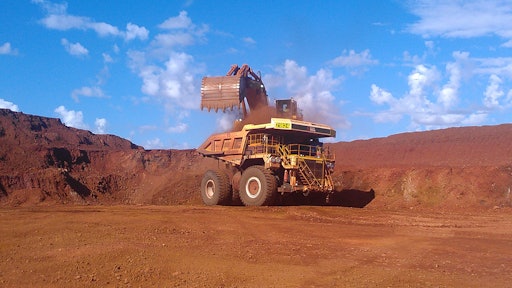 GKN Wheels, known for its solutions-led approach to product research and development, has successfully addressed a current issue facing customers in the global mining industry, launching a new system known in the industry as 'Bigfoot.'
Mining operations today are facing challenges of tire shortages, specifically on the widely used 57 in. size tires. Given this situation, GKN Wheels has developed an innovative system to allow a 63 in. rim assembly to be adapted to a 57 in. hub for the Unit Rig MT4400 haul truck. This allows mining operations to retrofit the larger, more readily available 63 in. tire on haul trucks that would normally use only standard 57 in. rims and tires.
Australian-based Downer Mining created the Bigfoot concept to alleviate the risk of short supply in the standard tire size for the 240t haul truck. In order to take the project from concept to solution, Downer Mining approached GKN Wheels.
GKN Wheels' North American Technical team collaborated with Caterpillar Unit Rig engineers to develop a solution that adapted to the truck without interfering with the standard components of the Unit Rig MT4400 haul truck.
The technical engineering work for the rim arrangements was carried out at GKN's dedicated Technical Center in the U.S. (Chicago, IL), with manufacture taking place at GKN's facility in China. Downer Mining now uses the product at its mining operation in Western Australia.
Commenting on the program, Downer Mining Executive General Manager Plant, Danny Boyling, says, "With the company's dedication to providing unique solutions, our strategic partnership with GKN over the past five years has, and continues to be, of great importance to us to maintain industry-leading mining vehicles and equipment. We challenged the engineers to develop a product that would resolve the tire availability issue, and as a result of the collaboration between GKN Wheels and the Caterpillar Unit Rig, the Bigfoot program has produced an innovative and effective solution that will maximize uptime and productivity of the Unit Rig MT4400 haul truck in service across Australia.
"Bigfoot provides us with many advantages, including increased productivity and tire life, with a reduction in potential tire stress and mechanical heat separation events. The predicted benefits run into the millions of dollars for a medium size fleet haul truck. This all equates to a very attractive tire option for our production teams. With demand severely outweighing global production capacity of the 57 in. tire, Bigfoot helps to prevent truck downtime and ensures that mine productivity is not threatened by tire availability."
GKN's expertise in design and development has been critical in the development of the Bigfoot program.
Len Hensel, Technical Director at GKN Wheels, North America, comments, "The development of the Bigfoot program highlights our focus on innovation and problem-solving capabilities. We have provided an effective solution to the current challenges of tire availability in the mining sector. Our world-leading engineering expertise and in-house test capabilities make us perfectly placed to react to industry challenges just like this one. GKN Wheels is proud to continually deliver dedicated products and solutions that meet the demands of our customers."
GKN is increasingly expanding its capability within the mining market, which includes the recent launch of its 'Swift Wheel Technologies' range. GKN Wheels is a world leader in the design, manufacture and supply of wheels for off-highway applications, including mining, construction, industrial and agricultural, machinery markets.