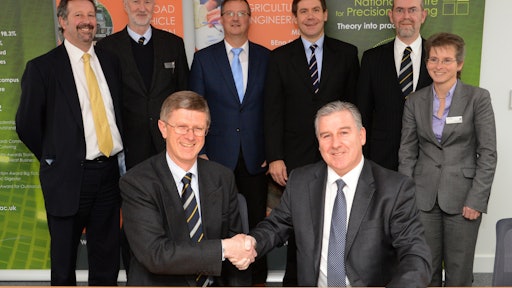 Researchers at Harper Adams University have partnered with global engineering experts GKN Land Systems to explore how electric technology could transform the future of the agricultural industry.
The collaboration, which was signed at the Shropshire-based University on Wednesday, November 20, will initially focus on research Harper Adams has carried out on the innovation and development of new technologies such as electric drive systems to cut fuel use by up to 25%.
The technology is much more efficient than existing electric motors, while still being powerful enough to drive a tractor, meaning farmers could save fuel, reduce emissions and ultimately produce food more cheaply.
GKN Land Systems, which designs and manufactures system solutions for the agricultural industry, among other sectors, will help move the research from laboratory tests to a 'real-life' setting. It is hoped the work will lead to a new product line for electric-powered industrial machinery.
Gerard Lavery, CEO of GKN Land Systems, signed the agreement alongside Harper Adams University's Vice-Chancellor Dr David Llewellyn.
Lavery says, "I think this is an important day for us. I am really excited about the opportunities that are available by working together.
"I speak to many engineers in this sector and a year or two ago most of them were telling me that electric drives for off-highway machinery, like tractors, were 10 or 15 years away. Now, two years on, I don't think that is the case. I feel that the industry has moved at a rapid pace and I hope this collaboration can prove we are much closer than that."
Vice-Chancellor Llewellyn says, "I am delighted that we have been able to create a new relationship with GKN. The Government is encouraging industrial-academic innovation and this is an excellent example.
"We have some exciting research that we'd like to share and GKN is an ideal partner with which to do this. We hope that the agreement signed today will lead to further collaboration in due course."
Once the agreement was signed the GKN Land Systems team, which also included Engineering Director Reinhard Reinhartz, Head of Innovation Jules Carter and Business Development Director Richard Gurden, took a tour of the University accompanied by the Head of the Engineering Department Professor, Simon Blackmore and Engineering Department Innovation Leader, David Allan.
GKN Land Systems is the market leader in producing driveline systems in the off-highway market and aims to utilize the fresh, conceptual thinking to look at key design aspects of off-highway machines to challenge the currently accepted practices and ensure developments meet future requirements in terms of safety, efficiency and controllability.
GKN also aims to make use of its Telford facilities which are close to the University to provide opportunities for students to develop their experience through visits, placements and engaging with key technical experts.
Harper Adams University is a specialist agri-food university and research center with a reputation for excellence and innovation in off road vehicle design and a strong background in agricultural engineering. It offers courses in subjects such as agricultural engineering and food chain management, and works closely with industry to provide applied research expertise.