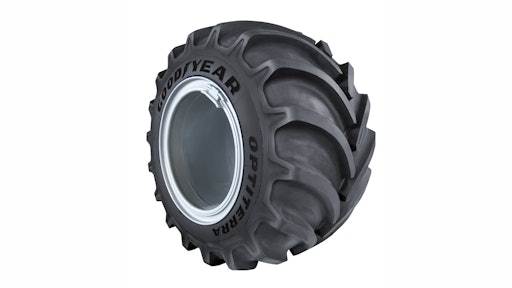 Goodyear Farm Tires, a Titan Tire Corporation brand, has launched four new Low Sidewall (LSW) tire/wheel assemblies for tractors, combines and sprayers. The LSW design features a larger rim diameter and shorter sidewall as compared to standard tires, which results in increased stability, reduced road lope, reduced power hop, reduced soil compaction and increased transport speeds — all claims that are backed up by years of field-testing by end users.
"As the only manufacturer of both wheels and tires for agriculture, we've been undergoing a very aggressive research, development and field-testing effort of LSW technology for more than a decade, and after consistently witnessing LSW assemblies outperform standard tires in the field, we've decided to expand the lineup extensively," says Scott Sloan, agricultural product manager for Titan Tire and Goodyear Farm Tires. "We're introducing four new sizes at the Farm Progress Show, but that's just the tip of the iceberg as a significant expansion will continue through 2015."
Goodyear Custom Flo Grip 1250/35R46 LSW
The Custom Flo Grip LSW was designed in collaboration with a Tennessee-based multi-line tire dealer whose customers needed a high-flotation option with R-2 treads for rice and cane applications, but were having serious issues with road loping during transport with the existing (competitive) 1250-sized tires on the market. The Custom Flo Grip brings the best of both worlds in terms of flotation and traction, as well as smooth roading.
Designed for combine front position as an alternative to standard 1250/45-32s or dual 510s.
Deep R-2 tread designed with flatter profile for smoother roading while still achieving excellent traction and flotation in extremely muddy field conditions.
Shorter sidewall of LSW design greatly reduces the sidewall recoil that results in road lope, helping improve transport speeds, operator comfort and productivity.
Goodyear OPTITERRA 1000/40R32 LSW
The OPTITERRA LSW falls within the Goodyear Extreme Flotation category. Designed for the front position on MFWD tractors in collaboration with an 1100/45R46 LSW rear, the Extreme Flotation setup offers a number of benefits over a traditional dual setup.
20% increase in contact area and lower inflation pressures for reduced soil compaction.
Reduced overall width for easier roading and sharper turning.
LSW design reduces power hop, reduces road lope and increases stability on hillside conditions.
OPTITERRA LSW can also be used on 4WD tractors, combines and grain carts as alternative to standard 1000/50R25 tires.
Goodyear Optitrac IF710/60R46 LSW
Designed for use on 4WD tractors, MFWD tractor rears, combine fronts and sprayers (for flotation) as alternative to standard 710/70R42 or narrow duals.
Increased Flexion (IF) allows for carrying loads at 20% lower inflation pressures than standard tires, resulting in reduced soil compaction.
LSW design results in reduced road lope and power hop.
Goodyear Super Traction Radial IF710/60R30CFO LSW
Designed for use on MFWD tractor fronts and combine rears as an alternative to standard 28LR26 tires.
Increased Flexion (IF) allows for carrying loads at 20% lower inflation pressures, resulting in reduced soil compaction.
Cyclic Field Operation (CFO) handles 55% higher loads when traveling less than 10 mph.
LSW design results in reduced road lope and power hop.