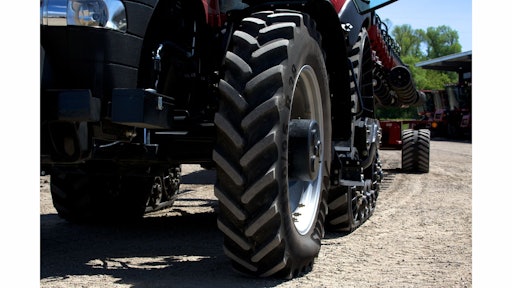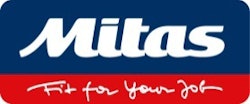 Mitas is the only tire manufacturer to supply VF (Very High Flexion) tires for new Case IH Magnum Rowtrac tractor. This tire was shown on the Magnum Rowtrac when the tractor was unveiled to the media in Nevada, IA, and will be displayed at a number of farm shows and dealer meetings in September and October. The Mitas VF tire product line for high-horsepower tractors was released in August in two sizes: VF 380/95R38 HC 2000 and VF 480/95R50 HC 2000 for front and rear axles respectively.
"The exclusive acceptance of Mitas VF tires by Case IH on the Magnum Rowtrac is an exciting development and a great endorsement by Case IH towards Mitas' high-tech products for high-horsepower tractors," says Andrew Mabin, Mitas' Sales and Marketing Director. "It's a significant success demonstrating the outstanding quality and durability of Mitas VF tires."
"We are confident in the performance of Mitas VF tires. Field usage has delivered excellent results and we will offer Mitas VF tires as an option for factory fitment on our new Magnum Rowtrac tractors," adds Zach Hetterick, Case IH.
Mitas is already planning a range extension of the currently manufactured VF 380/95R38 HC 2000 (outer diameter 65.7 in.) and VF 480/95R50 HC 2000 (outer diameter 85 in.) tires. Later this year, Mitas will extend the range and introduce additional sizes of VF HC 2000, namely VF 600/70R30 and VF 710/70R42. All sizes of the Mitas Very High Flexion tire offering will be produced at the Mitas tire manufacturing plant in Charles City, IA.
"The special feature of Mitas VF rated tires is the highly flexible sidewall allowing for an extended footprint competing shoulder to shoulder with the ever-popular rubber tracks," says Milan Šindelář, Original Equipment Manager at Mitas Tires North America.
The VF tire's main advantage is its ability to maintain constant tire pressure at any speed. The VF's larger footprint leads to less soil compaction and increased mobility under difficult and wet soil conditions. For instance, the VF 380/95R38 HC 2000 tire is rated in the 'B' speed category, allowing speeds of up to 31 mph with a maximum load of 8,267 lbs. at 23 psi. It can carry 6,000 lbs. at 15 psi. Such capacities make VF tires a suitable for replacement for duals while maintaining low inflation pressures and avoiding soil compaction. When compared with the standard tire at 31 mph, the VF tire enables 40% lower inflation pressure.
Companies in this article