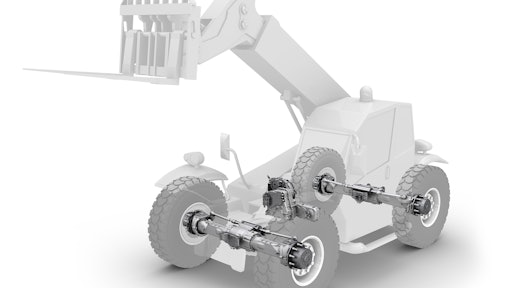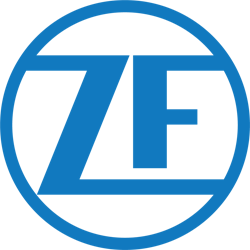 Versatility and maneuverability are the strength of the telescopic handler. This versatility is due to the intelligent driveline technologies from ZF.
ZF transmissions and axles offer complete drivelines with easy handling. The telescopic handler can be quickly fitted with shovel, fork, grab, working platform and other tool attachments for the most varied jobs. This means versatility in application in a wide variety of fields, from the construction site through to agriculture. The ZF driveline versions for telescopic handlers are also versatile. Depending on type, low-boom or high-boom designs are possible. Special telescopic handler axles support the four-wheel steering system.
The demands on small, self-propelled off-road vehicles are continually increasing. This is particularly true in inner-city areas were modern vehicles must in future be more mobile and maneuverable. This trend is also expected to continue with telehandlers. ZF telehandlers have specially developed axles. The 4WG 98 transmissions are rated for fast reversing and speedy travel between jobs. This makes the telehandlers real masters of their trade. The best maneuverability in a tight space, a high visibility driver's cab along with reliable operation are top priorities on the vehicles. Due to high quality raw materials and the best fabrication, the ZF systems ensure absolute ruggedness, a very long service life and therefore also an enormously high level of efficiency. 
ZF transmission WG 98
The 4WG 98 transmission has been specially developed for telehandlers. With over 15 years of experience, ZF produces transmissions for telehandlers with 2.7-5.4 T lifting capacity. The vehicle weights are lying between 10-18.5 T. The transmissions are designed for 105 kW input power and provide a torque of 830 Nm at 2,600 rpm. For the ZF brand, it is not just the power which is important, but also relieving the workload on the driver. For example, an enormous reduction in the noise has been achieved due to skilful production. Due to short transmission shafts and an optimized housing, the driver is no longer subjected to unnecessary noise.
In addition, in difficult terrain the driver has the choice of also switching in the front axle. This reduces the wear relative to permanent all-wheel drive and thus also reduces the fuel consumption. Furthermore, this produces increased efficiency and a longer service life.
MS-T 3000 steering axles
As demonstrated in numerous tests in the company's own development center, a very long service life is ensured by ZF axles, as well as loading capability. The highest loading capability with a dynamic axle load is up to 18.1 T and with a static axle load of 36.2 T in the top model, MS-T 3070. In order to be able to maintain flexibility in a tight space, ZF axles have a steering angle of 55 degrees. The noise from the axles on the telehandlers has also been reduced through optimum matching to the transmission. ZF axles feature particularly slim axle housings. The design has been optimized with the aid of finite element methods such that the axles are substantially stronger, but nevertheless lighter compared to conventional construction. For the installation in the vehicle versions with trunnion and above-center pivot mountings are available. High transmission ratios in the external planetary drive facilitate a compact construction in the region of the driveline and also optimized installation conditions in the vehicle chassis. This also contributes significantly to the ground clearance. The integrated, low-wear multi-disk brakes are protected against the dust and dirt of construction site operation. In addition, a spring- operated, hydraulically ventilated parking brake is available as standard.
Over the last years ZF was able to develop basic optimization in axle technology. Especially according to efficiency and power dissipation its engineers could achieve major improvements.
The EFFICIENCY PACKAGE for axles includes several features:
OPTISTEER:Cylindrical roller bearing in final drive OPTISTEER is an innovative steering kinematics optionally available for telescopic handler steering axles.
Optimizes steering geometry by a variable length tie rod
Improves steering and reduces tire wear
Steering angle error can be reduced by more than 50%
Reduction of tire side force by minimum of 40% improved fuel efficiency
OPTISTEER: Cylindrical roller bearing in final drive
Lower power loss and therefore lower fuel consumption
General advantages
Due to many years of experience in the research and development of ZF axles and transmissions, the user receives two absolutely high quality components which have been mutually matched in numerous tests. Additionally, both components are delivered together on the same day, which reduces transport costs and the purchaser has the benefit of a single contact person for both products.