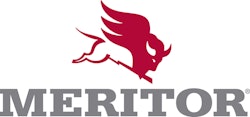 Meritor Inc. announces a new addition to its team – a 9-week-old German shepherd puppy named Bull, who will one day be a service dog for a disabled Michigan veteran. The Meritor Trust Fund has donated $20,000 to sponsor the dog's training.
Named after Meritor's iconic logo, Bull will train with Guardian Angels Medical Service Dogs Inc. to help his veteran meet the challenges associated with a wide range of physical and mental disabilities. Within two years, Bull will be trained to alert people when the veteran needs help, assist with mobility issues and pick up dropped items. Bull will also be able to sense if the veteran is about to have a seizure and will warn him or her.
"Not many people realize the impact a dog can have on a veteran's quality of life," says Tim Burns, Vice President, Defense & Specialty for Meritor. "For those who are suffering, a service dog is their greatest aid and we're proud to support this program."
Pairing disabled veterans with a dog trained to fit a specific set of needs helps them to heal and function, according to Guardian Angels Medical Service Dogs Inc., a Williston, FL-based nonprofit organization dedicated to rescuing, raising and training highly skilled service dogs for veterans. Even at the very young age of 9 weeks, Bull has begun his confidence-building training and basic obedience exercises. He'll soon learn service dog essentials such as placing his front feet on a chair so his veteran will be able to easily put on his service vest and remove it. Once Bull has completed the training, his veteran will travel to Florida where the two will be introduced.
"Bull's full life story as a service dog is yet to be written, but thanks to Meritor's sponsorship we know that his destiny will be to positively change the life of a veteran suffering with a life-altering disability," says Carol Borden, Founder and Executive Director, Guardian Angels Medical Service Dogs Inc. "Who knows, he may even be responsible for saving his veteran's life."
Nearly 400,000 veterans are battling the debilitating effects of post-traumatic stress disorder (PTSD) and other impairments, according to the Arsenal of Democracy Chapter of the Association of the United States Army (AUSA).