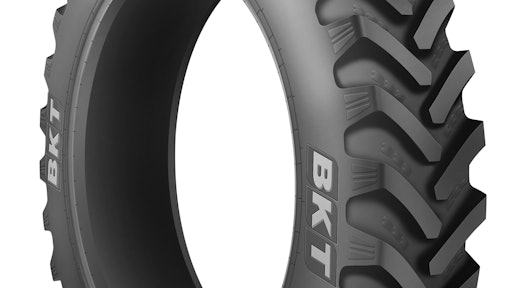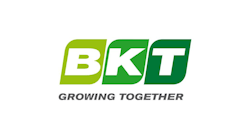 The extensive product range is the distinctive and highly competitive feature of BKT, the off-highway tire manufacturer and a global player in the market. The company has always been committed to develop customized solutions capable of satisfying the most diverse user needs facing the challenges of modern farming every day. Thinking of machinery employed in spraying operations, BKT has conceived tires that are able to stand heavy loads and, at the same time, preserve the crops without compacting the soil. Moreover, the tires must guarantee the maximum comfort to drivers during frequent field and road transfers. 
First-class for spraying applications
Agrimax Spargo is a radial tire designed by BKT developing a new concept of VF technology. Specifically developed for spraying applications and row crops, it can stand heavier loads while maintaining the same inflation pressure compared to a standard tire of the same size. This way, it preserves the yield and reduces soil compaction.
This tire can be used for several purposes, both in the fields and on the road - always ensuring maximum driving comfort, as well as excellent stability. Great traction performance and a constant contact with the terrain complete the profile of Agrimax Spargo, a BKT branded first-class product. There are four sizes currently available on the market: VF 380/85 R 38, VF 380/90 R 46, VF 380/105 R 50 and VF 420/95 R 50.
First-class narrow tires for spraying operations
In addition to Agrimax Spargo, BKT boasts a complete range of narrow tires. Not only are these ideal for sprayers, but also for farming vehicles operating amidst row crops, or for grape harvesting in vineyards.
The first in the list is Agrimax RT 945, whose tire tread has been specifically conceived for soil protection and crop preservation. Its extraordinary self-cleaning capacity facilitates transfers from the fields to the road, while being constantly delicate to the soil. Apart from its talent for spraying operations, this tire stands out among other "narrow" products for being particularly effective for row crops. This product line comprises seven sizes.
Then there is Agrimax RT 955, a BKT radial tire that is perfect for heavy harvesting machinery, and ideal for row crop applications. But that's not all. This pattern is available in 20 different sizes. Agrimax RT 955 features a special tire tread and a rounded shoulder. It also ensures extraordinary traction and a constant contact with the terrain.
First-class traction performance
To perfect the sprayer ranges, there are the two tires: Agrimax RT 855 and Agrimax RT 765, that are suitable for both row crops spraying and grape harvesting.
The first is a radial tire that stands out for its extraordinary driving comfort and traction. Ideal for soil tillage as well as for field and road transport, this tire is available in as many as 44 different sizes.
The latter tire, instead, is part of the BKT 70 Series  - ideal for sprayers or modern tractors in heavy-duty operations. Thanks to the special new-generation compound, this tire is extremely resistant to cuts and abrasions. In addition to being very robust, it provides a unique grip and ensures minimum soil compaction. Agrimax RT 765 is available in 34 different sizes.            
Spraying is a crucial phase in farming and needs to be performed perfectly. During operations the soil must be preserved from compaction despite the weight of the equipment. Well aware how troublesome this peculiar issue can be, BKT's response are specific products.
BKT's primary goal is to provide suitable products, which can satisfy the most differing needs. The focus lies on optimizing costs and fostering crop yields along with a healthy soil in addition to fuel economy and reduced vehicle downtime.