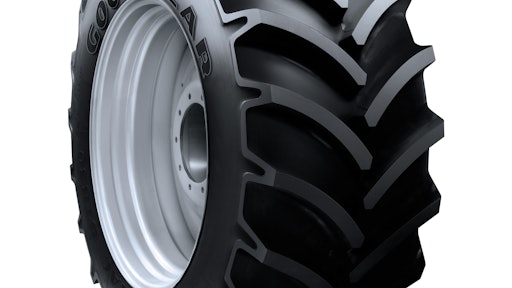 Titan International (Titan) announces that John Deere, Case and New Holland now offer Goodyear LSW tires as options on select new sprayers, combines and tractors. The industry-unique LSW design helps reduce soil compaction, road lope and power hop while improving traction and ride quality versus standard tires. The growing list of LSW options from OEMs is a response to the strong demand for the technology from both growers and their equipment dealers.
"LSW has been proving itself in the aftermarket for years, and demand has really taken off in the last five," says Scott Sloan, Agricultural Product Manager for Titan and Goodyear Farm Tires. "Now the OEMs are involved, and after the necessary testing on their end, they've recognized the many performance benefits of LSW. Our loyal customers and dealer advocates played a big part in making that happen."
Dealer demand
Don Van Houweling, owner of Van Wall Equipment — one of the Midwest's largest John Deere dealers — is a strong advocate of LSW tires and worked hand-in-hand with John Deere to make it available on new equipment purchases.
"A lot of the standard tire options out there just weren't giving my customers the performance they needed," says Van Houweling. "LSW Technology proved itself competitive to any default factory setup, and even tracks, because of the ability to apply torque to the field in full influence — and with less of a footprint. I knew John Deere might be hesitant to add the LSW option without more endurance testing, but to their credit, after additional testing and our field results, we agreed that there were indeed opportunities with LSW, and they were added as factory options."
John Deere sprayers: R4045
Available as a flotation option, the Goodyear OPTITRAC LSW800/55R46 provides a 152% improvement to footprint and a 74% reduction in inflation pressures versus a standard 380/105R50 factory option.
John Deere combines: S670, S680 and S90 models
Growers can choose from two front flotation options, including Goodyear Custom Flo Grip LSW1250/35R46 or DT930 LSW1100/45R46. Rear LSW option includes Goodyear OPTITRAC LSW710/60R30. The LSW setup significantly reduces soil compaction while improving traction. For instance, the LSW1250/35R46 boasts a 56% improvement to footprint at much lower inflation pressures as compared to a standard 800/70R38 option. The deeper R2 tread also improves traction versus standard R1W designs.
John Deere 4WD tractors: 9370R, 9420R, 9470R, 9570R and 9620R models
Goodyear OPTITRAC LSW800/55R46 runs in a dual configuration, offering a 13% improvement to footprint and the ability to run at up to 40% lower inflation pressures versus a standard 710/70R42 factory dual option.
Case combines: AF7340, AF8340 and AF9240 models
The Goodyear Custom Flo Grip LSW1250/35R46 is available as a front flotation option, offering a 37.5% improvement to footprint at lower inflation pressures, as well as significantly reduced road lope for increased transport speeds when compared to 800/70R38 factory options.
New Holland combines: CR790, CR890, CR990 models
New Holland offers two LSW sizes as front flotation options on combines. As compared to the standard IF800/70R38 factory option, the Goodyear Custom Flo Grip LSW1250/35R46 offers a 36% improvement to footprint and the Goodyear OPTITRAC LSW900/50R30 offers an 18 percent improvement to footprint — both at significantly lower inflation pressures to help minimize soil compaction.
Aftermarket options
In addition to the newly available LSW upgrades from John Deere, Case and New Holland, Titan has more than 200 LSW assembly options available in the aftermarket, and ready for use on equipment from Agco, Buhler, Case, Claas, Gleanor, Hagie, John Deere, Lexion, Massey, New Holland and Vector.
Companies in this article