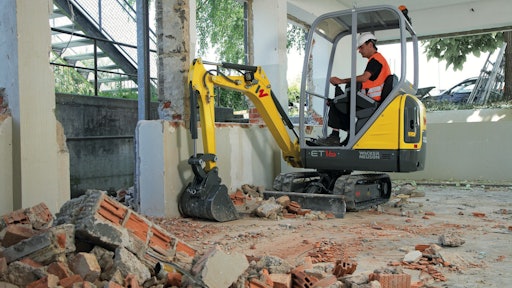 When it comes to moving earth there is no way around an excavator. The new tracked excavator ET16 from Wacker Neuson is especially suitable for excavation work in confined spaces and offers the operator a generous cabin for best working conditions.
With the new mini-excavator ET16, which will replace the 1404 from autumn 2016, Wacker Neuson proves once again that compact size and high performance can be matched wonderfully. The ET16 can reach hardly accessible spots without problems and is therefore particularly suitable for work indoors, the inner-city area or for landscaping - simply for all those places where working in confined spaces is often necessary. Its telescopic undercarriage, which can be extended from 990-1,300 mm, allows the operator to drive through narrow passages and also ensures a high level of stability when the telescopic undercarriage is extended. An operating weight of 1.5 tons makes the new mini-excavator ideally suited for use on sensitive soils as it can easily be controlled there. Due to its low transport weight which is 1,400-1,600 kg, a normal car trailer is sufficient to transport the ET16. The side elements of the dozer blade are firmly connected to the plate, making installation or additional tools unnecessary.
The ET16 is a class of its own also in terms of its cabin: It is the largest one in its weight class. Ergonomical and high quality design, it provides the operator with a maximum of legroom and headroom. The full glazing of the cabin also ensures maximum security and allows a panoramic view of all workspaces. The two-part front windshield can be pushed completely under the cabin roof, which provides a pleasant working environment during high temperatures.
A powerful and fuel-efficient 3-cylinder diesel engine (13.2 kW) and a second traveling speed of up to 4 km/h allows quick switching between different working positions and makes the mini-excavator a fast and flexible helper on the construction site - thanks also to its digging depth of about 2.240 mm and a maximum dump height of 2,500 mm.
A direct access to the engine compartment provides easy and quick access to all relevant service points and allows for shorter maintenance and downtimes. Thanks to the standard auxiliary hydraulics, a variety of attachments can easily be installed. This not only expands the range of application of the mini-excavator, but also increases its efficiency.