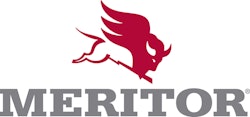 Meritor announces the launch of its first virtual reality app customers can use to learn about the company's advanced product solutions during a virtual ride in a semi-truck.
"Through our new app, we can showcase our products to customers in a way that's not feasible in the real world," says Ryan Obert, Director, Product Marketing for Meritor. "This new educational tool helps to simplify our advanced drivetrain technologies, and users can view and select various Meritor products to learn about the different components we offer as a total-solution provider."
Using a virtual reality headset, customers learn about multiple Meritor products, including MFS+ front steer axle, 14X tandem drive axle, Permalube RPL Series drivelines, EX+ air disc brakes and RideSentry trailer suspension.
As users navigate through various environmental effects drivers encounter on the open road, the app demonstrates the stopping power of EX+ brakes and superior control offered by the MFS+ steer axle. Users also learn how the RideSentry suspension's robust parallelogram design absorbs harsh impacts and safeguards cargo, and learn how the driver-controlled differential lock option on the 14X axle helps the vehicle regain stability during loss-of-traction situations.
The application is available for public download on Google Play and the App Store by Apple. For a limited time, the first 100 people to download the virtual reality app and register on meritorevents.com/VR will receive a complimentary VR headset.