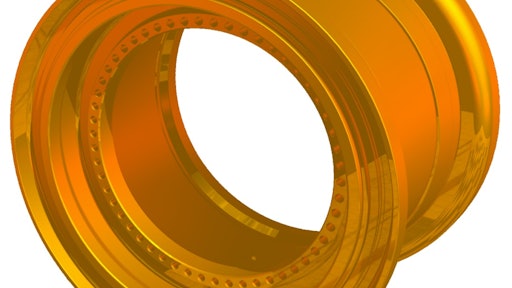 GKN Wheels & Structures launched a range of new products and initiatives at this year's CONEXPO, with displays that showcase the breadth and depth of the company's comprehensive product portfolio, as well as a number of technical innovations.
Among the key products on display were the company's new wheel, tire and hub assembly which has been developed specifically for the telehandler market. Building on the tire integration program that was launched by GKN in the USA in 2016, the company's development team has worked closely with both customers and tire manufacturers, to produce a complete solution that fully met the needs of this particular application.
Visitors to CONEXPO also had an opportunity to see the company's 57 in. mining wheel, the 51 in. version of which is currently being supplied to one of the world's top five construction companies for the manufacture of 64, six-wheel vehicles. Manufactured at GKN's center of excellence for mining wheels in China, the company has re-engineered the product to optimize the manufacturing process without impacting on quality or performance, delivering improved efficiency. The first wheels will be delivered in May 2017, with further shipments being despatched over the following nine months to mirror the production schedule. 
Also on display was a hub designed specifically for the construction industry. With a wealth of experience in the development of wheels and hubs, and therefore an unparalleled understanding of the complex relationship between them, GKN has invested in a new state-of-the-art test machine for hubs and spindles, which now sits alongside the exiting wheels and tires test facility at its Woodridge plant in Chicago. The new machine enables hubs with load capacities in excess of 100,000 lbs. to be tested, and by simulating real-world loadings of the hub, spindle and bearings, it virtually eliminates the need for expensive and time-consuming field testing, enabling larger hubs to be more quickly and efficiently developed to meet the needs of the construction sector. 
This is one of two market-leading test facilities that GKN operates, the second being at the company's Carpenadolo plant in Italy. Both facilities operate 'real world' wheel testing to simulate the harsh conditions that they could be exposed to in operation, providing accurate performance data that is not only invaluable to customers, but also informs the company's manufacturing, development and investment plans. 
Commenting on the display, Managing Director, Paul Wyatt, says, "This is our first appearance as GKN Wheels & Structure, following the formation of the business in January this year. With a global footprint that includes seven manufacturing plants across Europe, the United States and China, and a program of investment which spans all seven in the next 2 years, we are totally committed to understanding our customers' needs and responding to them with market-leading solutions which deliver their performance, quality and value requirements."