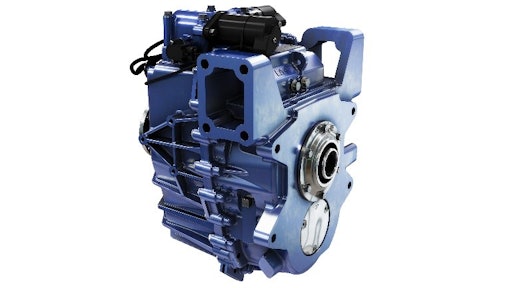 Eaton, a leading power management company, will showcase a broad range of innovative technologies and future-oriented solutions for the commercial vehicle industry September 19–27 at the 67th IAA Commercial Vehicles show. Eaton will display a wide range of its groundbreaking commercial vehicle power management technologies, including cutting-edge solutions from its newly formed eMobility business and Eaton Cummins Automated Transmissions joint venture at its exhibit in Hall 17, Booth 27.
Powertrain and Diesel Engine Air Management
Diesel engine emission regulations and growing demand for improved fuel economy are driving development of new engine and aftertreatment technologies. The ability to heat up the aftertreatment system quickly during cold cycles and low-load operating modes is key to reducing NOx emissions, and Eaton's variable valve actuation technologies manage exhaust temperature and improve fuel economy.
Eaton also is developing dedicated exhaust gas recirculator (EGR) pump technology, enabling high-efficiency turbochargers for lower engine pumping losses and improved fuel economy. Utilizing an EGR pump allows the removal of expensive components such as variable geometry turbochargers and EGR valves. Stop by Eaton's booth to learn more about valve actuation and EGR pump technologies such as these.
Eaton Cummins Automated Transmissions
A new joint venture, Eaton Cummins Automated Transmission Technologies combines the strengths, experience and knowledge of two commercial vehicle industry leaders to set the bar with best-in-class fuel efficiency, performance and uptime for heavy-and medium-duty applications. The new Endurant automated transmission will be prominently featured in our display, which has been intelligently engineered from the ground up with features that protect your investment and make it easy to maintain.
eMobility
The newly formed Eaton eMobility business unit combines elements of Eaton's Electrical and Vehicle businesses to create intelligent solutions focused on improving safety and reliably managing power for passenger cars, commercial vehicles and off-highway vehicles. Eaton provides power electronics, power distribution and protection products, and power systems that solve our customers' most difficult challenges. Eaton combines extensive experience producing solutions to market needs with eMobility capabilities in safety, scalability, thermal management and fuel efficiency to bring targeted electrified vehicle solutions to market.
Eaton technologies and solutions on display at IAA include:
Twin Vortices Series (TVS) EGR pump – This pump is designed to save fuel while meeting new stringent global emission regulations for heavy-duty diesel engines;
4-speed electric commercial vehicle transmission – This lightweight, efficient countershaft automated manual gearbox has torque capacity up to 1,200 Nm (885 lbs.-ft.) and electric gearshift actuation;
48V mild hybrid electrically regenerative accessory drive – This fully loaded system is able to run the AC system in a sleeper cabin overnight without having to start the engine and is able to power the electrical loads of the vehicle;
Supercapacitor – This high-power, ultra-high-capacitance energy storage device can be used in a variety of xEV commercial vehicle applications to increase the life and range of the primary xEV battery;
Endurant transmission – This is our lightest, most efficient 12-speed automated heavy-duty transmission; and
Variable Valve Actuation (VVA) – A wide portfolio of VVA technologies to improve fuel economy and lower emissions will also be on display. This includes Decompression Engine Brake, Hydraulic Lash Adjustment, Cylinder Deactivation and other VVA solutions.
Companies in this article