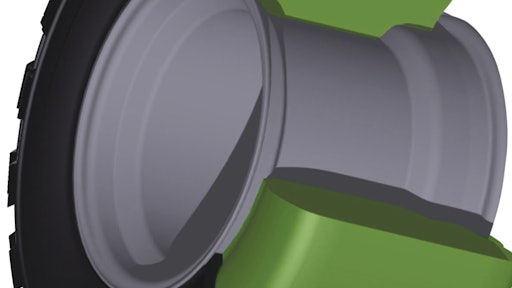 Sustainability, green, carbon footprint — these terms have come to define a growing movement in our nation, but their definitions remain general. By asking component suppliers, OEMs and associations what sustainability means to them, we found each response to hold a unique and personal definition.
The following three questions were asked to better frame and define each company's involvement and motivations behind the 'Green Movement':
Define the word sustainability as it applies to your company/association and particular niche in the mobile off-highway industry.
In what ways is your company working to improve its carbon footprint? What is your motivation?
What are you doing to ensure each product you produce is better for both the consumer and the environment?
Berend Bracht, President and CEO
If you searched the word "sustainability" on the Internet, you'd find about 28.5 million related websites. Many people loosely define sustainability as being able to meet the needs of today without jeopardizing resources or the ability to meet the needs of the future. This translates into making the most with what you have, whether it's energy, materials, time or productivity. There's no doubt sustainability is a popular topic, but it is not a new concept for Bosch Rexroth or for our parent company, Bosch.
Bosch's achievements include pioneering efforts to help the automotive industry achieve greater fuel efficiency, including the development of electric and hydraulic hybrid drive technology. Globally, Bosch Rexroth is involved in wind, wave and solar energy, as well as the development of hydrostatic regenerative braking systems (HRB) for recovering energy used in braking of vehicles.
Sustainability for a company like Bosch Rexroth means a continual process of engineering our products to make them as energy efficient, cost-effective, and environmentally friendly as possible. And it means constantly reengineering our own processes and systems to reduce waste, improve efficiency, and reduce our impact on the environment.
We believe the challenge of sustainability can best be addressed by design and manufacturing engineers. It is engineers who design the products that will make sustainable living a reality, and it is engineers who develop sustainable manufacturing technology to create those products.
Like our customers, Bosch Rexroth is a manufacturer, and we've taken a number of steps to reduce our carbon footprint. We've eliminated petroleum-based paint in our products and minimized our use of packaging material. We're using low-emission process chemicals for windings. All of our production facilities in North America meet ISO:14001 standards. We're doing everything we can to reduce transport costs, and we're sharing those ideas with our customers.
We are also applying our own Bosch Production System (BPS) to systematically eliminate waste throughout our manufacturing, evaluating the advantages of manual and automated processes. We are marketing our lean manufacturing expertise to allow our customers achieve those benefits, too.
We've joined the Chicago Climate Exchange, the world's first — and North America's only — voluntary, legally binding greenhouse gas (GHG) emissions reduction, registry and trading program. In joining, Bosch has committed to achieve a 6% reduction in GHG emissions at its U.S. operations by 2010, from a baseline of the company's average GHG emissions in the year 2000.
Forklift truck manufacturers are cutting energy costs and improving performance with our load-sensing systems. Self-propelled harvesting machines using our hydrostatic drives have greater stability, increased operator comfort and safety, and reduced energy costs. Backhoe manufacturers can reduce energy requirements and pollution using Rexroth variable displacement pumps. Tracked vehicle manufacturers are reporting reduced energy consumption and total cost of ownership using our high performance hydraulic drive concepts.
These are just a few ways Bosch Rexroth contributes to a sustainable future. We're also working on a total energy management solution for tractors, exploring ways to economize on fuel and reduce emissions. Our goal is to help the industry to engineer the sustainable off-highway equipment of the future.
---
Gates Corp., Fluid Power Div.
Dennis Kemper, Team Leader, Global Product Application
Machine designers and operators realize that leaking hydraulic fluid is detrimental to the environment and depend on component suppliers like Gates Corp. to provide components that eliminate hydraulic leaks.
For years Gates Fluid Power Div. has introduced products to control and prevent pollution. Today its engineers are designing fluid power systems that take sustainability to the next level of environmental protection. These systems will monitor the service life of the hydraulic hose assembly so it can be replaced before it fails or leaks.
Gates has hose products that reduce permeation of petroleum-based hydraulic fluids, and other products that are designed for biodegradable hydraulic fluids, biodiesel and E85 ethanol.
Gates Corp.'s primary fluid power market is the construction industry. Niche markets include oil field drilling and production, mining, forestry, and the wind turbine industry. In the U.S., Denmark, China and India, Gates Fluid Power engineers are developing hydraulic systems for blade pitch control and functions such as yaw drive and brake systems for wind turbines.
Gates has initiated a worldwide corporate initiative to reduce trash and scrap. In most plants, discarded plastic materials are recycled into pallets. Other Gates initiates include the use of natural gas instead of oil and preventive maintenance on equipment to save energy. Alternative cooling systems, such as cross-ventilation and large fans, are used to control temperatures in production areas. Efficient lighting systems and motion sensor lights are replacing traditional light systems. At Gates corporate headquarters in Denver, 87.5% of waste materials leaving the building are being recycled or composted.
Gates has recently patented two sustainability-related hydraulic systems that it is introducing to its OEM customers. Gates' hose diagnostic and monitoring system allows fleet managers to estimate how much hose service life has been utilized. Sensors attached to hose assemblies measure pressure, temperature and impulse cycles and warn of a service condition. The information can be stored and downloaded at the machine or transmitted via satellite to any web-enabled computer.
In extremely cold environments, it is not unusual for oil drilling rigs, trucks and off-highway equipment to start up in temperatures of -60 F. Adverse temperatures thicken hydraulic fluids, resulting in ruptured valves and cylinder seals. Gates' hose warming system consists of a fabric sleeve material with carbon fiber threads that are semi-conductive. A voltage across the carbon fibers produces an electrical current that heats the hose, couplings and hydraulic fluid from -20 to 8 F in less than six minutes. By increasing the temperature of the fluid, seal leaks and environmental pollution are eliminated.
---
Bill McGlocklin, Director of Environmental Affairs
Sustainability within SKF is about combining our responsibility to develop our business successfully along with our responsibility to safeguard resources for future generations. SKF focuses our sustainability efforts through the guiding principle we call, SKF Care. SKF Care has four dimensions: 1) Business Care, to ensure that we have a strong financial performance and right returns for our shareholders; 2) Environmental Care, continue to reduce any negative impact we may have on the environment; 3) Employee Care, provide a safe working environment and improving health and education of our employees; and 4) Community Care, continue to play an active role in the communities in which we live and operate.
SKF has developed a very aggressive CO2 reduction program with the goal of reducing total CO2 emissions by 5% per year. The 5% reduction is an absolute goal and does not take into consideration increase or decrease in production. To manage the accounting of this information, SKF has adopted the greenhouse gas (GHG) reporting protocol for reporting direct and indirect emissions. In an effort to promote SKF's position regarding the reduction of all GHGs, in 2006-'07 each SKF employee attended an informational program on the impact of global warming. Employees were informed on what efforts SKF is and will be making to minimize our impact on global warming, as well as what they can do as employees and citizens. SKF has also joined EPA's Climate Leaders program to report and develop a reduction goal regarding all GHGs generated by our facilities.
As recognition to SKF's efforts in each of these areas, we have, for the ninth year in succession, been included in the Dow Jones Sustainability Index and for the eighth successive year, been included in the FTSE4 Good Index Series.
Robert Aman, SKF Off-Highway business team
Bearing manufacturers are, by the nature of their product, in the business of reducing friction. SKF, having a significant emphasis on the environment and our beyond zero initiatives, has been developing new bearings, seals and integrated solutions that consume less energy. These energy savings are easily accumulated in a machine and converted to fuel savings for the owner/operator and reduced carbon emissions for the environment. SKF continues to be committed to the environment through greater system efficiencies enabled through design and modelling capabilities to simulate different solutions from an energy efficiency perspective and superior products designed for tomorrows needs.
---
Daniel Carapellotti, Communications Coordinator
At Arnco, we are making every effort to ensure a long and prosperous life for our planet, company, employees, clients and all our children through responsible science and business practices. At Arnco we have always strived to guarantee the maximum life of tires in high stress applications by reducing waste of raw materials and eliminating expensive equipment downtime due to flat tires.
For 35 years, Arnco has been at the forefront of the tire flat-proofing industry while providing a safer working environment in hazardous conditions through cutting edge research. We have been dependent on petrochemicals as a major component of our patented polyurethane technology, and for years we have been trying to end that dependence. Our patent-pending ecofil technology reduces the amount of petrochemical by 50%, replacing it with renewable and environmental components without sacrificing performance.
Arnco has also announced its "One Tote, One Tree" partnership with American Forests. Through its Global ReLeaf initiative we've committed to planting one tree for every tote of Arnco flat-proofing sold. That means at least 15,000 new trees planted annually in cities around the U.S. We'll also help re-plant trees in areas that have been damaged by natural or human causes. We've also donated to American Forests research that is paramount to understanding the sustainability of our environment.
Independently, Arnco is internally offsetting its carbon footprint by creating green workspaces in all of its offices, labs and production facilities. At our Cleveland production facilities we've installed a 24-ft.-wide Big Ass fan (yes, Big Ass is actually the brand name) and changing out the door seals in the shipping dock to help regulate a consistent indoor temperature. We're switching to recycled paper products and installing energy efficient lighting in all company facilities. Additionally, we have provided employees with the National Geographic Society's Green Guide to educate and encourage them to embrace a greener lifestyle in and outside of the work place.
At Arnco we believe that through science and innovation we can fulfill our obligation to help conserve and preserve our natural resources for the benefit of future generations. It makes both ethical and financial sense to take care of the planet, which provides us with our survival and well-being.
---
Ray O'Connor, President and CEO
It's easy to see that the definition of "sustainability" depends on the state of the economy. A year ago, the "sustainability" of a company could have been measured by its ability to keep increasing sales and raising the percent of profit margin, as in "to sustain" the momentum of a growth-oriented company like Topcon Positioning Systems.
Today, in dealing with the economic reality that faces the entire world, "sustainability" means to "endure without giving way or yielding." The economic reality we wake up to every day is frightening to timid managers. But those same market scenarios embolden the dreamers, risk-takers and innovators to take necessary risks to not only remain viable, but to be ready to run rather than crawl when the economy does turn around.
Here's a fact to keep in mind: The global economy will turn around. And Topcon is pulling the right levers to enable the company to maintain and enhance its brand awareness during the downturn, and prepare to take advantage of opportunities now and in the future. Companies embracing increased productivity through technology will drive the world's economic recovery.
If history is any indication, the current recession provides an incredible opportunity for forward-thinking companies supporting the off-highway industry. Those companies will continue to support strong research and product development (R&D) despite the economic conditions. The companies that not only survived but thrived during the Great Depression of the 1930s relied on breakthrough technology and extensive branding and expansion of R&D to increase their market share. To me, that's sustainability.
In addition to providing measurable positive results from its product lineup, companies known for around-the-corner vision know that sustainability is intrinsically tied to protecting the environment. A company's green footprint is a modern landmark, not just for company sustainability, but also in protecting the planet.
Topcon products, aimed directly at the OEM off-highway market, are geared to save time and minimize the use of limited resources. If you offer a product that allows a construction company to use one machine control dozer instead of two machine control dozers (or four dozers sans machine control) — Topcon's 3D-MC2 — that saves a company time and money. It also saves on fuel costs and reduces the amount of machine emissions released in the atmosphere.
If you run a farm operation and can cut your chemical costs in a growing season by 30% or more by using a variable rate sprayer controller like Topcon's System 200, you are dropping money to the farm's bottom line and releasing fewer chemicals.
Often overlooked, asset management is crucial to maximizing machine production on every work cycle. Topcon Tierra is a web-based telematics service that provides real-time information on every piece of rolling stock on any job site or farming operation in the world. Topcon Tierra introduces a unique on-site job management system that provides meticulous data to companies interested in maximizing productivity and reducing unexpected and unnecessary equipment maintenance. It lets you monitor every piece of equipment regardless of location, make or model. It provides you with instant job site information you want.
If a company's management team recognizes the need to do whatever is necessary to create a lean, efficient operation in the economic conditions we are facing today, the first thing to check out is what technologies are available to increase productivity, reduce fuel costs and machine emissions and do whatever is necessary to obtain that technology.
---
Remy Inc.
Jay Pittas, President
At Remy, sustainability is defined as it always has been: providing reliable, flexible, fuel efficient and environmentally sound solutions for our customers now and in the future. For off-road applications, fuel efficiency has become one of the most critical operational concerns as fuel costs fluctuate and EPA regulations become more demanding. Our electromagnetic designs create efficient starters, alternators and hybrid motors that provide better fuel economy and lower emissions across all vehicle platforms.
Remy's products deliver improved powertrain efficiency which leads to reducing the amount of fuel required to create electricity, thus diminishing the carbon footprint of every vehicle installed with Remy technology. Its rotating electrical components have been optimized to provide efficient electrical energy generation. Our patented winding technologies allow us to reduce raw material usage in our alternators, starters and hybrid motors.
Remy's focus is to make the electrical system more efficient to promote fuel conservation. Typical electrical conversion components of an engine result in only 21% energy conversion efficiency.
Remy's high efficiency alternator supplies heavy-duty systems with efficient, high output power while providing equipment managers the opportunity to grow their bottom line. Remy units are from 5-10% more efficient than typical units which result in a fuel savings of almost $1,000 on a single engine running 5,000 hours a year, reducing not only the operating budget, but the carbon footprint.
Our hybrid motors exceed Department of Energy (DOE) power density targets by almost two times depending on how they are measured (mass or volume). This supports the power requirements for the electrification of the drivetrain. Remy's current hybrid motor programs (automotive, SUV and bus applications) support the introduction of two standardized motor platforms organized by power requirements. This standardization will lower current cost barriers for hybrid motors and spur the adoption of hybrid technology in all vehicles.
With the implementation of more stringent idling regulations all over the country, Remy has also focused on innovation to promote the sustainability of other products within the system, not just the alternators and starters. The Delco Remy brand of premium alternators boasts remote sense technology. A second wire is connected from the battery to the alternator to read the actual voltage at the battery. It signals the alternator to compensate for voltage drop, ensuring a consistent 14 volts at the battery, extending battery life. Remy also provides brushless alternators whose design improves the overall durability and service life of the alternator.
Remy is also one of the largest producers of remanufactured alternators and starters in the world, reducing pollution and the amount of waste associated with the disposal of expired components through reuse and recycling. Remanufacturing aligns with our goal of using less fuel to create products.
Our patented hairpin stator technology is already powering passenger vehicles. Remy stands poised to use our proven technology to introduce an industry-leading power density hybrid motor platform that will provide all markets with a solution to continue reducing our dependence on fossil fuels.
---
Briggs & Stratton Corp.
Laura Timm, Director of Corporate Communications
At Briggs & Stratton Corp., we believe sustainability is a business approach that creates long-term shareholder value by embracing opportunities and managing risks derived from economic, environmental and social developments.
Our legacy of corporate social responsibility and community involvement is reflected in our long-standing commitment to environmental stewardship.
For over 100 years, this has meant a continuous drive to improve our operating efficiency, integrating environmentally-friendly technology and renewable resources into our products, and reducing the company's environmental footprint globally. This is our Down to Earth commitment.
Our goal is to have our customers feel confident that the outdoor power equipment they purchase has been developed and manufactured with sustainability in mind.
Briggs & Stratton has been working tirelessly to eliminate waste from and incorporating recycled materials into its manufacturing process whenever possible.
We've invested over $105 million to improve the impact of our products and operations in the past decade, and use over 100 million lbs. of recycled aluminum in the production of our products every year.
We have achieved a 50% reduction in hazardous waste over the last five years, use recycled cardboard and returnable containers for shipping. We recycle over 250,000 gallons of oil annually and have saved 5.4 million kilowatt hours of electricity in facility lighting projects. Annually, the company recycles approximately 35,000 lbs. of computer and electronic devices.
Improvements to products include lower emissions and product innovation. Our Professional Series engine is certified to EPA Phase 3 and CARB Tier III exhaust emissions standards. It features an air management system with a 200-hour automotive-style air filter. Our DOV engine emits 25% less exhaust emissions than current EPA standards and features a quiet engine with a long life and smooth operation. Our tune-up kits help to improve engine performance, reduce fuel consumption by up to 30% and emissions by up to 50%.
Briggs & Stratton also supports a wide variety of organizations and causes through charitable giving and employee volunteering in the communities we operate in globally. Areas of focus include: Education, Recreation & the Arts, Civic Endeavors, Health & Human Services and Environmental Stewardship. We also provide consumer environmental education through our Yardsmarts program.
An engaged workforce, committed leadership and dedicated internal resources have made such advances possible. These same factors have helped the company reduce its engines' emissions by almost 75% since 1995. In the next five years, Briggs & Stratton engines will be at least 35% cleaner.
---
Clint Schroer, Off-highway Communications Manager
Sustainability for Cummins Inc. is defined as doing more with less of our earth's natural resources. This applies to both our company and our products. Cummins is actively engaged in creating solutions to this global concern.
What is our motivation for reducing our carbon footprint? First of all, it is a natural fit with our mission to demand that everything we do lead to a cleaner, healthier, safer environment. Making energy improvements is good business because it gives Cummins the opportunity to improve the efficiency of our facilities and drive cost reduction. It's also good for our customers because we work with them to get the best fuel economy of our products. As part of our continued commitment to sustainable practices, Cummins is participating in the U.S. EPA's Climate Leaders program.
Launched in February 2002, EPA Climate Leaders is an industry-government partnership that works to develop long-term comprehensive corporate climate change strategies. Climate Leaders partners set a corporate wide greenhouse gas (GHG) reduction goal, inventory their emissions to measure their progress and report that data to the EPA.
As a result of our involvement, Cummins has pledges to reduce its corporate GHG emissions intensity by 25% by 2010, against a base year of 2005. The company will track GHG emissions at Cummins-managed facilities worldwide. The GHG reduction goal is in addition to the 20% reduction in GHG intensity that Cummins has already achieved.
For the fourth year in a row, Cummins Inc. has been named to the Dow Jones Sustainability world index, which represents the top 10% of the world's largest 2,500 companies in corporate sustainability. As part of the 2008 review, Cummins was recognized as one of the world's top 11 leaders in sustainability among industrial companies, and was included in this index for the second straight year.
Cummins employees were challenged to improve shutdown procedures for electrical equipment over the holiday period to see how much money and energy the company could save. These efforts yielded a savings of $908,710, compared to the same period during the holiday shutdown last year, or more than 7,000 tons of CO2 not released into the atmosphere.
Cummins captured the attention of the off-highway equipment industry as the first to announce a technology path to meet Tier 4 emission regulations. The EPA Tier 4 Interim and equivalent European Stage IIIB off-highway emission standards take effect across the 174-hp to 751-hp (130-560 kW) powerband in 2011.
The core technology will be Cummins particulate filter and cooled EGR system as part of an integrated technology solution extending from air intake to exhaust aftertreatment.
The 2011 off-highway regulations require a 90% reduction in particulate matter and a 45% reduction in NOx emissions. While meeting these stringent reductions, Cummins Tier 4 QSB to QSX products will offer enhanced performance and improved fuel efficiency compared to our current Tier 3 engines. Cummins' application engineering will enable us to design and pre-engineer all the key subsystems in-house.
For Tier 4, Cummins will offer standardized engine, aftertreatment and air intake packages, speeding up installation work and realizing space-saving advantages for our OEM customers.
This year Cummins also announced the approval of B20 biodiesel blend for use with 19- to 78-liter high-horsepower engine platforms manufactured after January 1, 2008. The engines will join Cummins EPA Tier 3 and EU Stage IIIA industrial engines already B20-approved down to the 80-hp (60 kW) QSB3.3.
Read the responses for other companies:
Companies in this article