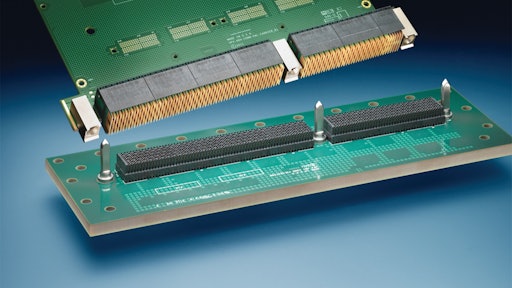 Though typically small in size, electronic connectors play a big role in the functionality of a piece of equipment by ensuring proper communication between systems and components. Connectors can be used to deliver the signal which tells a brake light to turn on, as well as send diagnostic information from a sensor to an in-cab operator display. "It's one of the things that's easy to use, but it better work right [and] it better fit right," says Earle Olson, Business Development Manager at TE Connectivity (company information, 10056226), Berwyn, PA.
Designing a connector which works all of the time, and for a long time, is important since connector failure can lead to unscheduled downtime and potential safety hazards. "In the harsh environment space, connectivity is critical," says Jim Lieb, Vice President of Sales at CONEC (company information, 10224090), Garner, NC. "If the connector fails, it's going to cost somebody a lot of money or compromise performance and safety."
Creating a durable design ensures a connector will have a long and productive life. This is especially true for connectors used in heavier-duty applications which must withstand higher vibration levels, high pressure sprays and stricter flammability requirements, says Dirk Saenger, Connection Systems Global Sales Director for Commercial Vehicles at Delphi (company information, 10055285), Troy, MI. This often leads to the use of back shell protection and protective caps to keep debris away from exposed terminals and sealing surfaces that might impede connector performance.
Increasing durability
Connector manufacturers must first know what type of application and environment a connector will be used in order to effectively create a durable design. This enables the manufacturer to better determine which types of materials to make the connector from to provide the best possible performance.
An IP67-rated connector being used in an agricultural application, for example, will not only need to be water resistant but corrosion resistant as well to prevent the connector from becoming damaged by exposure to harsh chemicals. Peter Persico, Technical Support Specialist at CONEC, says in this type of scenario plastic housings, which are corrosion resistant, will be used. And if the connector will be exposed to ultra-violet light from the sun, it will be necessary to use a black plastic. "Those are some of the considerations that come into play depending on what the application is," says Persico. He adds that for customers who want a more robust connector, a die cast housing is used.
When designing a more durable fiber optic connector for military applications, TE Connectivity placed its PRO BEAM Jr. technology behind a lens to better protect the fiber optics (product information, 10823355). "Quite simply stated, it's fiber behind safety glasses," says Olson. "[The] bare fiber barrel is locked behind a chamber that's fully sealed [making] it very easy to see with the human eye if anything is on the lens that would possibly block the optical path."
The more durable design was needed because the military was spending over $7 million a year maintaining the traditional fiber optic connectors it was using. These connectors gave the appearance of being robust, but the fibers were in fact exposed to environmental elements such as sand and dust, which was preventing them from functioning properly. With the development of this lens-protected fiber optic connector "we will eliminate 95% of the maintenance repair costs of the U.S. Army," says Olson.
Fighting corrosion
According to Bob Phillips, President of Phillips Industries (company information, 10055943),Santa Fe Springs, CA, reducing the impact of corrosion on electrical connectors has been a main focus for the company. Phillips says corrosion started becoming a larger problem in the late 1990s and early 2000s when many states started using magnesium chloride on roadways to melt ice and prevent it from forming. However, this material was spraying up into the electrical connectors as vehicles drove over the road, causing the connectors to malfunction. "Corrosion will build up inside the electrical connector where the male connection would match up with the female connection…causing it to short," says Phillips. "Then it got to the point where the magnesium chloride would creep into the electrical socket boot and if it was not sealed the corrosion would migrate to the socket contacts as well, causing shorts or electrical fires."
Proper corrosion resistance not only prevents shorts but also ensures the appropriate amount of electrical current is making its way to the designated device. Phillips says no matter how high the quality of the products in your connector are, if the starting point of the electrical system is corroded current flow will be restricted and the component or wiring system will not function properly, if at all. On its STA-DRY seven-way connectors (product information, 10704969), Phillips Industries uses lithium grease as a corrosion inhibitor. For the STA-DRY female connectors, "the socket assembly is insert molded, therefore the housing is molded around the pin," says Phillips. "That keeps the contaminants from migrating from the front to the rear of the connections and keeps corrosion out."
For its Quick-Change Plug (QCP, product information, 10057115), Phillips added corrosion protection by including terminals with stainless steel compression springs and wiper seals in the male insert which goes into the QCP base. These added features keep the contact clean and stops corrosion before it gets to the cable system. Phillips says this is an effective way to keep corrosion from going into the wiring where it restricts current flow. The QCP also makes replacing a corroded plug as easy as changing the blade on a razor by enabling maintenance professionals to simply remove the QCP insert, and replace it with a new one.
Delphi's Saenger notes that ease of maintenance is an important aspect for a manufacturer to consider when choosing a connector. "Because the cost of vehicle downtime is very important to fleet owners, OEMs pay special attention to the time associated with vehicle repairs including connection systems."
Customer collaboration
While many connector manufacturers will try to design connectors which work for a broad range of applications in various environments, they also note the importance of working together with an OEM or component supplier to design a connector for a specific application.
Kurt Krutsch, Product Marketing Manager at Molex Inc. (company information, 10281921), Lisle, IL, says having a partnership with a customer can make all the difference. By collaborating with a customer on a connector design from the early stages of development all the way through to the production phase, a company like Molex can ensure the connector will function properly with the rest of the vehicle components as well as be durable enough to survive in the application in which it will be used. "This requires very detailed application and sometimes proprietary information exchanges all the way through to production validation testing and production launch," says Krutsch.
CONEC's Lieb adds that all parties involved in the development process must fully disclose all information relevant to the design of a connector. "Along with full disclosure of their application, it's our responsibility to have full disclosure of what [our] capabilities are [and] the testing that we've done on the connectors that [the customer is] considering," says Lieb. This ensures the connector being designed will not only fit the application needs of the customer but also stay within the specified budget of the customer. "We can do just about anything, but the cost of doing anything is probably not acceptable, so we have to know what the expectations are," he says. "Is it a five-year life? Is it going to be in a high temperature cycling environment? Is it going to be exposed to chemicals and solvents? The challenge really is to take our existing products and our core competencies and design them with the application and the environment in mind."
"Having an understanding of market applications, validation specifications and durability requirements, while working closely with vehicle and equipment manufacturers at every stage of the development process, enables us to collaborate with customers to provide products that meet all manufacturing and performance requirements," says Delphi's Saenger.
"It always comes down to listening," adds Olson of TE Connectivity. Whether creating an application-specific design or an industry standard connector, listening to and taking into account customers' needs enables the creation of better connectors that will meet varying longevity, durability and connectivity requirements.
Future trends
As the amount of electronics and communication systems within heavy-duty vehicles and equipment continues to grow, the need for electronic connectors with higher bandwidth capabilities will be needed. "We've seen a tremendous growth in the information and communication area," says Krutsch. "It is driving industry standards as well as new connector developments to package more capability into smaller and smaller packages."
Wireless capabilities will be one of the driving forces for increasing bandwidth. More and more fleet owners want to keep track of their assets, whether it's when the vehicles are in use, being transported from one job site to another or are being stored overnight. Through the use of always-on remote technology, fleets will be able to track assets as well as perform real-time or interval diagnostics. "There is going to be a requirement for devices that do that and [those devices] are going to require a ruggedized connector that can do wireless data transmission at high speeds," says Lieb.
Along with continuing to increase connector durability, Olson notes a transition away from some of the traditional components used within connectors to meet the increased capabilities customers want. He says high speed, high bandwidth radio frequency products as well as copper and fiber optics will become more prevalent. "I see that lens protection for the rugged market is going to have its day finally," for use both as a contact and to help protect optical fibers, says Olson.
Weight and space savings will also factor into future connector designs. As manufacturers continue to look for ways to reduce overall vehicle weight, making electronic connectors smaller will assist with this goal. Many connector manufacturers already have miniature connector products to meet this need, and they continue to work on ways to further reduce weight, such as using aluminum cable in wiring harnesses, without sacrificing durability.
Companies in this article