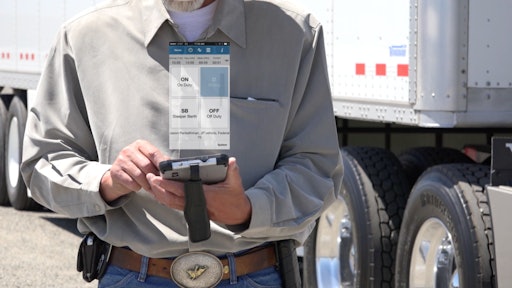 On July 15, Volvo Trucks North America and Telogis Inc. announced fleet management services provided by Telogis are now available on all Volvo Trucks. Customers will now be able to utilize tools—such as route navigation, hours-of-service monitoring and driver behavior scorecards—that will help them run their fleets in a more efficient manner.
Volvo and Telogis first began their partnership to bring fleet management tools to Volvo Trucks in 2013. While Volvo has included Remote Diagnostics technology on its trucks since 2012, the addition of the Telogis fleet management services further expands Volvo's connected vehicle strategy by offering fleets even more tools to help optimize the efficiency of their operations. "We can now offer services such as hours of service, commercial navigation, vehicle inspection reporting, route compliance, real-time navigation updates and real-time alerts. These are new services Volvo has not been able to offer customers directly from the factory, but now through this partnership we [can]," said Conal Deedy, Director of Connected Vehicle Services at Volvo Trucks during the announcement.
All of the necessary hardware for vehicle connectivity—ECU, wiring harnesses, databus adapter, antennae and interface display—is built directly into every Volvo truck at the factory. This enables customers to begin using the Remote Diagnostics and fleet management technologies as soon as they get delivery of their vehicle. Fleets will no longer have to buy additional hardware and wait for it to be installed and set up. They can begin collecting data immediately. The built-in connectivity also provides customers with the option to choose whichever service providers they want to use for their various data collection needs.
Additionally, the factory installation insures the hardware is designed specifically for Volvo Trucks, and includes the high quality and warranty of being designed and installed in an OEM environment.
Tools now available to fleets
With the Volvo and Telogis offering, operators have the option to use their own mobile devices to access the various fleet management tools, or purchase the device of their choosing, instead of having to purchase a Volvo or Telogis designated device. Operators can use any smartphone or tablet with an Android, iOS or other operating platform; all they have to do is download one of the free Telogis apps and they can begin using the fleet management tools immediately.
When customers purchase a new Volvo Truck, they will have the option to choose one of three Telogis service packages from: Telogis Compliance and Navigation bundle, Telogis Fleet bundle or a combined package which both the Compliance and Navigation bundle, and the Fleet bundle.
Telogis Compliance and Navigation
Included in the Telogis Compliance and Navigation bundle are a number of tools to help drivers ensure they are staying compliant with various regulations, such as hours-of-service. An hours-of-service app is available for download, which simply requires operators to log in, and once they begin driving the app starts recording their hours, and don't need to interact with it again. Meanwhile, the app keeps a log of the drivers' hours which fleet managers can access in the back office. Various reports and alerts can be set up so the fleet managers can be actively alerted if a driver is going to be in violation with an hour.
Other features of the hours-of-service app include count-down clocks so drivers can easily see when they are about to be in violation of specific rules, as well as charts and graphs to help them analyze what they did throughout the day. There are also step-by-step instructions for inspections in case they need to pull over and figure out how to solve a maintenance issue. Having these capabilities accessible from a mobile device makes it easier for operators to leave the cab to move around and inspect the vehicle, take pictures or capture QR codes to collect information and send it back to the fleet headquarters.
Real-time navigation, which Telogis built from the ground up specifically for commercial vehicles, is also a key feature of the bundle. The navigation system takes into consideration road conditions, tunnels, bridges and other elements to make routes safer and more efficient for drivers, said Erin Cave, Vice President of Product Management at Telogis Inc. She went on to explain that Telogis constantly updates its web network for the navigation system, often time receiving feedback from drivers about issues they've found along certain routes. "[We] can immediately change our network so other drivers will know to a avoid route," she said. This is especially helpful when there are storms or traffic incidents which could hinder drivers' ability to make it to their destinations safely and on time.
"Navigation, it's a very important thing," added Kevin Moore, Vice President of Global OEM Automotives Sales at Telogis Inc. "Some of the industry's smartest safety experts say a lost driver is a unsafe driver, so truck navigation, making sure [drivers] know where to go and how to get there is important."
Telogis Fleet
Telogis Fleet is an advanced fleet management product which includes features to help fleets manage operating costs, driver behavior and more. The Driver Scorecard portion monitors driver behavior, keeping track of incidents such as aggressive driving or speeding that fleet managers can then use to teach better driving techniques.
Vehicle information is also a big part of the Telogis Fleet bundle. Data is collected on engine hour utilization or idling, fuel usage and more, enabling fleets to see how their vehicles are being used throughout the work day and take corrective actions if necessary to reduce fuel costs or downtime issues. Telogis Supervisor, a mobile app for smartphones and tablets, allows field supervisors access to information about their teams in the field from wherever they may be located.
All of the Telogis services automate tasks to not only make it easier for drivers and fleet managers to collect data, but also eliminate the amount of paperwork they have to collect on a daily basis. They can now quickly gather the data they need to find inefficiencies and determine how best to optimize their operations.
Companies in this article