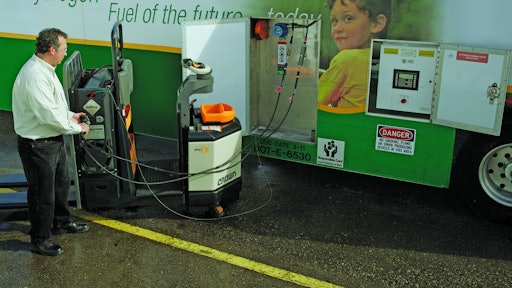 Crown Equipment Corp.'s Eric Jensen, director of new technology, research and development for Crown recently spoke at ProMat 2011 on the need for continued research and development of onboard hydrogen storage systems to help make fuel cells a viable option for smaller-sized forklift fleets.
The company has been working with alternative fuels for a couple of years, with its 2009 launch of its first liquid propane gas fork truck (as covered in our November/December 2009 issue). Prior to 2009, Crown was strictly a battery-powered electric forklift company, which is what generated Crown's continued interest in fuel cell technology.
However, the company has been researching fuel cell forklift applications for years, and made its first hydrogen fuel cell installation in 2008 at Robins Air Force Base on 20 of Crown's sit-down counterbalanced lift trucks.
Crown's fuel cells used on its lift trucks were created as battery replacements and designed to fit in the same space.
"Through our research and application testing, we have been able to determine the specific design modifications that must be made to a fuel cell-powered Crown lift truck, if any, so that it meets the same safety and performance standards as a truck run on a battery," says Jensen. "By making these design changes and working closely with our customers, we are taking the guesswork out of fuel cells and enabling interested customers to seamlessly incorporate fuel cell lift trucks into their fleet."
Crowning achievement
Back in early August of 2010, Crown released the industry's first pallet truck designed specifically for fuel cells, a new version of its PC 4500 Series center control pallet truck designed to accommodate Plug Power GenDrive fuel cells.
The design of the pallet truck places the fuel cell behind the operator, which came about while Crown was working with the customer, Walmart Canada. The Calgary, Alberta-based facility is the first complete distribution center in Canada to be powered exclusively by hydrogen fuel cells.
Crown integrated a fuel cell hydrogen level indicator into the dashboard display, as well as feature programmable performance settings and advanced diagnostics for the fuel cell unit. Normally, controls and gauges such as a fuel-level indicator and start/stop button are located on the fuel cell which requires the operator to stop operation to access the control box and check the status of the fuel cell.
Shortly after the announcement of the PC 4500, Crown announced it had qualified 20 of its electric forklift models to operate with various fuel cells, bringing its total offering of qualified combinations of fuel cell packs and trucks to 29.
In December of 2010, Crown announced a new version of its Crown SP 3500 Series Stockpicker to accommodate a fuel cell.
The SP 3500's onboard display of the hydrogen level indicator allows parameters to be set for a low fuel warning. Operators receive an alert when the hydrogen pressure reaches a level pre-determined based on the size of the facility and the distance to the refueling stations. The alert can be adjusted to notify the operator when the hydrogen level is low, between 2% and 25%.
Crown's SP 3500 also features a lift lockout preventing lifting when fuel levels are below the initial low charge alert, which protects the integrity of the fuel cell and encourages the operator to visit a refueling station to continue to do work.
Why hydrogen?
"Regular battery rooms take up a lot of space, they're hard to manage, and you need two or three for every truck you have in the facility," says Jensen.
Changing a battery is difficult and time consuming, especially considering batteries are heavy. Customers are interested in hydrogen fuel cell-powered trucks because the hydrogen fill station take up less space, and the fuel cell never needs to be removed from the truck. "The fuel cells stays in the truck at all times, and whenever the operator has an opportunity to refuel his hydrogen tank, he drives up and refuels the truck."
There are virtually no emissions using hydrogen fuel cells with the exception of water. "The emissions from a fuel cell are essentially warm water," confirms Jensen. "On a truck powered by liquid propane gas, while it's still a clean fuel source, there are still emissions that one would prefer to avoid when working in enclosed spaces like warehouses."
Since the byproduct of the fuel cell is water, Crown's fuel cell-powered equipment feature a high-water warning signal to alert operators if too much water is in the holding tank which can cause overflow onto the floor and create a safety hazard.
In most cases, there is very little -- if any -- trade off using a hydrogen fuel cell versus a basic lead acid battery. "The lead acid battery is pretty resilient. The fuel cell is a more complicated machine, and while not every fuel cell performs as well as a battery in every single truck, most meet the performance requirements that Crown has designed into the truck," says Jensen.
Crown's qualification testing efforts ensure that performance and safety parameters are still met with each product. "Generally speaking, the performance of the truck is either the same or slightly better," he says.
Initial investment and infrastructure
There is quite a bit of cost associated with the initial investment in hydrogen fuel integration. "Hydrogen suppliers have a contracted price for delivery of the fuel, and the vendor brings the storage equipment on site, as I understand it," says Jensen. "As part of the purchase agreement or lease deal, it's rather a significant installation, but it's not substantially more difficult than installing a large battery room in a new facility."
While fuel cells are a viable alternative power source for certain forklifts, the significant infrastructure investment needed for deployment made it an option for fleets with more than 30 trucks in its fleet. "To continue the evolution of fuel cell applications in the forklift market, there is a need for the development of a replaceable hydrogen tank, cartridge or bottle to ensure fuel cells are economically viable for small warehouses or retail operations with smaller fleets," Jensen says.
Crown is continuing to develop additional qualified models of its fork trucks, and has a research project underway to establish whether there is an advantage building a truck around the fuel cell, making it no longer a replacement drop-in solution, but a hydrogen-powered lift truck from the inception. The project has approximately one year left until its completion.
"It's one of those 'chicken and the egg' type scenarios where the customer still feels comfortable with the option of going back to batteries, minimizing the risk in a sense," explains Jensen. "But, as more facilities are created exclusive to hydrogen fuel supply, customers will become more comfortable with the technology and it won't be a risk to purchase the truck that only runs on hydrogen."
Government assistance
The U.S. Congress unveiled the Renewable Energy Tax Credit Bill in July of last year, providing tax credits for manufacturers of renewable energy equipment an funding for other sources of clean energy. The legislation aims to encourage the domestic manufacturing of renewable fuel development and energy equipment.
"There's a 30% tax credit on the purchase of a fuel cell," says Jensen. "It kind of equalizes the cost of one fuel cell versus three batteries, so it helps to soften the financial blow a bit."
The bill provides an uncapped 30% investment tax credit for expenditures to re-equip, expand or modify facilities that manufacture fuel cell power plants, for example.
Crown's research project is partly funded by a grant from the Ohio Department of Development, a part of its Third Frontier Fuel Cell program. The company has also received two $1 million grants for the two projects.
As the hydrogen fuel cell increases in use and availability, the increase in demand should alleviate some initial investment and development costs to allow more people to get involved and experiment with this developing power source.