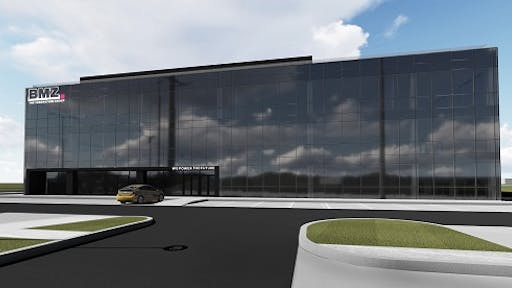 In the middle of July, around 650 employees of the BMZ Group in Poland will move into the new company facility "Alberta Einsteina." During the move of the employees in the production, which took place in stages over multiple weeks, production continued without interruption. The administrative staff will be moving to the new building in July.                  
"With the new building, we will be very well positioned to respond to the strong growth in the market for lithium-ion battery systems, and will be able to further expand our production. BMZ Poland is a pioneer in the E-bus area in particular. E-buses are being used more and more frequently in the public sector," explains Sven Bauer, CEO & Founder of the BMZ Group. The BMZ Group developed the new building with the company Hochtief acting as project developer. "We invested around 20 million EUR in the new building for BMZ Poland," Bauer says. The new construction started in 2016 and lasted approximately 1-1/2 years. Over 100 employees are working at the BMZ Poland construction site, on an area of around 46,000 sq. m where about 130 tons of steel are being used in the project.
BMZ Poland Produces Batteries for E-Busses
BMZ Poland is focusing on developing E-bus batteries for public transportation. The design, specially developed by BMZ Poland, guarantees good efficiency and a long service life, thanks to BMZ's pioneering position in the lithium-ion technology sector. BMZ Poland was founded in 2010, and generated revenues of around 88.9 million USD in 2016 with about 650 employees. In 2017, the number of workers was almost 280, and the company plans to have more than 300 workers by the end of the year. 
HOCHTIEF Infrastructure International
HOCHTIEF has been involved in construction projects all over the world for over 100 years, and has had a long history of tradition and experience dealing with unique construction situations in different cultures. Hochtief successfully completes its projects by blending engineering technology expertise, experienced project management, and an understanding of the special considerations in each different country. The company's strengths in Poland center on office and residential building. However, HOCHTIEF Polska also successfully handles infrastructure projects like airports, harbors, and industrial buildings.