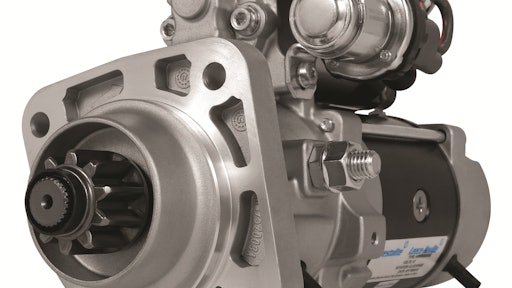 Prestolite Electric, a global manufacturer and supplier of high-output alternators for the OE and aftermarket, has been awarded standard position by Blue Bird Corporation, a leading independent designer and manufacturer of school buses. Prestolite Electric's Leece-Neville PowerPro Extreme 5 12V premium starter – a high-torque, high-power motor design – will be standard position on Blue Bird Vision, Blue Bird All American FE Diesel and Blue Bird All American RE Diesel buses. Additionally, IdlePro and IdlePro Extreme premium alternators will continue to be standard position on Blue Bird Vision Diesel, All American FE Diesel and All American RE Diesel bus models.
Blue Bird bus models with the PowerPro Extreme 5 bus starter as standard position include applications running a Cummins ISB 6.7L engine (beginning July 2019) or a Cummins ISL engine (beginning Oct. 2019). Engineered specifically for the dynamic operating concerns of school buses, PowerPro Extreme 5 starter motors deliver exceptional starting power in virtually any environment. PowerPro Extreme starters also can help to significantly reduce overall operating costs and maintenance-related downtime.
"Blue Bird buses are known for their reliability and performance on the road, and it's exciting to add our PowerPro Extreme 5 bus starter to standard position on these iconic bus platforms," says Allan Vincent, OEM Sales Director, Prestolite Electric. "It's also a very exciting time for Prestolite Electric, as we're already standard position with our premium alternators – including IdlePro and IdlePro Extreme models – and now we're able to provide a complete rotating electric system to these Blue Bird buses."
Each PowerPro Extreme 5 school bus starter includes a completely sealed nose-less design that protects against dust, oil and other contaminants plus an electrical Soft-Start Relay that allows the pinion to properly engage the ring before cranking. Each PowerPro Extreme 5 motor also was engineered to provide consistent, reliable starting performance under the most demanding conditions.
PowerPro Extreme 5 12V for medium-duty 6-10 L diesel engines
12V 5kW starting power
Weighs less than 22 lbs. (9.8 kg)
Planetary gear reduction design for higher torque/speed and less power consumption
Soft-Start Relay technology to help prevent ring gear damage
Integral Magnetic Switch (IMS) technology to help eliminates voltage drop