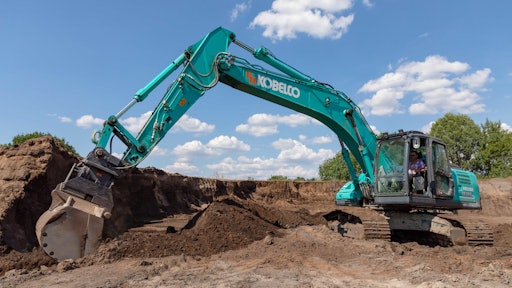 Kobelco Construction Machinery Europe B.V. (KCME)
Precision systems and technologies continue to gain ground within the construction industry—as they have in other heavy-duty sectors—as a means of increasing productivity and easing operation by automating various machine processes. The latter aspect is of significant importance as the ability to find skilled workers becomes more difficult and is expected to remain an issue for the industry in the coming years.
Due to the advantages these systems provide, many OEMs have begun offering them as a factory standard on their new equipment. John Deere, for instance, announced in June its 470G LC Excavators would come equipped with grade guidance technology. Developed in partnership with Topcon Positioning Group, the system displays the elevation and position of the bucket cutting edge with respect to a target plane (2D) or design surface (3D).
"Accuracy and productivity are critical to our customers, and the new integrated system provides them with just that," said Jonny Spendlove, Excavator Product Marketing Manager, John Deere Construction & Forestry, in the press release announcing availability of the system. "With this integrated solution, the system's sensors are protected from damage and the display is conveniently placed in the cab."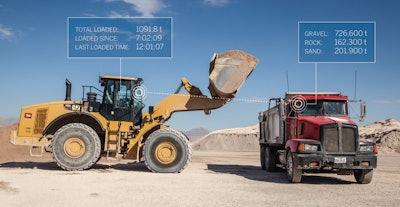 Various systems and capabilities
With a grade guidance system like John Deere's, various sensors and electronic controls work together in order to automate the grading process. This helps to eliminate human error and ensure accuracy of the operation.
In addition to grade guidance, several other types of precision systems are available for the construction industry.
To prevent overloading, Doosan announced in April the availability of Trimble LOADRITE L3180 SmartScale as an option on its wheel loaders. The system uses weighing intelligence and solid-state sensors to continually monitor and inform operators of how much material has been loaded to assure the process is completed precisely and at a faster pace. Guesswork is minimized because operators will always be able to see how much material has been moved and so can work continuously.
Topcon announced it will expand its paving solutions with the recent acquisition of ThunderBuild BV Group. Asphalt logistics software from the Netherlands-based company will be integrated with Topcon sensor data in order to provide end-to-end visibility for the paving process.
"This acquisition allows Topcon to create asphalt paving solutions that will ensure time and cost savings for contractors as well as increase overall job quality. The ThunderBuild cloud-based system ties planning, logistics and resource data to paving jobs that can be accessed with desktop, smartphone and tablet interfaces," said Murray Lodge, Senior Vice President and General Manager of the Topcon Positioning Group Construction Business Unit, in the acquisition announcement.
"With access to information such as material quantities on the fly, overages or potential paver stoppages can be addressed quickly and before problems arise," added Lodge.
Kobelco Construction Machinery Europe B.V. (KCME) announced earlier this year it will offer the Trimble Earthworks Grade Control Platform on its SK210LC-10 excavators as a factory-fit machine control solution. The system is designed to help operators more easily create smooth, flat or sloped surfaces by having the system control boom and bucket movements while the operator controls the stick. Automating these aspects achieves a consistent and precise grade every time and can also help to decrease the amount of time it takes for a job to be completed.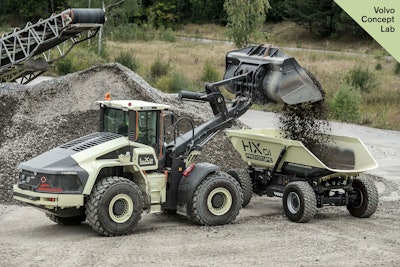 According to Volvo Construction Equipment (Volvo CE), its Volvo Active Control system is able to improve speed and precision enough to reduce grading times by 45% compared to conventional grading. Because rework due to human error is eliminated, jobs can be completed faster.
Automated boom and bucket movement capabilities were added to the Volvo Active Control system on the company's new EC220E crawler excavator in May 2019. Using the in-cab Volvo Co-Pilot tablet, the system guides operators on how to enter parameters of the job to be completed; once entered, the operator pushes a button to initiate the job. The excavator then automatically adjusts the boom and bucket movements based on the parameters entered by the operator, enabling the correct cuts and angle of grade to be achieved with each pass. Only the operator's left hand is necessary for controlling the excavator's arm speed, helping to improve comfort.
Volvo Active Control was developed in-house by Volvo CE and is powered by its Dig Assist application. Drive-by-wire technology is utilized to control the excavator's electro-hydraulic system. Both height and depth limit are included to ensure safe operation by preventing the bucket from going above or digging below a pre-set limit.
Creating precision systems
To aid OEMs like Volvo CE and John Deere with their automated system development, Danfoss Power Solutions has added a new Autonomous Control Library to its PLUS+1 GUIDE software solution. To help simplify the design process for integrating autonomous solutions, it provides the key software algorithms necessary for autonomous machine navigation.
Information processed as part of "positioning" blocks are fed into a "path-follower" block which can then process prescribed check points to guide the autonomous machine from one spot to another. Instead of raw GPS coordinates, it translates longitude and latitude into UTM coordinates. This creates a grid system that is easier to use on smaller scale processors.
"These function blocks translate and adapt proven robotics concepts specifically for the off-highway mobile machinery markets," said Chris Woodard, Business Development Manager of Autonomous Systems at Danfoss Power Solutions, in the press release announcing the new software library. "By bringing these concepts into PLUS+1 GUIDE, developers can easily integrate autonomous functionality on their machines — all without having to be an expert in robotics or navigation systems."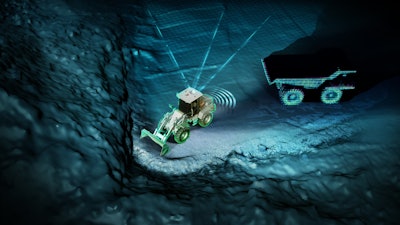 Suppliers of precision systems—such as Trimble and Topcon—provide both aftermarket and OEM solutions. While an aftermarket solution allows end users to take advantage of these systems' benefits by adding the technology to existing equipment, their integration at the OEM level has been increasing because of customers' growing adoption of the technology.
Integrating and calibrating a system like grade guidance at the factory level allows the machine to arrive at the customer's job site ready to work, eliminating the need to spend time attaching components such as antennas. It also allows many components to be installed directly within the machine, keeping them protected in harsh operating environments.
In April, the introduction of a Trimble Ready factory option for the new Liebherr PR736 Generation 8 bulldozers was announced. This reduces cost and complexity of installation for customers as all of the necessary components and mounting hardware for adding Trimble Earthworks is included on the machine.
"By providing a Trimble Ready option, customers now have a solution that enables quick, easy installation of Trimble Earthworks," said Johannes Neureiter, Product Manager for Liebherr, in the press release announcing the availability of the factory option. "Contractors are increasingly utilizing construction technology on the job site, and this new option makes the installation more integrated and less costly for our mutual customers."
"By making it faster and less expensive to install Trimble technology, Liebherr customers can now realize an even quicker return on investment from their Trimble equipment," added Jean Francois Sourdoire, OEM Business Development Manager, Europe, Africa, Middle East for Trimble Civil Engineering and Construction.
With OEMs and precision system suppliers working together to either develop a system or integrate a technology on a machine, the supplier can bring their expertise to the project, which an OEM might not already have in house.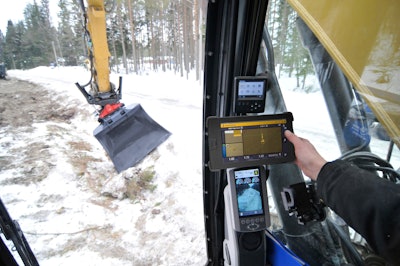 In addition to customer and manufacturer adoption, advancing technologies such as improved sensors and artificial intelligence (AI) are helping to make precision and automated systems more prevalent in heavy-duty equipment industries. These technologies are enabling manufacturers to increase the amount of data they are getting out of their machines which allows them to develop advanced algorithms for automating even more machine functions.
Because of these advancements, OEMs such as Volvo CE have been able to create fully autonomous machine concepts capable of being remotely operated.
In a Q&A with Volvo CE technology experts, Johanna Huggare, Manager Intelligent Machine Platforms, said the construction industry is waking up to the possibilities of AI, and it will make the industry safer and more efficient. "You only have to be in one of these autonomous machines for a minute before you start to feel comfortable and trust every decision it makes. And when we meet our customers, they tell us they want to buy our prototype machines today," she said. Read the full Q&A.
By using precision systems to automate some machine functions, manufacturers are providing productivity and efficiency benefits today while also aiding the transition toward fully autonomous operation on construction sites.
Companies in this article