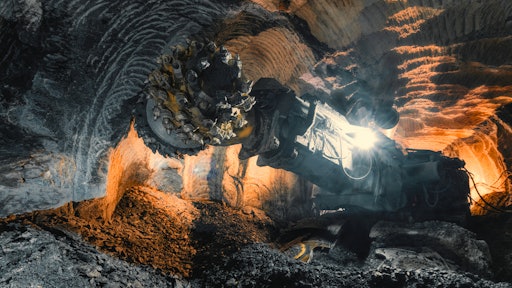 Nordroden, AdobeStock
The massive trucks and heavy machinery used to build our infrastructure and withstand the rigors of farming, construction excavation and earthmoving, and mining, embody rugged technology. While heavy mobile equipment (HME) has seen advances during the last century—continuous improvements to capabilities, hydraulics and fuel efficiency—more progress is required. Data is in the driver's seat, sometimes literally, and is the key to smarter, better-connected systems that enable distinct levels of autonomous performance. Today's more advanced telematics and advanced driver assistance systems must capitalize on artificial intelligence (AI), deep learning, GPS, 5G and a growing range of computer vision applications.
To transform these machines, OEMs must use fleet-specific software and hardware. It should be ideally applicable to a wide spectrum of automation applications and compatible with existing systems. Small footprint COM Express modules are proving a valuable option, demonstrating how aftermarket automation aligns strongly with the extended deployment and long lifecycle associated with HME assets. With COM-Express-based systems, developers have an open architecture platform deployable across a vehicle portfolio—a holistic fleet strategy using a single and high-performance system to manage data-driven applications. Automating heavy machinery doesn't have to mean soaring startup costs or even replacing costly fleet assets. Com Express systems fuel affordable solutions that are customizable, reusable and scalable to new automation needs across a fleet.
Driving Flexibility and Longevity with COM Express
The COM Express standard defines a range of form factors, allowing developers to balance flexibility, cost and performance as they consider the needs of their embedded devices. As a result, COM Express is well-suited for small footprint, rugged applications that rely on customization. COMs are also optimized for devices that benefit from broad scalability within a processor generation and from generation to generation. In system development, modules are paired with a carrier board containing all customization (instead of the COM itself).
This powers system performance across technology generations – for instance, a CPU core can be swapped out for a more advanced version when the application requires enhancements or greater performance, even as the module can still rely on the existing customization held within its paired carrier board. It's an inherent design attribute that adds longevity and flexibility, ideal for HME assets expected to operate for decades with continually advancing compute performance.
Instant Platform or Building Block
COM Express platforms provide two disparate development tracks for data-intensive construction, trucking, mining, and agriculture applications. One example of an application-ready platform features pre-integrated capabilities for deep learning, in-vehicle AI and high-performance embedded computing HPEC. The platform is optimized for use onboard heavy-duty mobile machinery and features a processor, paired with a dual 10GbE network adapter card and a range of options for graphics, processing units or accelerator cards designed to handle AI and machine learning workloads.
Coupled with built-in AI and machine learning capabilities, the platform's toolkit helps accelerate the development of high-performance inference and computer vision applications. This allows OEMs to help fleet operators readily gather and analyze relevant data and quickly develop new processes. OEMs must also consider safety regulations and offer an option for a safety mezzanine to provide functional safety that meets International Organization for Standardization specifications.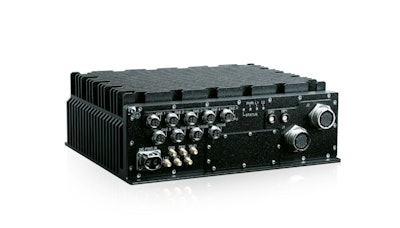 Alternatively, developers building their own autonomous applications can pick up speed by using the same platform as a building block. They can access the inherent value of COM Express even as they design and customize their own carrier boards and complete solutions.
A crucial advantage provided by these small-footprint systems is the ability to interpret and analyze data in the vehicle. Almost immediate decisions and actions are enabled near where the data is generated. Outcomes and decision records are transmitted to the control center. Cloud transmission is reserved only for data without time-sensitive value but is later delivered only as needed to datacenters for archive or additional analysis. In this streamlined approach, vehicles no longer need to maintain a nonstop cloud connection. Storage space is also freed in the vehicle-based device, allowing fleet managers greater flexibility in providing in real-time or near real-time as required.
The Impact of Automated HME
The benefits of connected and intelligent heavy machinery include predictive analysis, for example alerting operators to dangerous situations and equipment failures. Predictive maintenance increases uptime and diminishes potential outages. Mechanical data analysis also enables operators to reduce fuel consumption. Predictable costs, such as fuel and insurance, give greater control over expenses and can improve total cost of ownership (TCO). Operating costs are reduced with more precise actions and responses, such as just-in-time analysis of engine parts, low-voltage motors and other mechanical devices. Costs also improve when maintenance crew resources are not wasted on unnecessary rounds. In addition, accidental breakdowns become fewer, and unplanned downtime is minimized or eliminated. Overall productivity increases as payloads are maximized, and bottlenecks are identified.
Aligned with the goal of improved productivity and safety, workers can be removed from hazardous environments. Mining, for example, is inherently dangerous. The industry is moving toward a zero-entry mine landscape in which no humans are physically inside the mine. Absent humans onboard, heavy mining equipment can go deeper and into more dangerous environments, such as areas with gas buildup. Profitability and mine life can be extended. The mine can be excavated more deeply, and with steeply sloped walls that allow operators to remove more materials, including the lower quality ores often left behind.
With greater efficiency in place, organizations can also free operators to focus on high-value tasks. This is strategic in the face of labor shortages and allows valued personnel to put their insights and judgment to use beyond basic equipment operations. It is also a competitive advantage for emerging economies—their mines can quickly become more viable with automated heavy machinery. Fewer human resources are required to get systems up and operational in the field. Progress can be made with fewer costly assets, reducing economic and environmental impact. Coupled with automation designs with low development and deployment costs, these factors will eventually lower the barrier to market entry for less-developed countries.
Decreasing Design Complexity and Streamlining Fleet Performance
With retrofit for greater automation, heavy mobile equipment OEMs can equip heavy mobile equipment with the technology to secure, observe and use data from other technology-equipped machines for better insight into equipment procedures. Synchronized workflows empower teams and equipment for better, safer productivity.
This change has worldwide impact on diverse infrastructure industries. Autonomous mining machinery heightens operations and increases safety, now controllable from one remote location. Consistent improvements in productivity and ROI result. In agriculture, wireless connectivity enables farmers to modify and automate current equipment, manage field-specific fertilization and coordinate autonomous tractor applications for harvesting and loading crops. In construction, proactive maintenance can be powered with predictive data, reducing costs and protecting service resources.
Smart, autonomous solutions are new necessities in HME markets, empowering operators to use machinery safely, minimize waste and improve overall production and operations. Yet as heavy equipment fleet operators seek to maximize machine-to-cloud and machine-to-machine communications, the automation challenge grows for system operators and designers. Effectively and efficiently retrofitting systems is critical to this effort. It drives new competitive advantages and efficiencies provided by data gathered and processed close to where it is generated. This rapidly evolving environment brings opportunities and hurdles for embedded developers—decreasing complexity is vital, but so is taking intelligent steps to automate for broad competitive value and jobsite safety.
Jack London is vice president, business development, for Kontron North America.
Andrea Thomas is senior product marketing engineer for Intel.
Companies in this article