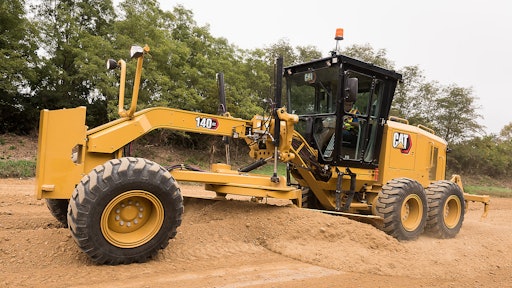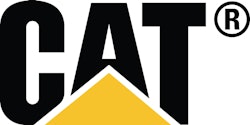 Caterpillar Inc. has introduced a new motor grader, as well as the new Cat GRADE with 3D for motor graders. The new Cat 140 GC motor grader is designed to combine high performance with low owning and operating costs. Cat GRADE for motor graders allows contractors to realize the improved grading efficiency, accuracy and productivity of automated grading systems without the limitations associated with GPS masts.
New motor grader offers ease of operation
The 140 GC's powerful Cat C7.1 engine, 6F/3R automatic powershift transmission (which eliminates the inching pedal), and precisely designed hydraulic system ensure balanced performance in all operating situations. An ECO operating mode and demand-fan reduce fuel consumption, and extended maintenance intervals further reduce operating costs. Operators of all skill levels quickly achieve high production with the 140 GC, and options that include adjustable seats and efficient heating/cooling systems guarantee comfort.
With 45 years of refinement, the 140 GC's conventional steering wheel and lever controls are familiar to operators and ensure positive control. The control console adjusts to the operator's preference, and the powerful heating and cooling system option dehumidifies and pressurizes the cab, while circulating fresh air to seal out dust and keep windows clear. Seat upgrades include mechanical or air suspension; static seat is standard.
The 140 GC's standard no-spin differential activates with no operator input to increase traction in poor ground conditions and to protect drivetrain components from damage. The all-wheel-drive option provides added performance in rough terrain or poor underfoot conditions. Optimized machine balance ensures maximum drawbar power to the ground. Adding the 4.3 m (14 ft.) moldboard option offers more road coverage. The optional Digital Blade Slope Meter takes the guesswork out of slope control and keeps the job site safer by eliminating manual grade checks. Cat Detect with Vision System (optional) uses a rearview camera to show a wide view behind the machine.
Premium features
The 140 GC's design features ensure reliability and durable, long-term performance.
Standard drawbar circle moldboard provides long service life, with replaceable wear strips that maintain the system's integrity.
Reversing fan option to prevent material build up by the rear door intake screen and helps reduce cleaning maintenance for the motor grader's cooling system.
Oil-bath, multi-disc service brakes are hydraulically-actuated for smooth, predictable braking and lower operating costs.
A variety of Cat attachments— including scarifiers, rippers, and front blades—increase machine versatility, each attachment specifically designed with performance, safety, and stability in mind.
Circle-drive slip clutch option protects the pinion drive and circle teeth from potential damage.
The optional low-profile cab gives more overhead for transportation or job site needs.
Circle Saver option reduces daily greasing requirements and protects the circle and pinion, significantly reducing the potential for damage.
Optional guarding protects the 140 GC from damage in demanding applications.
Optional secondary-steering system automatically activates if main pump pressure drops.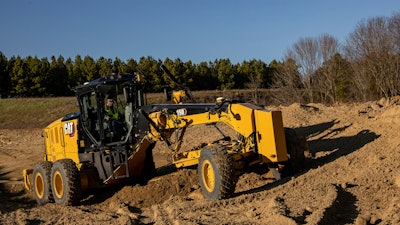 Mastless grade system increases productivity
The new integrated mastless grade system can be installed and calibrated at the factory on new machine orders or as a field retrofit for existing models in customers' fleets. Retrofit kits are available for pre- and post-2019 M Series models equipped with or without the Attachment Ready Option (ARO).
Previous GPS systems for motor graders required 6-ft. tall (1.8-m) masts mounted to the ends of the moldboard, exposing the components to potential damage and theft. The antennas/receivers were often removed and installed daily, limiting the machine's time in the dirt, and the masts limited the blade's range of motion. The masts also limited the types of applications for the motor grader.
With GNSS antenna/receivers mounted on the cab and front chassis of the motor grader, the new Cat GRADE with 3D system offers a factory installed solution that significantly reduces the potential for component damage and theft as well as eliminates the need for daily removal. Removing the masts and cables deliver maximum productivity and full range of motion for the moldboard.
The new Cat GRADE with 3D system delivers incredible accuracy and efficiency, while improving productivity. By offering automatic blade control, the system reduces manual operator inputs and allows operators to be more productive. E-Fence comes from the factory for Cat GRADE with 3D. When activated, E-Fence prevents the moldboard from contacting the tires and ladder and prevents the circle from potentially damaging to the link bar.
With the new Cat GRADE with 3D, no longer do contractors need to dedicate one machine to GPS. Cat motor graders equipped with the new mastless system can work on a broad range of applications, including bank slope, cutting passes, mixing materials, ditch building, clearing and back slope, and high slope.
Cat 140, 150 and 160 motor graders will be the first models equipped with the new mastless Cat GRADE with 3D.