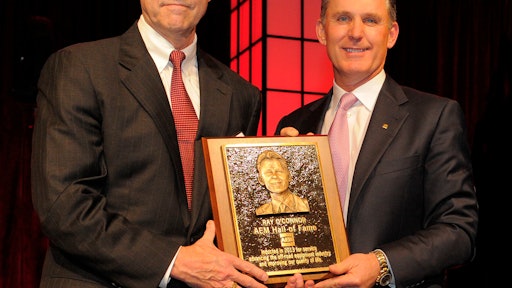 Ray O'Connor, President and CEO of Topcon Positioning Systems, and Senior Managing Executive Officer with Topcon Corporation, was inducted into the Association of Equipment Manufacturers (AEM) Hall of Fame during its 2013 annual conference held in early November.
The AEM Hall of Fame recognizes and celebrates outstanding individuals in the off-road equipment industry, and their legacy of innovation, service and leadership.
O'Connor says, "I am extremely humbled by the award and to join so many of the great leaders of our industry in the Hall of Fame. This honor can't be achieved by an individual but only by a team of people with a passion to succeed. The team of employees and distributors we have at Topcon exemplifies this. Without their dedication, expertise and partnership in sharing a common goal, Topcon would not be making the positive global impact that it is in the diverse industries we serve."
In his acceptance speech he acknowledged the great opportunities that America presents. He said as an Irish immigrant, "It didn't take me long to realize that I had found the only place on the planet where a kid from another country had the freedom to dream big dreams and could actually make them come true!"
He is the youngest person ever inducted and joins 47 others described by AEM as pioneers whose vision and hard work have been critical to advancing global economic and social prosperity; their legacy strengthens continued industry contributions to improving our quality of life, and serves as an inspiration for tomorrow's leaders.
Past inductees include such notable industry giants as John Deere (inducted in 2012), William Otis (inventor of the steam shovel), Jerome Case, Dr. Hans Liebherr, Reinhard Wirtgen, and Gary Vermeer to name a few.
O'Connor joined Topcon in 1993 as the first employee dedicated to the laser product industry. Announcing the induction, Stu Levenick, the 2013 AEM Chair cited O'Connor for having a key goal to automate the construction and agricultural industry. In addition to striving to meet the global requirement of positioning automation, O'Connor developed a global "ring of technology centers where the brightest geospatial engineers…create the next generation of products," he said.
He also noted O'Connor's leadership in implementing the Topcon Educational Partnership Program, which now helps provide the latest positioning technology to construction and agricultural related programs at more than 500 universities and associations worldwide.
O'Connor is also the 2006 recipient of Toshiba Corporation's Business Performance Award (the first recipient of non-Japanese descent) for "his superior leadership and performance." In 2012, Pompeii, Italy honored him for supporting "preservation and renovation" of the landmark city; the University of Naples awarded him an honorary doctorate degree for his efforts.
O'Connor also received an honorary doctorate from The Dublin Institute of Technology for his "global leadership in precision measurement technology." Geospatial World magazine named him Business Leader of the Year earlier this year.
Inducted with O'Connor were Dr. Helmut Claas, CEO of CLAAS farm machinery company, and Friedrich Schwing, Sr., founder of Schwing GmbH who has more than 1,200 patents relating to innovations in material handling and construction equipment that powers the majority of modern concrete pumps.
More information, including videos of this year's induction speeches and the complete list of the AEM Hall of Fame members is available online.
Companies in this article